USMNT hot list: A familiar fab four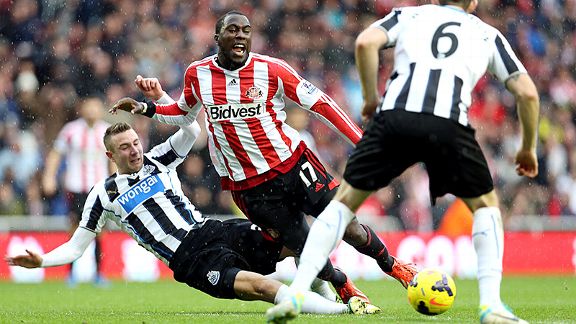 Ian Macnicol/AFP/Getty ImagesJozy Altidore helped Sunderland to a valuable win vs. rival Newcastle.
Competition for places on this week's list was almost as fierce as it will be for the 23 spots on U.S. coach Jurgen Klinsmann's 2014 World Cup roster.

After all, it was a banner few days for U.S. national teamers with their clubs. And much like the squad Klinsmann will name next spring, a few worthy candidates didn't quite make the grade.

Among them are bubble guys such as Terrence Boyd and Sacha Kljestan, who both scored for their European teams over the weekend; MLS standouts Omar Gonzalez and Graham Zusi, potential U.S. starters who also found the net (even if Gonzalez's clear goal somehow didn't count) and even long shots for Brazil such as oft-injured veteran Oguchi Onyewu, who just signed a one-year contract with Premier League promotion-seekers Queens Park Rangers, or 18-year-old Club Tijuana sparkplug Paul Arriola, who continues to rack up starts in Liga MX despite his tender age.

No, the top performers this week happen to be four of the American squad's most important members -- an encouraging, perhaps unexpected development for U.S. fans. There is a flip side, of course, as the two trending in the wrong direction this week have been among the Yanks' most promising in 2013.

With next month's year-ending friendlies in Scotland and Austria fast approaching, here's a look at the major movers.

Warming up

Jozy Altidore, F, Sunderland (England)
Why he's here: In his first start under new manager Gus Poyet, Altidore assisted Fabio Borini's late game-winner against archrival Newcastle, Sunderland's first victory of the season.
What this means: Beyond the helper, Altidore's work rate and growing cohesion with strike partner Steven Fletcher ensured that he'll remain in Poyet's lineup Saturday when the Black Cats meet Hull City, the 23-year-old's former club.

Michael Bradley, M, Roma (Italy)
Why he's here: Bradley, who had not played since Sept. 1 (ankle), came on as a second half substitute and scored the only goal in 10-man Roma's win at Udinese, the Giallorossi's Serie A-record ninth-straight to open a season.
What this means: Bradley is universally respected at Roma, and the strike -- the 26-year-old's first in a year -- will only help his chances of reclaiming a regular spot with one of Europe's elite teams. If he can, it would be huge for the U.S. heading into Brazil.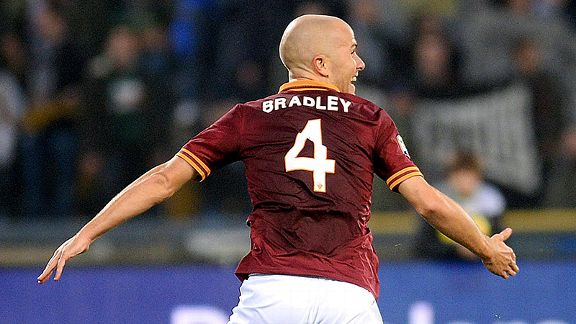 Dino Panato/Getty ImagesMichael Bradley's crucial contribution to Roma's record win means he could be in line for more playing time now that he's fully fit.
Clint Dempsey, M-F, Seattle (MLS)
Why he's here: Almost three months after arriving in the Pacific Northwest, Dempsey finally scored his first goal for the Sounders in Sunday's 1-1 tie with the visiting LA Galaxy.
What this means: The tally wasn't enough to give Seattle three points, but it lifted a huge weight off Dempsey's shoulders heading into the playoffs, which is where his first season back in MLS will truly be judged.

Tim Howard, G, Everton (England)
Why he's here: Howard was spectacular in Saturday's head-to-head matchup against U.S. No. 2 Brad Guzan and Aston Villa, saving a penalty and making two other key stops in the Toffees' 2-0 win.
What this means: Don't think for a second that Howard, as proud any athlete anywhere, didn't have a point to prove to those clamoring for Guzan to supplant him in the national team's net. That point was made, emphatically.

Cooling down

Alejandro Bedoya, M, Nantes (France)
Why he's here: Less than a week after coming off the bench to score a late winner for the Canaries, Bedoya was an unused substitute in Nantes' 1-0 loss at Lille. He has not started since Sept. 22.
What this means: Klinsmann has been full of praise for Bedoya recently, and started him in the Yanks' two October qualifying wins. But none of that means a thing in May if the New Jersey native isn't playing regularly in Ligue 1.

John Brooks, D, Hertha Berlin (Germany)
Why he's here: Brooks, who is healthy again after missing three matches with an arm injury, didn't play in Saturday's 3-2 loss to Bayern Munich.
What this means: Hertha is on a 2-1-1 run without Brooks, and let's face it: they weren't expected to beat Bayern on the road, anyway. That means the backline could stay intact over the next few weeks, throwing Brooks' match fitness ahead of the national team's November friendlies into question.