Graham Zusi, Aron Johannsson spark remarkable U.S. win
PANAMA CITY -- Mexico should send the U.S national team a $600 million gift basket.

Dramatic stoppage goals from Graham Zusi and Aron Johansson gave the U.S. a 3-2 victory over Panama, snuffing out the Canaleros' World Cup hopes, and keeping the qualification dream alive for their southern neighbors despite El Tri losing to Costa Rica 2-1.

It was a defeat that couldn't have been more crushing for the hosts. Luis Tejada's 83rd-minute goal had appeared to give them the margin necessary to claim fourth place ahead of Mexico, and with it a playoff date with New Zealand. But Zusi's header from a Brad Davis cross in the second minute of stoppage time drew the Americans level, and when Johansson fired home from the top of the box a minute later, the U.S. was left with an unlikely victory, while Panama was left in despair. Now it is Mexico -- which stood to lose $600 million in lost TV, merchandise, sponsorship and other revenue if it failed to qualify -- that can book a date with the Kiwis.

Gabriel Torres had opened the scoring in the 18th minute, finishing off a lightning-quick transition play following a U.S. turnover. But Michael Orozco steered home a corner kick from substitute Davis in the 64th minute to equalize for the Americans. That served as mere prelude to an unbelievable last 10 minutes that broke the Panamanians' hearts.

The U.S. started the match with some sharp interplay between Mix Diskerud and Jozy Altidore, but Panama soon seized the momentum and broke on top in the 18th minute. A loose ball from U.S. defender Edgar Castillo was pounced on by Alberto Quintero, who quickly played Marcos Sanchez into the box. His square pass found Gabriel Torres, who fired home past Brad Guzan.

Blas Perez nearly doubled the home side's advantage a minute later, but Blas Perez could only shoot straight at Guzan.

The U.S. gradually worked its way back into the match, with some clever approach play, but a lack of precision in the final third prevented the Americans from threatening Panama's goal with any regularity.

Alejandro Bedoya broke free for a fierce drive just before halftime, but his shot was hit straight at Panama goalkeeper Jaime Penedo.

Panama nearly doubled its advantage in the 54th minute when Quintero broke into the clear down the left wing. His center feed was steered toward goal by Perez, but Castillo was on hand to clear off the line.

Manager Jurgen Klinsmann brought on Davis and Johansson for Brad Evans and Diskerud, respectively in a bid to spark the U.S. attack. The switch had the desired effect, as Davis swung in one of his trademark corner kicks and Orozco muscled his way past Carlos Rodriguez to redirect the ball past Penedo.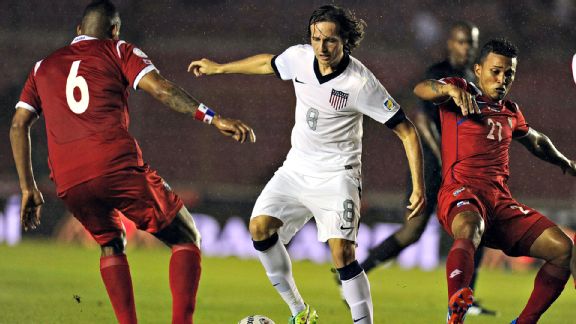 Rodrigo Arangua/Getty ImagesMikkel Diskerud (pictured above) helped the U.S. comeback for a late win.

The aforementioned substitutions had the effect of moving Bedoya to right back. Panama began to work that side extensively, and were unlucky not to earn a penalty in the 62nd minute when Bedoya appeared to bowl over Quintero. Five minutes later more good work from Quintero saw him set up Torres, but Guzan was on hand to deliver a left-handed save from close range.

Just when it seemed the U.S would hang on for a draw, Tejada popped up to put the home side in front. Roberto Chen's cross was parried right into the path of Tejada by Guzan, and the Panama forward stabbed the ball into the empty net, sending the home crowd into delirium.

It proved short-lived. Zusi nodded home Davis' cross from the left wing, and the U.S. appeared ready to see out a draw. But with just seconds remaining, substitute Terrence Boyd corralled Guzan's long punt up field, picked out Johansson, then he fired home to give the Americans the win.

Player ratings: (0-10, 10 being best)

G Brad Guzan, 5.5: Could do little about the first goal, but did well to save a second-half effort from Torres. Needed to do more with the cross that he deflected to Tejada for the second Panama goal.

D Edgar Castillo, 4.5: A tale of two halves. His sloppy pass helped set the stage for Torres' opener, and his defense left much to be desired as well. Then he had a key clearance off the line to keep the match close, and he was a menace going forward.

D Michael Orozco, 6.5: Was left in a tough spot on Gomez's goal, and he didn't look that comfortable in the back at times. But he recovered well, was adept with his passes, and was on hand to score the first equalizer.

D Clarence Goodson, 6: Just a hair late to get a foot on Gomez's shot, but cut out some dangerous balls into the middle and was solid overall, especially with his distribution.

D Brad Evans, 5: Struggled to contain the speed of Quintero, but held on well enough to make plenty of clearances. Got forward to more effect in the second half, but then wore down as Quintero proved too much to handle.

M Kyle Beckerman, 6: Tidy in possession, but his lack of pace was exposed a bit when forced to cover for Castillo. He did cut out some dangerous Panamanian counters, but failed to pick up Tejada on his goal.

M Sacha Kljestan, 6: Seemed to grow into the game as the first half went on, and carried that momentum into the second half.

M Graham Zusi, 5.5: Had one of those nights when the ball seemed to get caught in the spokes every time he collected it, and was largely ineffective in the first half. But he kept fighting, and popped up when his team needed him most.

M Mix Diskerud, 6: Had some clever touches and some bright moments linking with Altidore, but needed more precision around the box, as his passes seemed just a hair off.

M Alejandro Bedoya, 4.5: Had a stinging shot right at Penedo that was saved, but struggled to be as impactful with his passing. Looked overwhelmed initially when moved to right back, but gradually found his footing. Was lucky not to draw a penalty though.

F Jozy Altidore, 6.5: A much improved performance over the Jamaica game, despite not finding the net. He was effective with his holdup and link play and battled well against Felipe Baloy.

Subs:

M Brad Davis, 7: Brought on for his crossing, he delivered with two killer assists. A spot on the final World Cup roster seems a long shot, but Davis no doubt helped himself.

F Aron Johansson, 7: Made some dangerous runs into the box, and then delivered a cool finish to provide the game-winner.

F Terrence Boyd, 6.5: His unsung work in the buildup to the game-winner can't be overlooked, as he held the ball up well and then delivered a deft pass to Johansson.