KANSAS CITY, Mo. -- It's hard to believe now, seeing that he's started five of the past six U.S. games. But this time last year, Alejandro Bedoya, long one of the country's most promising European-based players who was among the last cuts from the Americans' World Cup team as a 23-year-old in 2010, was sitting at home in Sweden, wondering if he would ever receive a call from U.S. coach Jurgen Klinsmann.

"I thought maybe this cycle I won't be part of it, that maybe I'll have to wait for the next one," Bedoya said in a sit-down interview here a day before playing 90 minutes in Friday's 2-0 victory against Jamaica, a win that ensured the already-qualified USMNT of finishing atop the CONCACAF standings. "That thought did come into my mind."

Bedoya had established himself as starter by the end of the Bob Bradley era, but Klinsmann's hiring in July of 2011 coincided with Bedoya's transfer from Swedish club Orebro SK to Scottish titan Rangers, a move that ended up being disastrous for the New Jersey-born, South Florida-raised midfielder.

A series of niggling injuries, not to mention Rangers' spiral into roster-purging bankruptcy, had him stuck in a holding pattern for most of 2012. During the entire calendar year, the former regular didn't play one minute for the U.S.

"My time at Rangers was really tough," Bedoya said. "I was really excited going there -- Rangers and Celtic are obviously massive clubs. But I had a couple of chances that I maybe didn't make the most out of, and not really playing much didn't help my chances with the national team. Also, the way we played at Rangers didn't really suit my style. It wasn't the best fit."

Few would have blamed Bedoya, now 26, for being discouraged. But he insists he rarely got too down about things. Whenever he did, his father Adriano, a former professional in his native Colombia, was there to lean on.

"My father's a very positive kind of guy, a great leader," he said. "He has this patience -- never gets mad, never gets upset or anything. It's very hard to get him on the edge. And for me, I think having him as such a stable guide for me has helped me maintain my focus."

When his contract at Rangers was terminated on the eve of the 2012-13 season, Adriano Bedoya suggested to his son that although he had offers from bigger teams in better leagues, he might consider returning to Sweden, where he had excelled after leaving Boston College in 2009, and accept a short-term contract with reigning champions Helsingborg.

"He told me that sometimes you have to take a step back to take a leap forward," Bedoya said. "And it was obviously important for me to get games and get my confidence level up."

The effects were immediate. Bedoya started two Champions League qualifiers against Celtic, and then followed up by scoring two goals in the group stage of the Europa League, including one against veteran U.S. defender Steve Cherundolo and German Bundesliga mainstay Hannover.

Still, there was no invite from the Klinsmann camp for the November 2012 friendly in Russia.

Well over a year into the job, the new boss was still putting his own stamp on the U.S. team. But it turned out what Bedoya had done in a half-season back in Sweden hadn't gone unnoticed. And because his deal with Helsingborg expired in December, he was available to be called in with the second string for the team's annual January camp.

Bedoya trained well in January, but he didn't start the JV's scoreless draw against Canada and wasn't on the varsity's roster for the Hexagonal-opening loss in Honduras.
But inside him something had changed.

"Once Jurgen called me in, I knew I could work my way back," Bedoya said. "My mind-frame started changing for sure."

Toward the end of January, Klinsmann -- another very positive guy -- sat Bedoya down to discuss his career. Once again, the player had options. This time it was Klinsmann advising him to go back to Sweden.

"Jurgen's great at giving you confidence," he said. "He gave me some good feedback and let me know he wanted me to get games week in and week out and keep developing. He agreed that staying with Helsingborg probably could be the best thing for me."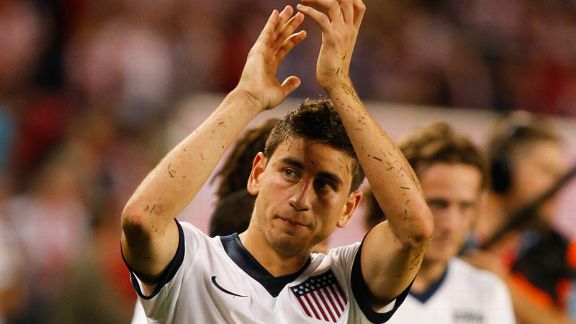 GettyImagesAlejandro Bedoya has impressed for the USMNT in recent games.
After the season, Bedoya was named the best player in the Swedish Allsvenskan, the country's top flight. But he was still left off Klinsmann's roster for three June qualifiers. He did make the under-strength Gold Cup squad but started just one of the Americans' first four games. By the end of the tournament, though, Bedoya had broken into the lineup and helped the U.S. to their first regional title since 2007.

Bedoya's Gold Cup performance drew the attention of Ligue 1 side Nantes, and he signed with the club in August. An impressive start in France got him a spot with the U.S. first string last month. After a 3-1 loss in Costa Rica, Bedoya started the World Cup berth-clinching win against Mexico on Sept. 10, completing one of the most remarkable reversals of fortune in recent national team history. In a squad full of new faces, perhaps no U.S. player raised his stock more than Bedoya has this year.

"Alejandro Bedoya, the last couple of months, has just really come along tremendously well," Klinsmann said after Bedoya set up Graham Zusi's game winner against the Reggae Boyz. He was one of few bright spots in a mostly drab game. Landon Donovan later added: "I'm not sure anyone stood out except Graham and Alejandro."

With Donovan (ankle) out of Tuesday's qualifying finale in Panama, Bedoya seems in line for a third consecutive qualifying start. But he could also sit in favor of Zusi, one of his main competitors for a spot on the right wing. Under Klinsmann, there are never any guarantees.

"I still have a lot to work on," Bedoya said. "I was so close to making it to South Africa [in 2010], and it was hard being told by the coaches then that I wasn't going to be a part of the World Cup. I have to make sure that I get even closer this time."