Klinsmann conveying greater message with Donovan substitution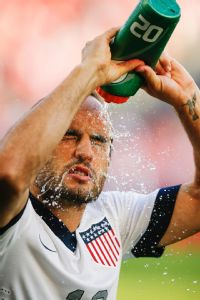 Kyle Rivas/Getty ImagesLandon Donovan was surprised after being substituted off at halftime against Jamaica.
KANSAS CITY, Kan. -- When it comes to Landon Donovan and his role with the U.S. national team, manager Jurgen Klinsmann has insisted that the team's all-time leading scorer earn everything he gets. Friday's 2-0 World Cup qualifying win over Jamaica revealed that this is an ongoing process.

Without question, Donovan has been in electric form since coming back to the side after his sabbatical earlier in the year. Not only did his outstanding play enable the U.S. to lift the Gold Cup but his performance against Mexico last month helped the Americans get over the World Cup qualifying finish line against its chief rival.

The feeling then was that Donovan had served his penance, especially after being left off the team for the run of three World Cup qualifiers in June. Once again, Donovan's spot in the starting lineup seemed a given.

Yet, after Donovan delivered an ineffective 45 minutes in the first half of Friday's match, Klinsmann showed that his willingness to send the U.S. star pointed messages remains. Klinsmann pulled Donovan in favor of local hero Graham Zusi, who went on to deliver a man of the match performance by netting the first goal of the match, and, in general, creating havoc in the attacking half.

- Carlisle: U.S. happy with win, not performance
- McIntyre: Klinsmann's questions answered buoyantly

Klinsmann said the move was "a simple, performance-based decision" and nothing to make a fuss about. He also communicated to Donovan why the decision was made.

"I said it was simply because we wanted to make a change," said Klinsmann at his postgame news conference. "We thought you're not getting into the game the way you hoped to. It's not a problem at all. Everybody can have a bad game. Some other guys had a bad game in the first half, too. So, no big deal."

Except that this is something that hasn't happened to Donovan very often in his career, if ever. And the U.S. midfielder said that he had not been hobbled by the ankle injury that has plagued him lately, insisting that his ankle was "all right."

Klinsmann's move amounted to a short, sharp shock.

"Yeah, I was surprised," Donovan said about getting substituted. "I certainly didn't play well, but I didn't think I was the worst player on the field."

That's probably true. Alejandro Bedoya and Jermaine Jones struggled through the opening half, as well. But this is precisely why Klinsmann did the right thing. Granted, there was little at stake, and one could make the argument that the U.S. manager wouldn't have dreamed of making such a move had there been more on the line. But accountability is the foundation of every successful team, and there's nothing wrong with Klinsmann conveying to Donovan that more is expected than simply not being the worst U.S. player on the field.

Outwardly at least, Donovan appeared to take the move in the right way, stating that being substituted "will be a good wakeup call".

Of course, the same is true for the rest of the players, even for those who lasted 90 minutes. The U.S. struggled offensively for much of the night before breaking through for late goals by Zusi and Jozy Altidore. The positive is that the U.S. ground out a result when it played well short of its best.

"To find a way to win when you don't play well is very important, and that's a great characteristic that we want to have," Donovan said. "There's no guarantee when you get to the World Cup that you'll play three great games, so if you have a bad game, you've got to find a way to get a result."

Klinsmann knows that, for his side to do that, he'll need Donovan operating closer to his peak.