Klinsmann's questions answered buoyantly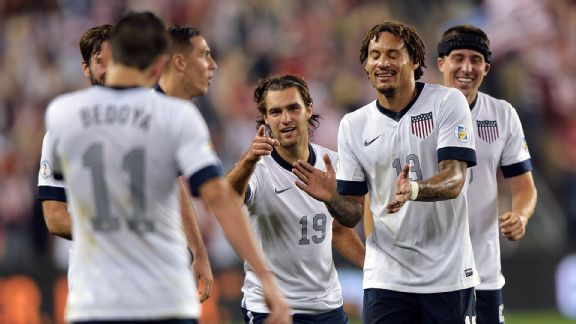 Peter G. Aiken/USA TODAY SportsZusi proved effective for Klinsmann.
KANSAS CITY, Kan. -- A little more than a week before the United States' 2-0 win over Jamaica here on Friday, U.S. coach Jurgen Klinsmann said that the game against the Reggae Boyz, as well as Tuesday's World Cup qualifying finale in Panama, would provide him and his staff with "answers to questions about players, our attitude and our state of mind."

With the Yanks already qualified for Brazil 2014, the squad's mindset probably should have been predictable. Consciously or not, there was little urgency from the home team in the early going, and with four regular starters injured, little cohesion, either.

As for getting answers on specific players -- particularly those fighting for roster spots or a starting role -- on that front Klinsmann had to come away from the match slightly more satisfied.

Graham Zusi, a starter for most of 2013, came on at halftime for the ineffective Landon Donovan and in the 77th minute took a pass from Alejandro Bedoya and scored what turned out to be the game winner. Edgar Castillo, a regular call-up to the first string who rarely sees the field, replaced DaMarcus Beasley with less than a half hour to play and set up Jozy Altidore's 81st goal, which iced the match.

Geoff Cameron, a right-back with Stoke City in the English Premier League, was flawless in the middle of the back line alongside Matt Besler. Sacha Kljestan provided a spark off the bench in the second half. Even youngsters Aron Johannsson and Mix Diskerud, both making their first qualifying starts, had positive moments even if plenty of questions still remain.

But the player who helped himself the most was Zusi.

"It was a tough decision before the game to leave Graham out of the starting 11 but we felt like Bedoya the last couple of months has just really come along tremendously well and deserved [the nod]," Klinsmann said after Zusi, who plays his club ball for Sporting Kansas City in MLS, was named man of the match. "I told Graham be ready at halftime, you're going to play in your home stadium, don't worry about it. He was part of changing a lot of the energy, creating more chances and that moment when he scored that goal is going to be a special memory for him."

Cameron, who lost his starting spot over the summer, upped his stock, too.

"I thought he did well," U.S. keeper Tim Howard said of Cameron. "It's not always easy to kind of slide in there [at center back], but every time he gets his opportunity he seems to perform. He's making the case for himself."

So are Diskerud and Johannsson, even if the results were mixed on Friday. It was Diskerud's audacious spin-o-rama at the top of the visitors' 18-yard box that, even if it didn't quite come off as intended, started the sequence that led to Zusi's strike. And Johannsson's polished touch and off-the-ball movement were plain to see, even if his shooting was off-target.

"He created himself chances; that's what you want to see from a striker," Klinsmann said of Johnannsson. "He missed those chances, but he was there. And Mix you can see is a player that is also coming through. He gets more confident every time he comes into camp with us."

Besides, it's difficult to be too critical of any of the understudies when they contributed to what ended up being a comfortable win -- one that clinched the Americans' place atop the CONCACAF standings for the second consecutive qualifying cycle.

"It wasn't a great performance, but to find a way to win when you don't play well is very important characteristic that we want to have," Donovan said. "There's no guarantee when you get to the World Cup that you play three great games, so when you have a bad game you have to find a way to get a result."

The Americans found a way on Friday, and got a few answers in the process.

NOTES

- Howard, for one, was thrilled that the Americans finished atop the region once again. "Over the last two years all we've been hearing about is how dominant Mexico's been," he said. "We're proud because [people were saying] we were a million miles away from Mexico and we never believed that. We're once again the best team in CONCACAF and that's not lip service, that's what the standings tell us."

- So what were Klinsmann's instructions to Zusi at halftime? "He told me to play my game, to enjoy it," Zusi said. "I think we needed a little bit of a spark in the second half. When you are a sub you want to provide that spark."

- Both players said that facing a desperate Panama, which lost 2-1 at Mexico on Friday, will provide the U.S. with a stern test on Tuesday. Meantime, Klinsmann said that "there will a few changes" to the roster ahead of the trip to Central America, and that the moves would be announced on Saturday.