U.S. happy with victory but not necessarily performance vs. Jamaica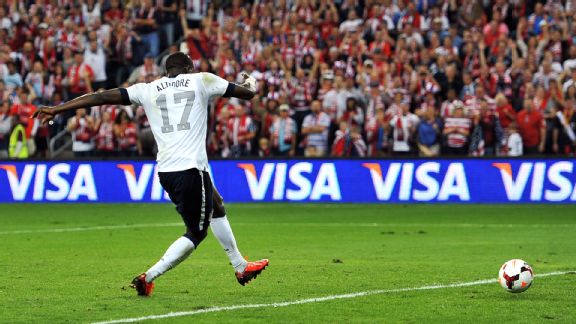 Peter G. Aiken/USA TODAY SportsJozy Altidore broke his scoring drought against Jamaica but overall had a mixed performance in the U.S. win.
KANSAS CITY, Kan. -- For 76 minutes, the United States' attack looked unable to generate much in the way of chances or rhythm. Then local hero Graham Zusi came to the Americans' rescue, slotting home the first goal of the game to send the U.S. on its way to a 2-0 World Cup qualifying victory over Jamaica.

Jozy Altidore added the second goal, tapping home substitute Edgar Castillo's cross to clinch not only the victory but also the top spot in CONCACAF qualifying, thanks to Costa Rica's 1-0 loss to Honduras.

That said, it was a night of contrasting fortunes for the U.S. players. The back line was sharp throughout and coped well with the speed of Jamaican wingers Deshorn Brown and Darren Mattocks. But when it came to the U.S. attack, the opposite was true, as the Americans struggled to connect passes for most of the night, and it wasn't until the introduction of Zusi, and later Sacha Kljestan, that the Americans looked dangerous.

Some of this was down to who was missing, as the absences of Clint Dempsey, Michael Bradley and Fabian Johnson were keenly felt, and seemed to undercut the notion that there is considerable depth on the U.S. roster.

With his choices somewhat limited, Jurgen Klinsmann opted to pair former club teammates Jozy Altidore and Aron Johansson in a two-striker alignment. In midfield, Mix Diskerud was given the start ahead of Kyle Beckerman and partnered Jermaine Jones in the center of midfield.

The U.S.'s struggles in attack allowed Jamaica to a quick start, as it pressured the U.S. in the opening 15 minutes. Defender Brad Evans was twice called upon to make vital clearances with the ball bouncing around the penalty area.

That defensive alertness nearly allowed the U.S. to break on top in the 18th minute. DaMarcus Beasley robbed Brown of the ball in the Americans' attacking third, but his shot was deflected out for a corner. The ensuing set piece saw the ball fall to Johansson, but he could only fire his shot wide.

Jamaica responded in the 25th minute with a Jobi McAnuff shot that goalkeeper Tim Howard could only parry in front of goal, but the defense was on hand to clear. Rodolph Austin threatened the U.S. goal 13 minutes later with a laser free kick that whistled just past Howard's right post.

During this period, the Americans' aforementioned struggles with the ball showed no signs of abating. Evans appeared to put Landon Donovan clean through on goal in the 41st minute, but Donovan's heavy touch killed off the chance.

Donovan was pulled at halftime for Zusi, but it was Jamaica who looked the brighter side at the start of the second half. A giveaway by Diskerud ended up with Brown knifing through on goal, but Howard came out well to save at the Jamaican forward's feet.

The U.S. began to gain a little bit more possession as the half progressed, and nearly went on top in the 64th minute. Altidore corralled a ball on the left side of the six-yard box and teed up Jones, only to see the midfielder fan on the shot.

Kljestan came on for Johansson in the 72nd minute, and the pace of the U.S. attack picked up noticeably, with the breakthrough coming four minutes later. An extended buildup ended with the ball at Alejandro Bedoya's feet. He stumbled, recovered and then played the ball back across goal to Zusi, who beat Jamaica keeper DuWayne Kerr just inside his right post.

At that point, the floodgates opened. Zusi set the table for Kljestan, only for Kerr to deliver a fine save. Then in the 81st minute, Castillo found himself in the clear on the left flank, and Altidore tapped his centering feed home.

Castillo nearly scored himself in the 88th minute, but his deft chip sailed just wide.

All told the U.S. will take the win, even if it was far from the team's best performance. Some players who were given opportunities to shine will rue their performances. But there can be little quibbling over the Americans' qualifying journey. They are tops in CONCACAF, and after Tuesday's finale against Panama can begin preparing in earnest for Brazil.

Player ratings: (0-10)

G Tim Howard, 6 -- Appeared to be unsure with his handling as he twice left shots or crosses on the doorstep only to be bailed out by his defense. Looked more confident as the game went on, and did well to save at Brown's feet in the 52nd minute.

D DaMarcus Beasley, 7 -- Had few problems containing Deshorn Brown, putting in some timely tackles, including one in the attacking third that led to a good chance. His 66th-minute substitution had nothing to do with his performance.

D Matt Besler, 7 -- Delivered a composed, calm performance in the center of defense. He was excellent in his defending and with his distribution.

D Geoff Cameron, 7 -- Won his battles in the air and on the ground. Only nit was he needed to show a tad more composure on the ball in that he opted to clear when he didn't need to. But overall, he showed that, yes, his future does lie as a center back.

D Brad Evans, 7 -- Passed his test against the speedy Mattocks with relative ease. Had a pair of critical interventions early when Jamaica put the U.S. under pressure, and even delivered a sharp pass to set up Donovan.

M Landon Donovan, 4 -- Lacked sharpness, leaving one to wonder if the ankle injury he sustained with his club is still bothering him. Flubbed a clear chance when put in the clear by Evans, and his decision-making in his defensive third was suspect. Taken off at halftime.

M Mix Diskerud, 5 -- Was active in midfield, and clogged the passing lanes effectively. He blew hot and cold in the attack, however, and was guilty of a poor giveaway that sparked a chance for Jamaica. Looked more comfortable when pushed up top.

M Jermaine Jones, 5.5 -- Put in an honest shift defensively, and snuffed out many a Jamaican attack. His distribution was downright poor at times in the first half, but he recovered well in the second half, even as he fanned on a 64th-minute shot.

M Alejandro Bedoya, 5.5 -- Far too many wayward passes in the early going, and just didn't seem on the same page with his teammates. Generated some momentum with his defense, though, and came up big to set up Zusi's strike.

F Aron Johansson, 5 -- Showed a few sharp touches, and took up some good positions, but couldn't find the target with his shooting. Also showed little chemistry with Altidore.

F Jozy Altidore, 5 -- Another player who looked out of sorts, as he struggled to link up with his teammates. Did recover to set the table for Jones in the 64th minute, and finished off the scoring with a tap-in.

Subs:

M Graham Zusi, 8 -- Brought considerable spark to the U.S. attack with some incisive runs into the middle of the field, and overall aggressiveness. Took his goal well, and teed up Kljestan's attempt that was saved.

D Edgar Castillo, 6 -- Was almost too aggressive at times with his willingness to go forward, but it paid off as he set up Altidore's goal.

M Sacha Kljestan, 6.5 -- Helped raise the Americans' attacking tempo, and nearly scored only to be denied by Kerr. He definitely helped himself with his performance.