Klinsmann's success is built off the managers who came before him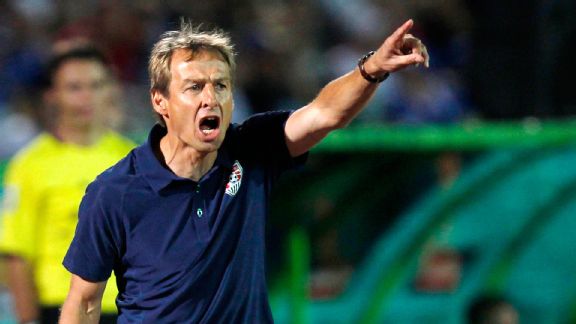 Reuters/Dado Ruvic Jurgen Klinsmann has led the U.S. to impressive results but he owes a lot of the credit to the managers who came before him.
KANSAS CITY, Kan. -- The good times are rolling for the U.S. men's national team.

The Americans strolled to World Cup qualification, clinching a spot in Brazil with two games to spare. The team has won 13 of its last 14 games, an unprecedented run of form that has seen the U.S. move up to No. 13 in FIFA's rankings.

As so often happens during such a period, it is the coach who earns the plaudits, many of them deserved. Without question, Jurgen Klinsmann has pushed the right buttons in terms of motivating his players. His deft handling of Landon Donovan's sabbatical, in which he demanded that the Los Angeles Galaxy attacker earn his way back into the squad by way of the Gold Cup, is merely the most notable example. He's also settled on a tactical approach that has the U.S. pressing a bit higher up the field, and maximizing the talents of attacking players like Jozy Altidore, Donovan, and Clint Dempsey.

"For me, I think Jurgen has done a great job with the program," said U.S. defender DaMarcus Beasley following Wednesday's practice. "For a lot of the guys, we can't wait to get to Brazil to show what we can do, and show what he has been teaching us for the last [two] years."

Yet as so often happens during such a run, a bit of myth-making has taken place as it relates to the manager. Klinsmann has been lauded for pushing his players to challenge themselves in their club careers. He's also been credited with creating a more competitive atmosphere that has created a fitter, deeper squad.

But when such statements are tossed about, they're accompanied by a whitewashing of history, the implication being that coaches prior to Klinsmann weren't putting the same amount of pressure on players. The reality is that Bob Bradley, Klinsmann's predecessor, was constantly telling his domestic players to leave the cozy confines of Major League Soccer and test themselves in Europe, a message that got under the skin of a few MLS managers. There was no let up when it came to overseas performers as well, as Bradley constantly spoke of "moving players along." Arena operated in much the same fashion.

Another assertion is that there has been a greater emphasis on fitness during Klinsmann's tenure. Really? For all of the criticisms that have been lobbed at the U.S. team over the years, fitness typically wasn't a topic of major concern. If it had been an issue, then the numerous comebacks the U.S. delivered during the last cycle would have never happened.

This isn't to say that Klinsmann hasn't had an impact. No doubt he has, but what's occurred is more evolution than revolution.

"It's hard to compare two coaches, but what I will say is that Bob [Bradley] did a good job of continuing on from what Bruce [Arena] started, and I think Jurgen has done a good job to continue on from what Bob did as well," said U.S. midfielder Sacha Kljestan, whose time with the national team has spanned the last two World Cup cycles. "It's not like we're a totally different team now than we were under Bob. We have a lot of the same aspects, we have a lot of the same confidence and consistencies in our game that we've had under both coaches. I don't think there has been a world of difference."

Kljestan's statement can be applied to the team's depth as well. Klinsmann appears to have more options in key positions than Bradley had, but it wasn't for lack of trying by his predecessor.

Thirty-eight different players have seen time in a World Cup qualifier this cycle under Klinsmann. During the 2010 cycle under Bradley, that number was 39. When the comparison is expanded to competitive fixtures, Bradley utilized 64 players last cycle, while Klinsmann has used 42. It should be noted that by participating in the 2007 Copa America and the 2009 Confederations Cup, Bradley had a few more opportunities to blood players in high-pressure games. He also had the benefit of being around for the entire cycle, whereas Klinsmann had one fewer year with which to work, but the point still stands. In terms of casting a wide net for players, Klinsmann's approach hasn't been demonstrably different than that of his predecessors, and certainly some holes still remain.

"It's not as if we have a stable-full of guys who score goals," said ESPN television analyst Alexi Lalas. "In the back, we're possibly starting two guys who have never played in a World Cup."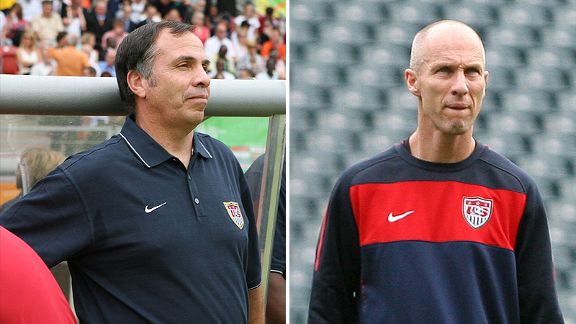 Icon SMIPrevious U.S. managers Bruce Arena(l) and Bob Bradley (r) implemented changes that allowed Jurgen Klinsmann to enjoy the U.S.'s current results.
So has Klinsmann made the U.S. team or has the team and its players made him? It's a combination of both. The ability of MLS to produce talent is probably as great as it has ever been, and Klinsmann has wisely tapped into it, though at times this was out of necessity. The stylistic changes that Klinsmann has instituted have worked well, but the U.S. manager has also recognized that there is value in the pragmatic approach employed by past U.S. teams, which has ably served the Americans in getting road results in places like Italy and Mexico.

Yet Klinsmann's greatest strength, and his area of greatest impact, is in how he relates to his players.

"I think [Klinsmann's] enthusiasm has given the team a lot of confidence," said Kljestan. "We go into Italy and we win 1-0, and he goes into that game saying, 'We're going to win this game. I don't care that we're playing against one of the top 10 teams in the world in their home stadium. We're going to come in and we're going to try to win.' He gets that enthusiasm and confidence into the team and I think it's rubbed off on a lot of guys."

This approach has had a ripple effect throughout the program. His ability to instill belief in his players has certainly had the effect of making them feel valued, no matter where they happen to sit on the depth chart. That way when they're called upon -- at least so far -- they've tended to deliver, hence a deeper squad.

Add it all up, and you have a successful team that has benefited not only from Klinsmann's approach, but from the coaches who came before him as well.

Note:

The injury bug that has hit the U.S. squad in recent weeks showed no signs of abating on Wednesday, as Eddie Johnson hobbled off the field during a scrimmage with an apparent leg injury. A U.S. Soccer spokesman stated via email that the team was "awaiting word" on the severity of the injury.