Four options to fill in for injured Clint Dempsey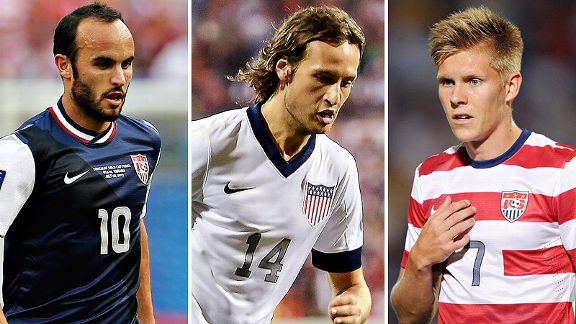 Getty Images, AP PhotoLandon Donovan, from left, Mix Diskerud and Aron Johannsson are three possible replacements for U.S. captain Clint Dempsey.
Friday's World Cup qualifier against Jamaica represents something of a personnel puzzle for United States national team manager Jurgen Klinsmann.

With qualification assured and injuries robbing him of some of his best players, there is a considerable impulse to experiment. Yet precious few opportunities remain for the U.S. to play together ahead of next summer's festivities in Brazil, so developing more on-field cohesion is a priority as well. As so often happens with coaching decisions, the trick is to strike the right balance.

"It's important to keep winning and keep doing well, so I don't think you start going crazy and make wholesale changes," said former Scotland international and current ESPNFC television analyst Steve Nicol. "But [Friday] is a chance to make some little tweaks. It's the perfect game to do that."

Nowhere on the field is the urge to experiment more pronounced then in attack, where Clint Dempsey's absence leaves Klinsmann with plenty of options. Dempsey's normal position playing behind striker Jozy Altidore had many calling the U.S. formation a 4-5-1, yet the summer months that witnessed Altidore's combustible form came about in part because Dempsey curbed his penchant for dropping back into midfield and spent more time in closer proximity to Altidore.

"It's not rocket science," said former U.S. international Jimmy Conrad. "If you're playing 4-5-1 but no one is going up to support the forward -- and that's usually Jozy -- then he's getting his ass kicked by two center backs the whole time. With an additional forward, not only do you get someone closer to Jozy, but you occupy other defenders."

Case in point was the opening goal against Panama, when Dempsey's near-post run dragged defenders with him and allowed Altidore to latch on to Fabian Johnson's delivery at the back post. One only has to watch a few of Sunderland's matches this season to get an idea of what happens when Altidore doesn't receive enough support.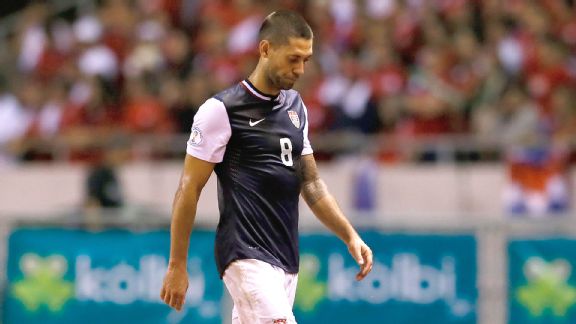 Kevin C. Cox/Getty ImagesClint Dempsey's injury robs the U.S. of arguably its most versatile attacking option.
In terms of replacing Dempsey, the choices are as varied as they are numerous, with plenty of approaches available to the U.S. manager.

Landon Donovan

No two players are alike, but Donovan represents the most like-for-like replacement for Dempsey. And much of the playing time he's received for both club and country since his return from his sabbatical has been in support of a dedicated forward. Donovan, even at age 31, still possesses the speed to stretch defenses and create space for a player like Altidore.

The only question is whether the role of supporting Altidore is guaranteed to be Dempsey's going forward -- health permitting, of course -- which would mean Donovan is likely to end up as a wide midfielder next summer. For that reason, getting more reps in that position might be of greater value to the team. It could also provide valuable minutes for other players.

Mikkel "Mix" Diskerud

If you lean toward the experimental side of things, then the playmaking ability of Diskerud makes for some intriguing possibilities. Against Mexico, the Rosenborg attacker came off the bench to set up Donovan's clincher, and after an impressive Gold Cup, this seems an optimal time to see how Diskerud can perform with the first team.

Granted, Diskerud was presented with a similar opportunity in the friendly against Bosnia, and while he showed some clever touches and should have earned a penalty, he was also pushed off the ball too often. Friday's game -- or even the second match against Panama -- could be an opportunity to gauge the extent to which Diskerud has adapted to the international game.

Aron Johansson

Since the tantalizing display as a substitute against Bosnia, little has been seen of Johansson at the international level. The AZ Alkmaar striker has been prolific at club level, delivering several highlight-reel strikes. And it's worth noting that he spent the first half of 2013 playing alongside Altidore when the latter performer was still on the books of AZ.

Such a pairing would represent more of a standard two-striker alignment, although there are certainly some crafty elements to Johansson's game, which might allow him to drop into midfield on occasion. Whether he's mobile enough to stretch defenses is an open question, but it still seems like an experiment worth trying.

Eddie Johnson

Klinsmann's comments following the announcement of the U.S. roster Sunday hinted at the possibility of Johnson being chosen to partner Altidore. It wouldn't be the first time the two have played alongside each other, with the duo combining to spark the second-half revival the U.S. showed against Bosnia.

Again, Johnson's presence would give the U.S. two dedicated forwards. In this case, Johnson provides a bit more speed and power than Johansson but less of an ability to combine. Johnson is in fine form at the moment, having scored five goals in his last eight league matches.