Diskerud rewarded for his U.S. persistence
What a difference a few months have made for United States midfielder Mikkel "Mix" Diskerud.

In May, Diskerud openly considered his national team future as the dual-national was offered an opportunity to feature for Norway's Under-21 team in the summer's U-21 European Championship. After two years of playing sporadically for the U.S. in exhibition matches, he wanted to have more consistency with his international career. According to various Norwegian media outlets, if Diskerud joined Norway he would have been fast tracked into a regular role with the senior side. As appealing as that option would've been, Diskerud's heart wasn't sold on the move. Instead, he wanted to prove himself as a member of the Stars and Stripes.

Looking back on that decision -- he's been named in Jurgen Klinsmann's U.S. squad to face Jamaica and Panama in World Cup qualifying -- it's clear his patience was rewarded.

The 23-year-old was one of the U.S.'s key performers during its trophy-winning run at the 2013 Gold Cup and showed his promise and class in a 20-minute cameo against Mexico, assisting on Landon Donovan's goal to put the team ahead 2-0 against Mexico. Reflecting on his emergence on the U.S. roster, Diskerud is clearly focused on team goals rather than his personal development. He has never lost during his time as a senior U.S. national (his record in 12 caps is is 10-2-0) and hopes he can help lead the team to wins against Jamaica and Panama.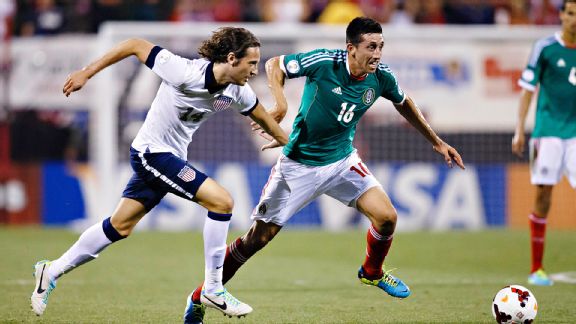 Rick Osentoski/USA TODAY SportsDiskerud has fought hard for -- and earned -- his spot in the U.S. national team picture.

"I hope [the] coach [Klinsmann] and his staff are willing to risk a lot of what it takes to increase the likelihood of winning them both," Diskerud explained to ESPN FC via email. "If both matches are won, we have a good chance of being ranked top 10 in FIFA's next official ranking. That would be huge."

Diskerud is well aware that he still has plenty to prove as a member of the U.S. national team but isn't shy in revealing that he wants to represent America in next year's World Cup in Brazil. He also adds that he has learned a lot during his time under head coach Jurgen Klinsmann.

"As a principle, I don't want to reveal much of my communication with our coach," said Diskerud. "But he is of course one of the greats, and it will be a long time before I will question whether I should follow his advice or not. Right now I believe I can improve everything -- and so I'll listen when [the coach] tells me how."

- Read: U.S. Hot List
- McIntyre: Fringe players must take their chance

While the young midfielder has some progress to make in his development, Diskerud's ability to run into channels and vision as a playmaker have endeared him to U.S. fans. When your hair has a fan-created Twitter account (@diskerudshair), it's clear you're a Stars and Stripes favorite.

In Norway, things are a bit different. Diskerud is employed by one of the country's biggest sides, Rosenborg, and his Norwegian teammates on the side aren't exactly the biggest supporters of his decision to join the U.S. national team. "My Norwegian teammates are just jealous," he joked.

The Olso, Norway-born player also said that his family are split on whether or not to support his international career. "They are divided. But they love me -- always have," Diskerud stated.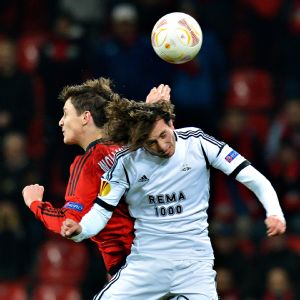 AP Photo/Sascha SchuermannThough Diskerud realizes his club level in Norway might be an issue, he'll prove himself as many times as it takes in order to rep the U.S. at the World Cup.
As his profile continues to grow with more playing time for the Stars and Stripes, Diskerud's time in Norway may come to an end as soon as January. Several clubs from abroad have expressed their interest and while Diskerud acknowledges he is considering his options, he stresses that the most important thing is finding the right fit. He even noted that he could very well remain at Rosenborg, especially considering that the club is in first in the Norwegian Tippeligaen (Premier League) and could participate in the Champions League next year. Above all else, he insists that next year's World Cup is his main focus.

"I am sure Rosenborg and my agents are doing that [considering offers from abroad]. I have one focus, and one focus only: World Cup in Brazil. People tell me that Rosenborg is totally relevant for getting me fit and in shape for that contest. And until I hear otherwise, Rosenborg is a fantastic club for me," Diskerud said.

"If you really want to make an impact in a world championship, I think you have to focus and forgo other stuff, and assume risks. I, for sure, will."

Still, based on USMNT head coach Jurgen Klinsmann's insistence of players challenging themselves in the most competitive environments in order to earn a starting role with the national team, Diskerud may have to have move in order to secure his place. Fact is, the Norwegian league isn't as highly regarded among Europe's top six or seven leagues and some even consider Major League Soccer to be ahead of it. Diskerud knows that he still has plenty to prove if he's going to reach his ambition.

"If it is something that needs to be proven, it needs to be proven time and time again, to myself, my coach and my teammates," Diskerud stated. "I guess that is the nature of our sport."