USMNT hot list: A battle brewing for right back spot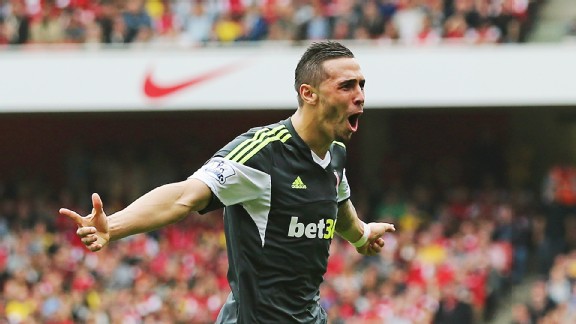 Ian Walton/Getty ImagesGeoff Cameron tallied his first career Premier League goal in Stoke's Sunday defeat to Arsenal.
At home and overseas, injuries were the story of the weekend for many members of the national team's player pool. The list is a long one, and it includes U.S. stalwarts Michael Bradley (ankle), DaMarcus Beasley (hamstring), Clint Dempsey (hamstring) and Landon Donovan (ankle) -- none of whom were available for their clubs' most recent matches. Young center back John Brooks did play, but he suffered an arm injury early in Hertha Berlin's draw at Freiburg.

Jozy Altidore, who is reportedly still feeling the effects of the hamstring injury that limited him to a substitute's role in the U.S. World Cup qualifier in Costa Rica earlier this month, came off the bench for struggling Sunderland. (More on Altidore's situation below.)

That's even before we get to veterans Steve Cherundolo, Maurice Edu, Stuart Holden and Brek Shea, all of whom remain on the shelf with various long-term ailments.

But the news around the U.S. squad is still anything but doom and gloom these days. In particular, the battle for the Americans' wide-open spot at right back appears to be heating up. With three candidates for the position putting strong performances for their respective clubs in recent days, things could get interesting as the clock ticks toward Brazil 2014. Here's a look at who's hot (and not) this week.

Warming up:

Geoff Cameron, RB, Stoke City (England)
Why he's here: Not only did Cameron score his first Premier League goal in Stoke's closer-than-it-looked 3-1 loss to Arsenal, his growing comfort on the flank was obvious. The rangy 28-year-old got forward well against the Gunners, and his crossing was as dangerous as it has been since he arrived in England a year ago.

What this means: Cameron is benefiting from Mark Hughes' system as much as from the regular reps he's getting at right back, which he played only part-time in 2012-13. Like U.S. coach Jurgen Klinsmann, Hughes prefers his teams to play it out of the back with the ball on the ground -- a far cry from predecessor Tony Pulis' direct, defense-first approach. If Cameron continues to excel -- he's probably been the top American outfield player in Europe this season -- it will be hard for Klinsmann to keep him off the field.

Timmy Chandler, RB, Nurnberg (Germany)
Why he's here: After reclaiming his place in Nurnberg's lineup, Chandler's strong defensive play helped the Bundesliga club secure an unlikely point at home against Borussia Dortmund -- last year's Champions League runner-up -- on Saturday.

What this means: The German-American remains in Klinsmann's doghouse, and a call-up for the Americans' final two World Cup qualifiers next month would be a surprise. But the Yanks' depth would be improved by an in-form Chandler, who has said all of the right things recently about wanting to return to the U.S. team. If the 23-year-old continues to play well, one final opportunity in the more-experimental November friendlies isn't out of the question.

Brad Evans, RB-M, Seattle Sounders (MLS)
Why he's here: Three weeks after suffering a calf injury that cost him a starting assignment in the most recent U.S. qualifiers, Evans, 28, returned to action Saturday in Seattle's 1-1 tie in Los Angeles and nearly set up a Sounders winner minutes after coming off the bench.

What this means: Solid displays in each of the five U.S. games he's played since June -- all of them wins -- had earned Evans his place atop the right back queue before he got hurt. If he's healthy, there's no reason to think the MLS lifer won't get a chance to win back the spot next month.

Eddie Johnson, F, Seattle Sounders (MLS)
Why he's here: With Klinsmann looking on from a StubHub Center suite, Johnson powered home the Sounders' lone goal against the Galaxy -- his seventh strike in his past nine starts for club and country.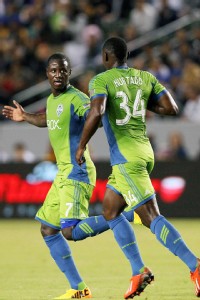 Victor Decolongon/Getty ImagesSeattle Sounders striker Eddie Johnson scored yet again with a header in Saturday's 1-1 draw at Los Angeles.
What this means: A semi-regular starter for the U.S. in the past year, Johnson's stature is growing with every goal. For a player who has struggled with consistency throughout his career, the 29-year-old is slowly but surely turning himself into someone Klinsmann will have a hard time keeping off the field should his current form continue.

Cooling down:

Jozy Altidore, F, Sunderland (England)
Why he's here: To be clear, Altidore hasn't played poorly for the last-place Black Cats despite the aforementioned hamstring problem and reports of dressing room unrest. But any time the coach who signed you is fired five games into the season, there's plenty cause for uncertainty.

What this means: Expect interim manager Kevin Ball to stick with Altidore after strike partner Steven Fletcher sustained a suspected dislocated shoulder in Saturday's 3-0 loss at West Brom. It could also help Altidore that Sunderland plays again on Tuesday, against Peterborough United in the Capital One Cup. Altidore's lone goal this season came in that competition; another strong match wouldn't hurt his confidence ahead of daunting Premier League games against Liverpool and Manchester United.