Real test still to come for Brazil-bound USMNT


COLUMBUS, Ohio -- The Americans had done their part. With yet another famous 2-0 victory here over archrival Mexico in the bag, all the home team could do afterward was sit and wait.

- Bennett: U.S. finds way to beat El Tri
- Carlisle: Player grades for United States 2-0 Mexico

There were still 45 minutes to play in Honduras, where the Catrachos were leading Panama, a result that -- if it stood -- would qualify the United States for its seventh consecutive World Cup.

But with the champagne on ice while an expectant U.S. squad watched patiently inside its Crew Stadium locker room, Panama tied the match in the 90th minute, making the final three minutes of stoppage time excruciating. At that point, one more goal from the Canaleros and the Yanks' passage to Brazil 2014 would be put on hold for at least another month.

Then the whistle sounded, and the party began.

"We saw Panama score at the end and got a little nervous," said U.S. veteran Landon Donovan, who picked up a goal and an assist in this latest "dos a cero" victory -- the fourth straight against El Tri in qualifying in Columbus -- when the celebrations had subsided. "But once they blew the final whistle, everyone was excited to be going to Brazil."

Getting there wasn't easy. It never is.

"A qualifying campaign is a very difficult road," said U.S. coach Jurgen Klinsmann, his hair still wet from a bubbly shower, said in his postmatch news conference. "We went through some difficult moments ... we wanted to get this done as quickly as possible. It means a lot to all of us."

For the U.S., it also means avoiding the pressure of having to wait until October's final two Hexagonal match days, against Jamaica and at Panama, and it will give Klinsmann the luxury of resting some of his regulars for those mostly now-meaningless (for the U.S. at least) matches.

To be able to knock Mexico into fifth place in the six-nation Hexagonal standings was an added bonus.

"To get it against your rival is even sweeter," said captain Clint Dempsey, who missed a garbage-time penalty kick that would have made the final 3-0. "I thought the defense did a great job tonight keeping a clean sheet."

It's true that center backs Omar Gonzalez and Clarence Goodson were flawless. But the man of the match was Donovan. The national team's all-time scoring leader set up Eddie Johnson's early-second-half opener via a corner kick, then put the game out of reach with a strike of his own with five minutes to play, sending the overflow pro-American crowd into rapture.

"What he did tonight was big," Klinsmann said of Donovan, who only recently worked his way back into the German's good graces after skipping the first three qualifiers of 2013, citing fatigue. "Not only with his experience and scoring a goal, but also he understood in certain moments to chase back and defend and do all that work that is necessary at the international level if you want to succeed."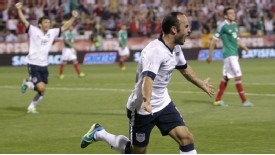 APThe in-form Landon Donovan helped the U.S. clinch qualification for the 2014 World Cup.
After all, succeeding at the highest level is what it's all about. That's why, as pleased as the players were after Tuesday's win, they're also fully aware that the real test has yet to begin.

"We're going to enjoy tonight, have a few beers, but still the goal is to do well in Brazil," Dempsey said. "It's one thing to qualify for the World Cup, but if we don't get out of our group, I think everybody will be devastated."

Still, there is reason to be optimistic about the Americans' prospects next summer. Much will depend on December's draw, of course, but the U.S. has the look of a team that -- should the stars align -- could be an extremely tough one at the main event.

"I think when the chips were down, we've answered the bell a bunch of times," goalkeeper Tim Howard said. "We're young enough at the moment that these next six to eight months, we're going to grow. I really think the mix here is right. We just need to mature a little bit more and I feel good about our chances."

NOTES

• Eddie Johnson squandered the Yanks' best chance of a scoreless first half, a powerful header that he sent straight at El Tri keeper Jesus Corona. "I told him at halftime, 'You're going to get another one, you just have to stay hungry and wait for it,'" Klinsmann said, rather prophetically as it turned out. "We talked about set pieces [on Monday] and we thought we'd have a big advantage in that way," said Donovan, who played despite being diagnosed with pinkeye. "So I knew if I put it to a good spot [Johnson] would have a chance, but it was an unbelievable play by him, an unbelievable goal."

• Howard didn't mince his words when discussing how important Donovan will be as the Yanks move toward Brazil. "He's a guy that, when he's on the field, he puts fear in the opponent," Howard said. "He's one of these guys that gives you a seven or eight out of ten every game, and you can count on him for that. And that's not easy to come by."

• Off the field, the story of the match was the incredible partisan U.S. support at Crew Stadium, which more than lived up to the pregame billing. "When we came into the stadium, it was rocking already," Donovan said. "It's a real atmosphere. That's what we face when we go away, and it's nice that other teams have to face it when we come here. The crowd certainly boosted us on tonight, and it was great to [clinch qualification] in front of them."

• The most surprising thing about Tuesday's match might have been how little resistance El Tri put up after it conceded Johnson's opening goal four minutes into the second half. "They looked relatively timid and shy throughout -- I've never seen a Mexico team look that way," said Donovan, who scored his U.S.-best sixth career goal against the Mexicans. "And when we scored the goal, I think it was pretty clear we were going to get a second or third." Dempsey took it a step further, adding: "When we scored, it seemed like they didn't believe."