U.S. sees opportunity with fans of Mexican descent


COLUMBUS, Ohio -- Imagine this: It's June 2014, and Mexico's national soccer squad, perhaps the most popular sports team in the United States, has shockingly failed to qualify for the World Cup, robbing the 34 million Hispanics of Mexican origin living in the U.S. of the chance to cheer on their beloved El Tri in Brazil.

It's an unlikely scenario, to be sure. Despite Mexico's recent struggles, odds are it'll still find its way to the planet's biggest sporting event next summer, even if it loses Tuesday's titanic World Cup qualifier to the U.S. (8 p.m. ET, ESPN, WatchESPN).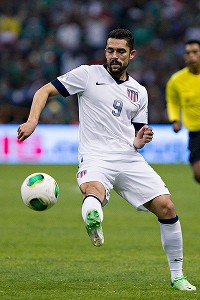 Miguel Tovar/Getty ImagesHerculez Gomez is the most accomplished Mexican-American on the USMNT, but his recovery from knee surgery gives Liga MX players such as Joe Corona and Jose Torres an opportunity.
But if the visitors do somehow miss the cut, there's little doubt that it would be an opportunity for the U.S. national team to convert a few fans -- especially with the Mexican influence on the U.S. squad at an all-time high.

For years, U.S. Soccer has dealt with accusations of overlooking players of Mexican descent, or at least not having enough of them on its roster. But since taking over as coach two years ago, Jurgen Klinsmann's team has taken on a decidedly more Mexican flair.

Klinsmann selected five Liga MX-based players to his roster ahead of the Columbus Clasico, four more than were on the squad when the rivals met here in qualifying in 2009. When the Americans beat Mexico in Hexagonal games at Crew Stadium in 2001 and 2005, not one U.S. player played for a club south of the border.

Why the big change in the makeup of the team? It's a matter of style more than of national origin, according to U.S. veteran DaMarcus Beasley, who had fallen out of the national team picture before his standout play for Puebla helped win him back a starting job earlier this year.

"They control the ball and play that style that Jurgen likes to play, out the back to the front," Beasley, who scored in the 2005 win, said Monday of his Liga MX colleagues. "I think that's why Jurgen brought some of the guys in from Mexico."

Klinsmann, for his part, said on the eve of the match that the opponent had nothing to do with the inclusion of Beasley, Edgar Castillo, Joe Corona, Jose Torres and Michael Orozco; indeed, all have been regular call-ups throughout Klinsmann's two-plus years at the helm. But the coach allowed that having Mexican-based players on his roster may have helped the U.S. post a 1-0-2 record in its last three games against El Tri -- two of which were played in Mexico City.

"Obviously, it's a good thing for us knowing that players for us are playing in Mexico in a very strong league," Klinsmann said. "They know those [El Tri] players really well and are well prepared to play eye-to-eye against them. It's definitely a plus."

Of the five Mexican-based players in camp, only Beasley is likely to start Tuesday. Midfielders Corona and Torres were added to the roster after Michael Bradley (ankle) and Geoff Cameron (yellow card accumulation) were ruled out following last week's loss in Costa Rica. Herculez Gomez, the Yanks' most accomplished Mexican-American player, is recovering from summer knee surgery.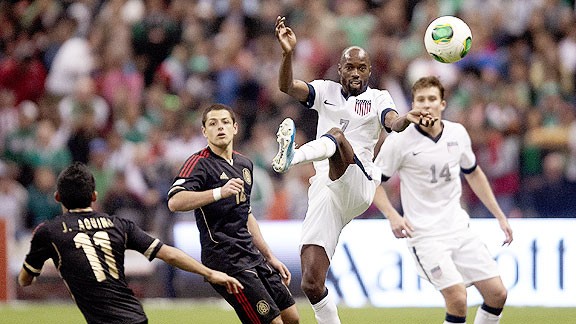 Yuri Cortez/AFP/Getty ImagesDaMarcus Beasley's familiarity with the Liga MX style as a standout with Puebla helped him win back a starting spot with the U.S.
Still, just being on the roster is a "special feeling," Corona said. And no matter who gets on the field Tuesday, it's clear that the Mexican influence has become a vital part of the U.S. squad's identity and will continue to be going forward.

"Our Mexican-Americans, our German-Americans, our American-born Americans -- everyone's really come together," goalkeeper Tim Howard said. "This group feels like a brotherhood."

That closeness has helped put the U.S. on the brink of its most successful year ever, with a World Cup berth clearly in sight. If the Americans can clinch against their archrival Tuesday -- a victory would do it if Panama fails to beat Honduras -- they might also win some Mexican-American hearts and minds in the process, regardless of whether El Tri makes it to Brazil.