The Columbus aura is undeniable in U.S. soccer lore
To get an idea of just how Crew Stadium became the epicenter of home World Cup qualifiers between the U.S. and Mexico, one has to go back in time a little bit. On Feb. 15, 1998, Eddie Pope was lining up with his U.S. teammates, getting ready to take on Mexico in that year's Gold Cup final, and what he heard infuriated him. The pro-Mexico crowd at the Los Angeles Coliseum was booing the U.S. national anthem.

"It was disgusting," he said via telephone. "That irritated me so much, angered me so much. Having your national anthem booed [at home], that hits you in the soul, and I just didn't know what we were going to do about it besides play the game somewhere else."

Playing before hostile crowds on U.S. soil was by no means a new experience for the Americans. The team's fans were routinely outnumbered, especially when it played World Cup qualifiers in large stadiums. Fortunately for Pope and his international teammates, some plans had been set in motion to change that dynamic.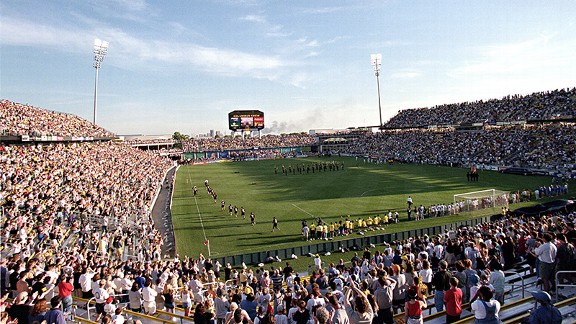 Tom Pidgeon/Getty ImagesColumbus Crew Stadium is iconic not just as the first soccer-specific ground in the U.S. but because of its hold over El Tri.
The first soccer-specific stadium

There's a reason the late Lamar Hunt is remembered as one of the game's pioneers in this country. A member of the National Soccer Hall of Fame, Hunt was an early proponent of the NASL and invested heavily in Major League Soccer, at one time owning as many as three teams. But his biggest contribution may be the building of Crew Stadium, the first soccer-specific venue to be built in the U.S. and the forerunner of the league-wide construction boom that followed.

Hunt had long contended that in order to be successful, MLS teams needed to play their games in smaller venues where the teams controlled more of the revenue streams. There was a practical side as well in that Ohio Stadium, the team's venue for the first three years of its existence, was about to undergo renovations and soon wouldn't be available. So Hunt plunked down $28.5 million and made Crew Stadium a reality. Granted, it lacked a lot of the amenities one has come to expect in modern soccer stadiums, but it proved to everyone that it could be done.

Full U.S.-Mexico coverage:
- Must Read: Johannsson ready to step up
- Carlisle: Tale of the tape
- Gomez: Tena one-and-done as Tri boss
- Bennett: Is the U.S. poised to humiliate Mexico?
- Ramos: Columbus not a Mexico stronghold
- Watch: Mexico on its heels
- Sutcliffe: El Tri unlikely to innovate
- Ley, Keller: U.S. has holes to fill

"Even though the league was not very strong at the time, my father made the decision that he was going to go ahead and make the investment to build Crew Stadium," said Hunt's son Clark, the chairman and CEO of Hunt Sports Group, which until recently owned the Columbus Crew and Crew Stadium. "And certainly once we got into the process of building it, the thought of hosting national team games and other events there was part of our thinking in terms of how we could make the investment viable."

When the stadium opened on May 15, 1999, the U.S. Soccer Federation quickly took notice. Crew Stadium hosted its first World Cup qualifier on Oct. 11, 2000, when a U.S. team that had already qualified for the next round played Costa Rica to a 0-0 tie. When the schedule for the final round of qualifying for the 2002 World Cup was announced, the U.S. was slated to open against Mexico at home in February. The U.S. could have scheduled the game at a bigger stadium in a warmer climate but ultimately chose practicality over profit.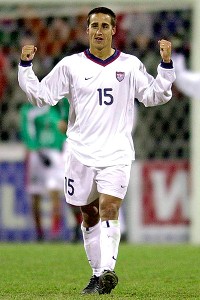 David Maxwell/AFP/Getty ImagesJosh Wolff played a major role in the famous "Dos A Cero" victory back in 2001, a result that informally began the Columbus hoodoo over El Tri.

"In World Cup qualifying, revenue is not the main consideration, it's not at all a consideration," said current USSF president Sunil Gulati prior to Friday's World Cup qualifier against Costa Rica. "We want to win these games. Clearly by playing Mexico or Honduras or a team like El Salvador or Guatemala in Los Angeles, we could play those games at the Rose Bowl and do very well, but that doesn't make any sense."

As for whether playing in cold weather was a consideration, Gulati broke into a broad smile but would only say, "We wanted to play in a home crowd, in a home venue for the U.S. team."

"La Guerra Fria"

So Pope and the rest of the U.S. got their wish at last, a game against Mexico in front of U.S. fans, in a tight venue, in bitter cold. It was a game that went down in history as "La Guerra Fria" ("The Cold War") and is remembered for two things: the fact Mexico declined to warm up on the field and that superb performance by Josh Wolff, who came on as an early substitute for the injured Brian McBride, scored the first U.S. goal and set up the second in a 2-0 win.

"One of the things you don't do is warm up inside where it's warm and then come outside and try to play," Pope said. "I remember at the kickoff looking at them and they were all just rubbing their arms, jumping up and down, trying to get used to the conditions. It certainly wasn't bothering me. It was tough on them and I don't remember talking about it until afterwards, but everybody saw that and was like, 'Time to go for the jugular.'"

In a phone interview, Hunt added, "I know that visiting locker room at Crew Stadium is very small, so it's not like they were in there able to get a proper warm-up. I think it affected them and they lost the game before it ever started."

Pope also remembered the crowd. For all the talk of the venue, the fans still have to be heard, and to do so on a night when the game-time temperatures were in the 20s made it even more special. "It is an intimate environment," said Pope about Crew Stadium. "It's loud, the fans are relatively close. We can hear it. You can feel the energy of the 12th man. There really is something to it. It fuels you on, and when you have that home-crowd support behind you in a stadium like that it's a great feeling."

Over the years more soccer-specific stadiums have sprung up, but when it comes to the home qualifier against Mexico, the U.S. has always found its way back to Crew Stadium.

"Once we won there it didn't make sense to go anywhere else," Gulati said.

And the games have always proved to be memorable encounters, beginning with the famous 2001 2-0 U.S. win. In 2005, there was the epic stare-down between U.S. defender Oguchi Onyewu and Mexico forward Jared Borgetti. Four years later there was the commanding two-goal performance from Michael Bradley and another meltdown by Rafa Marquez, who was sent off in the match. Then there was the scuffle in the tunnel afterward between U.S. defender Frankie Hejduk and Mexico assistant Paco Ramirez.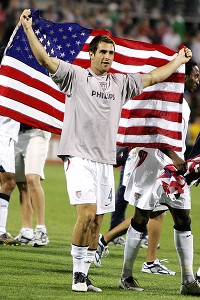 Andy Mead/Getty ImagesEl Tri's luck has never improved in Ohio; in 2005, Carlos Bocanegra led the U.S. to another 2-0 win.

"We know they don't like playing in Columbus, so we bring them there," Pope said. "That's based on that fan base there. Clearly we have a lot of [fans] now that we can turn to, but clearly Columbus is the place."

What next?

The competition for World Cup qualifiers has gotten more intense over the years and with cities like Seattle showing that they can sell out large stadiums to a pro-U.S. audience, there is already talk that this may be the last U.S./Mexico qualifier at Crew Stadium. Hunt isn't quite so sure.

"Until the magic wears off, I can't imagine the U.S. would take the game anywhere else," he said. "I think the U.S. team feels very confident when they play in Crew Stadium."

That could be interpreted as Hunt just being parochial, but Bradley echoed his thoughts.

"We have a history here," he said. "For soccer in our country that's not always the case. Soccer is still in its growing stages. And so for us to feel like we walk into a stadium and there's history is a special feeling. These people here in Columbus, in this part of the U.S., they love soccer, they love our team, they love supporting the United States.

"So when we come here, when we step out onto this field, there's an overwhelming feeling of American support. So I think when you play against Mexico, when you play in these kinds of games where so much is on the line, that can help the bar swing our way."

No doubt, fans from all over the country will be hoping that takes place once again on Tuesday.

Additional reporting by Doug McIntyre