Tale of the Tape: Recent changes narrow gap between U.S., Mexico


Prior to Friday's round of World Cup qualifiers in CONCACAF, the disparity between the U.S. and Mexico was staggering. The U.S. was rolling to the tune of a 12-game winning streak, while Mexico was in disarray having failed to win at home during the hexagonal.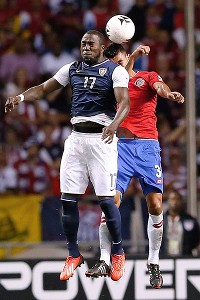 Kevin C. Cox/Getty ImagesThe Americans will face Mexico without Jozy Altidore, the glue of the U.S. attack during the June qualifiers.
OK, so El Tri is still officially in panic mode following its 2-1 home defeat to Honduras, a loss that resulted in the ousting of manager Jose Manuel de la Torre. But events down in Costa Rica during the Americans' 3-1 defeat to the Ticos have served to narrow the gap between the two teams. U.S. midfielder Michael Bradley, as critical a piece as there is to the American effort, was ruled out with a sprained left ankle, and won't be available Tuesday. Then a flurry of yellow cards resulted in the suspensions of defender Matt Besler, forward Jozy Altidore and utility man Geoff Cameron.

That makes determining who has the edge ahead of Tuesday's clash in Columbus, Ohio, all the more difficult, so here's a position-by-position breakdown to answer that very question.

GOALKEEPER
Traditionally, this is where the U.S. has had a significant edge, but Tim Howard, who by no means is playing awful, has looked short of his best in recent matches, and he likely will want back Joel Campbell's goal from Friday, one that deflected off his heel.

Jesus Corona found himself in a similar mindset following the loss to Honduras. Without question he has made excellent saves during qualifying but should have opted to punch rather than try to catch Carlo Costly's shot, which allowed Jerry Bengtson to score Honduras' equalizer.

All told, Corona's current form might be better, but Howard holds a significant edge in experience.

Edge: even

DEFENSE
Changes are in the offing for both sides, but the U.S. finds itself in a bit more upheaval. Besler's suspension rules him out, and Michael Orozco looked none too convincing as a right back against the Ticos. The Americans do have an experienced alternative in the middle in Clarence Goodson, so there doesn't appear to be too much of a drop-off, although he has struggled against Mexico in the past. There's also a chance Orozco could slide into the middle. Michael Parkhurst looks poised to slide in at right back but has been limited to reserve duty with Augsburg, so rust may be an issue. That factor might see manager Jurgen Klinsmann turn to Fabian Johnson, but either way, there will be less cohesion along the back than there has been recently.

For Mexico, the suspension of Gerardo Torrado will likely result in left back Carlos Salcido being pushed into midfield, resulting in either Jorge Torres-Nilo or Andres Guardado -- who has been playing in that spot for Valencia -- stepping in. If Landon Donovan lines up on the right for the U.S., that will be an area to watch.

More troubling for El Tri, center backs Hector Moreno and Diego Reyes both lost crucial physical battles against Costly, so confidence for both will be less than 100 percent. This is especially true if Eddie Johnson -- who like Costly possesses considerable strength and power -- starts for the Americans. That factor could see a recall for Maza Rodriguez. All told, the fact that El Tri have recorded five shutouts in the hexagonal gives them the nod here.

Edge: Mexico

CENTRAL MIDFIEDLERS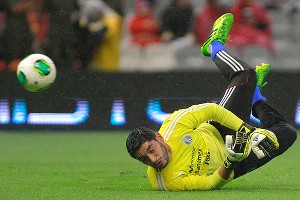 Hector Vivas/LatinContent/Getty ImagesThe current form of Mexico goalkeeper Jesus Corona matches him up evenly with his U.S. counterpart, Tim Howard.
With Bradley and Cameron out, Kyle Beckerman is the player most likely to step in. While he's less mobile than either Bradley or Cameron, he's adept at reading the game, as well as breaking up passes. The bigger concern is the lack of consistency shown by Jermaine Jones. While he managed to impose himself more in the second half of Friday's encounter, he endured a nightmare start that coincided with the U.S. falling behind by two goals. The Americans desperately need fewer peaks and valleys out of the Schalke man.

Given that Salcido plays in the center of midfield for club side Tigres, Mexico's usual dominance in the middle shouldn't suffer too much. The bigger question is whether a change in formation will see new manager Luis Fernando Tena go with two central midfielders -- allowing him to play with two strikers -- or the three that Mexico has fielded in recent matches. If he goes with two, either Christian Gimenez or Fernando Arce will have to be sacrificed. Arce has the greater mobility while Gimenez is more creative.

Either way, Mexico's midfield figures to have the edge in possession, and a greater ability to control the tempo.

Edge: Mexico

WIDE MIDFIELDERS/WINGERS

For all of Mexico's territorial dominance, creating chances has been a mammoth struggle. It's worth noting that against Honduras, Gio Dos Santos and Angel Reyna were most effective in transition, especially when Mexico succeeded in forcing turnovers in the attacking half. Against an organized defense, El Tri has looked confused and ineffective.

The wide play from the U.S. has been much more consistent throughout qualifying, with Fabian Johnson and Graham Zusi providing steady contributions to the team's attack. If Klinsmann opts to play Donovan out wide, as he did in the second half against the Ticos, that success should continue.

Edge: U.S.

FORWARDS

Given the way he galvanized the U.S. attack during the June qualifiers, the loss of Altidore is a deep blow for the Americans. Eddie Johnson has been in good form of late for both club and country, but he's not as adept with his back to goal as Altidore. Still, his insertion into the lineup should allow Donovan to be more of a playmaker in midfield and also enable Clint Dempsey to remain in his role as a second striker.

As for Mexico, it's difficult to see Javier "Chicharito" Hernandez starting a second consecutive qualifier on the bench given the stakes involved, yet with Oribe Peralta in electric form, it won't be a surprise to see both in the starting XI. Against a U.S. back line facing plenty of changes, that duo will be formidable indeed.

Edge: Mexico

RESERVES
Some of this is dependent on the tactical decisions Tena makes. If Chicharito doesn't start, that certainly makes for a potent weapon off the bench. Given that Gimenez is 32 years old, it's unlikely he'll last the full 90 minutes, so a pure winger like Javier Aquino will feature at some point as well. That said, El Tri's bench looks to be short of game-changers, especially if Chicharito and Guardado both start.

The U.S. has some attacking wild cards in Aron Johannsson and Alejandro Bedoya, but it's clear that that with four players unavailable, the team's depth has been compromised. Cameron's loss is significant given his ability to fill in at multiple positions.

Edge: Mexico

MANAGERS
With de la Torre out, Tena is the man tasked with resurrecting El Tri's qualifying campaign. He's a manager who certainly has plenty of experience. He not only has managed some of Mexico's biggest clubs, including three separate stints with Cruz Azul, but he led Mexico to the gold medal at the 2012 Olympics.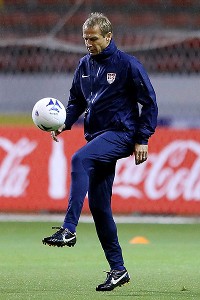 Kevin C. Cox/Getty ImagesJurgen Klinsmann has had a deft touch with his personnel moves and substitutions, giving him the edge in Luis Fernando Tena's debut with El Tri's senior team.
The big question is: Will he be viewed as a breath of fresh air, or merely an extension of the old regime?

Klinsmann, for the most part, has displayed a deft touch with his choice of personnel and substitutions, although the decision to play Orozco at right back Friday showed that he's not perfect. That said, the players appear to have completely bought in to his way of doing things after a rough start.

Edge: U.S.

INTANGIBLES
There's a considerable urge to think that all of El Tri's problems are solved now that de la Torre is out of the picture. But this is a Mexico team still under immense pressure. A tie isn't enough. This is a game that it needs to win, and everyone saw how the team dealt with such pressure Friday.

This is where mental fortitude comes in, and this has long been an area where the U.S. has had the upper hand, and is what allowed the U.S. to secure a tie at the Azteca last March. The fact that they will be playing at home only adds to the Americans' advantage.

Edge: U.S.

PREDICTION: Player for player, Mexico probably has the edge, but these games have rarely been about talent. They've been more about mental toughness and the strength of the collective, and this is why the U.S. has tended to prevail, at least in World Cup qualifiers on home soil. Look for the U.S. to enjoy another victory, this time by a score of 2-1.