Time for much-vaunted U.S. depth to step up
SAN JOSE, Costa Rica -- What a night. Not only did the United States' 3-1 loss to Costa Rica cost it three points in the World Cup qualifying standing, but a combination of injuries and suspensions is now threatening to bleed into Tuesday's mammoth clash against rival Mexico.

It's a situation in which the U.S. runs the risk of being beaten twice by the same game, and it all started in Friday's pregame warm-up. That was when Michael Bradley was lost to a sprained left ankle, and his loss cuts especially deep. It has long been felt that if there's one player the Americans could ill afford to lose, it's the Roma midfielder. His tenacity and composure on the ball are badly needed when the U.S. finds itself going through difficult moments, and the first 20 minutes or so of Friday's match qualified as such, as the Yanks quickly fell behind by two goals.

Grimly, the U.S. likely will be faced with the same challenge again sooner than it had hoped. The sight of Bradley hobbling to the team bus on crutches after the game hints at an injury that is serious enough to keep him out of at least Tuesday's big game in Columbus, Ohio. The postgame comments of manager Jurgen Klinsmann didn't inspire much optimism, either.

- Report: U.S. loses again in Costa Rica
- McIntyre: Bradley absence felt
- Read: U.S. grades in wake of defeat
- Watch: Costa Rica vs. U.S. highlights
- FC on TV: Alexi Lalas' take
- Must-see: Klinsmann's next task

"We are going to travel back to the U.S. [Saturday] morning early and have everything set up for [Bradley] to MRI and we will go from there," Klinsmann said. "He rolled his ankle really bad. It swelled up right away."

Injuries are part of the game, of course, and there is no disgrace in losing to a team such as Costa Rica, a country that has always given the U.S. difficulty. But where the Americans have really compromised their effort to win Tuesday's game is a trio of yellow card suspensions. Geoff Cameron, Matt Besler and Jozy Altidore all picked up cautions against the Ticos, and all three will sit against Mexico. Altidore's card in particular, issued three minutes into second-half stoppage time for a petulant shove of Michael Umana in full view of the referee, will go down as one of the silliest -- and perhaps costliest -- cautions in recent memory.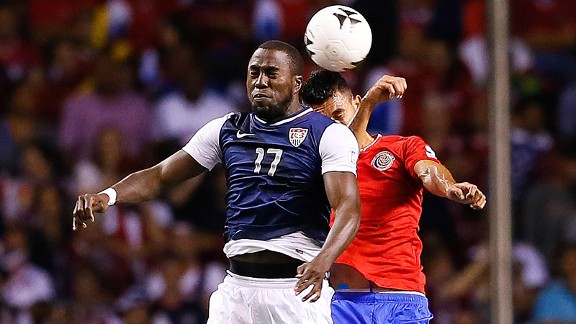 Kevin C. Cox/Getty ImagesJozy Altidore's foolish late yellow could prove very telling now that he'll miss the Mexico game.

Now the U.S. is facing the prospect of being without four key contributors for a match the urgency of which has been kicked up a few notches by Friday's defeat. With Klinsmann admitting that reinforcements will be brought in, the team's much-vaunted depth must now reveal itself.

"We're going to have to have guys step up, there's no question," goalkeeper Tim Howard said. "I think we've talked about it over the last three years. This is why we build toward this every game, so a guy can step in and not miss a beat and try and get that cohesion right. That's why we've had so many different lineups in the back and testing guys, so it's going to be interesting."

Which leads to the question: How will Klinsmann construct his lineup? The question encompasses not only the various absences but also style, given how the team struggled when forced to play without a forward on the field in the mold of Altidore, who started the game on the bench because of a tender hamstring.

The easiest change comes in the center of midfield, where Kyle Beckerman is a near lock to partner Jermaine Jones. Although Beckerman remains a divisive figure among the U.S. fan base, he largely repaid Klinsmann's faith with a string of solid performances in the Gold Cup. No doubt Mexico -- even the current struggling version, now free of "Chepo" de la Torre -- is a significant step up in competition from what Beckerman faced back in July, but the Real Salt Lake midfielder is the type of player who is content to sit back, do the dirty work and let Jones venture forward.

This should leave the U.S. midfield in decent shape, as long as the Jones who played in the second half against Costa Rica -- and not the wildly inconsistent first-half version -- is the one who shows up Tuesday. Additional depth will be needed, of course, which is why Sacha Kljestan likely will be called in to bolster the midfield ranks.

Meanwhile, the back line is a bit trickier. It seems almost certain that Clarence Goodson will be among the reinforcements called in, given his performances at the Gold Cup. And although there no doubt will be calls for John Brooks to start, Goodson's greater experience makes him a candidate to take the field against Mexico.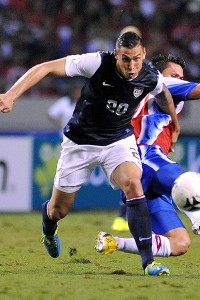 Ezequiel Becerra/AFP/Getty ImagesGeoff Cameron's suspension will force further shuffling to the U.S. backline that looked bewildered in San Jose on Friday night.

The questions don't end there, either. Michael Orozco was not at all convincing against Costa Rica as a right back, and DaMarcus Beasley struggled on the opposite flank. The reluctance to make wholesale changes in the back means Beasley likely will keep his spot, but the same can't be said for Orozco, which leaves one of Michael Parkhurst or perhaps Fabian Johnson to slot in at right back. Given Klinsmann's preference for playing Johnson in midfield, it would appear as though Parkhurst has the inside track despite the fact that he lately has been limited to reserve games with club side Augsburg. Chemistry shouldn't be an issue, either, as Parkhurst, Goodson and Beasley all spent considerable time on the field together at the Gold Cup.

As for the offense, there are dilemmas there, as well. The U.S. attack perked up a bit when Eddie Johnson entered the match and Donovan slid to the right side of midfield. Johnson's size gave the Americans more of a target presence and freed up Dempsey and Donovan to combine more frequently. Of course, if Johnson -- or even Aron Johannsson -- starts, that means Graham Zusi or Fabian Johnson will need to be sacrificed, and all these two did was combine on the play that led to Dempsey's penalty.

That said, it would appear that Zusi would be the odd man out. Johnson's insertion would bring the number of new faces to the starting lineup to four, which would appear to be the maximum Klinsmann might wish to impose in case too much cohesion be lost. For now, the U.S. needs to find a way to blend in the elements as quickly as possible and reinforce the team's legendary chemistry.

"Now's not the time to second-guess each other," Howard said. "This is what we've been working towards. This is what the last three years have been about. I think we have confidence in the guys. It's just about getting on the field and performing."

"And listen, we all need to look ourselves in the mirror tonight, not just a couple of guys going into the team. It's a gut check for all of us now."

Especially now that a spot in the World Cup is within the Americans' reach.