U.S. feels force of Bradley absence vs. Costa Rica
SAN JOSE, Costa Rica -- In a game in which the home team was always going to come out flying, the U.S. squad knew it needed its heart-and-soul midfield general as much as ever.

- Carlisle: U.S. stunned by fired-up Costa Rica

It was no wonder, then, that the sight of Michael Bradley limping off the field before the Yanks and Ticos had even kicked off their vital World Cup qualifying match here Friday night so unsettled the Americans in a game they would go on to lose to Costa Rica by a 3-1 score line at raucous Estadio Nacional.

Bradley, the hard-tackling 26-year-old who plays his club football for Roma in Italy's Serie A, turned his left ankle during a shooting drill at the very end of the pregame warm-up. And after it was determined that the injury would keep him from playing -- Geoff Cameron was called on to man Bradley's spot alongside Jermaine Jones in front of the back four -- the Americans never fully recovered. They had no answer for the hosts' relentless early pressure, conceding two goals in the opening nine minutes in front of a delirious, partisan sell-out crowd.

- Report: U.S. loses again in Costa Rica
- Carlisle: U.S. grades in wake of defeat
- Watch: Costa Rica vs. U.S. highlights
- FC on TV: Alexi Lalas' take
- Must-see: Klinsmann's next task

"He's a big part of our team, so to lose him really hurt us," captain Clint Dempsey, who scored the lone U.S. goal -- from the penalty spot with two minutes left in the first half -- told reporters after a defeat that snapped the Yanks' program-record 12-game winning streak. "At the same time, we knew we needed to be strong from the jump and not concede early. We couldn't have got off to a worse start."

U.S. coach Jurgen Klinsmann and his players refused to use Bradley's absence as an excuse, but he admitted that losing Bradley just minutes before the match began "shocked" his team. It certainly looked that way. The visitors appeared utterly lost without the one player on the squad able to provide a calming veteran influence in the center of the field, the very guy they needed to help withstand the onslaught they faced in the helter-skelter opening 10 minutes of the match.

"This team has in large part been built around Michael," forward Landon Donovan said. "You lose a leader, you lose a good player, you lose a lot of stability."

Still, the U.S. could and should have handled its misfortune better. And the hosts -- bent on revenge after losing to the U.S. in a blizzard in Denver in March -- took full advantage of the opportunity.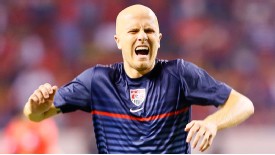 GettyImagesMichael Bradley suffered an injury to his left ankle while warming up ahead of the Costa Rica match.
Now, a titanic match against archrival Mexico looms Tuesday in Columbus, Ohio, and the Yanks must prepare themselves to do better in the event Bradley is ruled out once again -- a scenario that seems likely at this point.

"He rolled his ankle really, really bad, it swelled up right away [and] he couldn't put his foot down," Klinsmann said of Bradley, who left the stadium on crutches, ankle wrapped in ice. "We have everything set up for him to get an MRI, to get all the checks done, and we'll go from there," the coach said.

If Bradley can't go, Kyle Beckerman is the front-runner to start in his place. Cameron, who filled in admirably against the Ticos but lacked Bradley's quality as well as his cohesion with fellow holding midfielder Jones, joined defender Matt Besler and striker Jozy Altidore in picking up a second yellow card of qualifying in the loss. All three thus must serve a one-game suspension during the Clasico against El Tri, a match that's suddenly a must win for Mexico after a stunning home defeat to Honduras on Friday.

"Fortunately, we've built a team with a lot of depth," Donovan said. "I think we feel confident about other guys stepping in and doing a job. There are guys who have wanted to play and maybe deserve to play, and now they're going to have a chance."

The chance is a big one. If the Yanks manage to beat Mexico in Columbus for the fourth consecutive World Cup cycle, a Honduran win at home against sputtering Panama would clinch the U.S. a berth at Brazil 2014 with two games to spare.

"It's a gut check for all of us now," Howard said.

Especially if the Americans' heart and soul is missing once again.