SAN JOSE, Costa Rica -- The U.S. men's national team will play Costa Rica on Friday in a different stadium than on past trips. The Americans can only hope they will leave their tendency for horrific results against the Ticos at the old venue, as well.

All told, the U.S. is 0-7-2 when playing in Costa Rica, including a seven-game losing streak. And the bane for much of its existence was the Estadio Saprissa, with its tight confines, decaying artificial surface, and penchant for fans to hurl projectiles of all shapes and sizes.

"I can remember somebody threw a bag of urine," said former U.S. international and current Sporting Kansas City manager Peter Vermes. "It didn't hit me, but it landed right next to me, splashed all over the place. Batteries are always the scariest part. If someone throws a D battery and it hits you in the head, that's not good."

Of course, there were other factors for the U.S. team's struggles, not the least of which is that Costa Rica has tended to field talented teams with equal parts athleticism and technical ability. But the passion of the fans took things up a few notches. That's why for some past and present U.S. players, playing in Costa Rica actually presented a more difficult challenge than taking on Mexico in the Estadio Azteca.

"The Costa Rica fans are crazier," said former U.S. international Thomas Dooley. "Mexico and the U.S. have always been rivals, and they want to win as much as possible. Costa Rica is totally different because they hate you. Whatever they can do to hurt you, that's what they're going to do.

"When we tied Mexico 0-0 [in 1997], the fans totally went against their own team. That would never happen in Costa Rica. Costa Rica would never turn to our side."

And lest anyone think that hurling projectiles was a thing of the past, current U.S. international Landon Donovan recalled that similar incidents took place when the two teams met in Costa Rica in 2009.

"I'm sure it will still be going on Friday night," he said during Thursday's roundtable with reporters.

Of course, Estadio Saprissa has been left behind by the Ticos in favor of the new Estadio Nacional, and the layout is about as visitor-friendly as it gets. While Estadio Nacional's capacity of 35,000 is about 12,000 more than the Estadio Saprissa, a running track around the field makes the new venue much less intimidating and suffocating.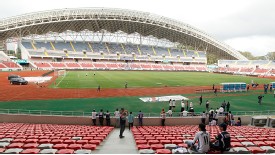 APCosta Rica's less intimidating Estadio Nacional.
"I think it changes things dramatically," said Vermes about the move to a new venue. "I think there's a disconnect between the fans and the field. I think the other thing is that because that environment isn't as tight, there will be more air in the stadium; it will be more open so it won't be as tough physically on the field, as well. All of those pieces add up."

Granted, it will take more than just playing in a different stadium for the U.S. to break its losing streak. The change in venue hasn't adversely affected Costa Rica's performances in World Cup qualifying. The Ticos are 4-1-1 at home in qualifying overall and a perfect 3-0-0 in the Hexagonal (the final phase of qualifying).

The now-infamous Snow Bowl that was played last March has also done plenty to crank up the intensity, however. On that occasion, in a qualifying match, the U.S. prevailed over the Ticos 1-0 in a blizzard that had Costa Rica officials howling for the game to be halted and, afterward, to be replayed. Costa Rica goalkeeper Keylor Navas, in an interview with YashinQuesada.com, even recalled how he was pelted with snowballs during the match.

That has led to some considerable gamesmanship on the part of the Ticos since the U.S. arrived this week, including a lack of cooperation in finding a suitable training site. Costa Rica also hasn't provided game balls for U.S. practices. Donovan insisted on Wednesday that this is a normal occurrence.

"To be honest, [the gamesmanship] doesn't matter at all to me," he said. "I've been through this enough times where these things happen every time. I guess people who haven't been a part of it or seen it up close, it can be a new experience. This is standard procedure for some of these teams in these games."

In fact, the challenge for Costa Rica captain Alvaro Saborio and his teammates will be to not let the passion of the previous encounter consume them.

"It happened. The U.S., like us, has to play the game," he said via telephone. "It's in the past now. We have to continue to make our game better and take advantage of playing at home. We have to think of the next game."

In that respect, the U.S. enters the match feeling as confident as it ever has. The U.S. is riding a 12-game winning streak and has been scoring goals at an impressive clip, outscoring opponents 39-11 during that stretch.

However, it is looking more likely that striker Jozy Altidore will not be available Friday. The Sunderland forward sustained a hamstring injury late last week that kept him out of Sunderland's 3-1 loss to Crystal Palace on Saturday. U.S. coach Jurgen Klinsmann said it had been seven or eight days since Altidore participated in a full training session, which doesn't bode well for the forward's involvement Friday.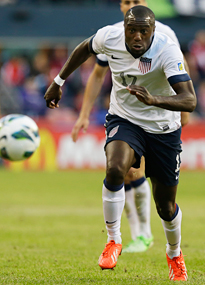 APJozy Altidore could be missing for the USA against Costa Rica.
The U.S. does have options up top in terms of replacing Altidore. Eddie Johnson would appear to be the most likely replacement, although Aron Johannsson could deputize. Another possibility is pushing Clint Dempsey up top with Donovan operating as a second striker.

Regardless, Klinsmann said he wanted his side to continue its penchant for pressuring opponents in their own half, but a more likely scenario will see the U.S. choose its moments carefully regarding when to press and when to defend in numbers. Such an approach would allow the U.S. to use the emotion of the home side to its advantage.

"My guess is that [Costa Rica] won't want to open the game up too much because we've got a number of players who are very good at attacking when the ball turns over in counter situations," said Donovan. "But I think it's they feel they need to win not only because they're at home, but clearly with everything that's been said it's a game they're pinning a lot on. My guess is that at some point they have to be aggressive and try to win the game, which could potentially play into our favor."

The U.S. will certainly have difficulty coping with the crafty passing of Bryan Ruiz and the powerful runs of Joel Campbell, but such is the confidence in the U.S. camp that for the first time in decades the team feels it has a real chance of getting a result.

"We have a lot of guys who are playing well, who are playing at a high level, that are very confident," said Donovan. "We just want to keep going. In my opinion, we have what it takes to beat this team on Friday, and there's no reason why we can't go in there and win this game."

NOTES:

-- Much has been made of how the U.S. has eight players on yellow cards heading into Friday's match. Those players are: Altidore, Michael Bradley, Geoff Cameron, Clint Dempsey, Tim Howard, Fabian Johnson, Matt Besler and Jermaine Jones. If any one of those players receives a card versus Costa Rica, he will be forced to miss the titanic match against Mexico on Tuesday. But Klinsmann insisted he wouldn't tweak his lineup or sit the players with yellow cards.

"It doesn't [affect] our lineup," he said. "It's about Costa Rica, it's about that game, and whatever happens on Friday night we will adjust then to the Mexico game. ... We're not holding back by any means."

Klinsmann did let it be known that he was not impressed with CONCACAF's decision to assign Mexican referee Marco Antonio Rodriguez.

"It was unfortunate by CONCACAF to give us a Mexican referee for [Friday's] game because we play Mexico four days later," he said. "He has a big say in this game. We respect him. ... Maybe CONCACAF next time thinks about it first."

-- Donovan is slated to make his first appearance in a World Cup qualifier since a 1-1 tie in Guatemala back on June 12, 2012. Donovan's return will no doubt give the U.S. attack a boost, but Bradley went even further in his praise of the team's all-time leading scorer.

"If we want to play more than three games at a World Cup, we need Landon," he said.

-- According to U.S. Soccer, there is a scenario by which the U.S. could clinch qualification on Friday for the World Cup. In addition to a U.S. victory, Mexico and Honduras must tie, while Panama must fail to beat Jamaica.