Costa Rica remembers: U.S. gets frosty reception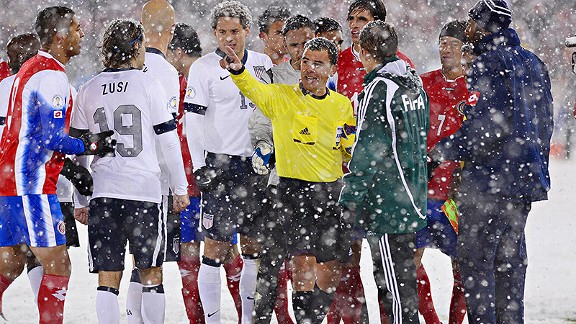 Ron Chenoy/USA TODAY SportsCosta Rica officials are still unhappy the national team's match against the U.S. in Colorado March 22 wasn't abandoned. The U.S won, 1-0.
SAN JOSE, Costa Rica – U.S. national team manager Jurgen Klinsmann said on Wednesday that he "didn't call God to give us some snow" when the U.S. beat Costa Rica 1-0 five months ago in a World Cup qualifier that was played in blizzard-like conditions in Colorado.

But Costa Rica is still bitter anyway.

To this day, Costa Rica still insists the March 22 game at Dick's Sporting Goods Park outside Denver, Colo., should have been abandoned. That night, it was the referee and match commissioner who decided it should continue. But now with the teams preparing to square off Friday at the Estadio Nacional in San Jose, the Ticos have ratcheted up the gamesmanship.

Before arriving in San Jose, the Costa Rica Football Federation (FCF) gave its U.S. counterparts a short list of three sites that it could use as a training facility. Each of those facilities turned down the U.S. Soccer Federation's request. Given the number of times the U.S. has played down in Costa Rica both at senior and youth level, finding a suitable site wasn't all that difficult, and the U.S. was able to practice without any problems on Wednesday. But the message was clear: There would be no welcome mat rolled out for the Americans on upon their arrival.

That point was driven home Tuesday evening when the U.S. arrived at Juan Santamaria International Airport. Past trips had allowed the U.S. to make use of a private area to speed up the customs process. No such courtesy was granted this time, meaning the U.S. was subjected to the usual jeers and a couple of eggs thrown at the team bus.

Lastly, the FCF didn't provide the U.S. team balls with which to practice, forcing the U.S. to use the Nike balls they brought with them.

Michael Bradley referenced the reception during a Twitter Q&A Wednesday on U.S. Soccer's Twitter feed (@ussoccer):


We love it. It only adds to the excitement of the game. RT: @JocoGent how do you feel about the reception so far from Costa Ricans? #AskMB

— U.S. Soccer (@ussoccer) September 4, 2013


The USSF declined to make any kind of statement publicly, and the U.S. players looked unbothered prior to Wednesday's session. U.S. manager Jurgen Klinsmann insisted that the team's only focus is on Friday's match.

"It was difficult for both teams to play that game [in March], but I think you have now a situation, Costa Rica [with] 11 points, close to the World Cup, we have 13 points, close to the World Cup. We both want to get there and I think it's going to be exciting."

Even if there is some gamesmanship involved.