Klinsmann has decision at right back
SAN JOSE, Costa Rica -- During last week's conference call with reporters, U.S. manager Jurgen Klinsmann stated unequivocally that DaMarcus Beasley was his first choice at left back. As for right back, the situation couldn't be more muddled, as the competition there is as wide open as it has ever been.

Of course, it didn't used to be this way. For the better part of the last decade, the position was the exclusive domain of Steve Cherundolo, but three knee surgeries in 2013 have seen the Hannover defender sidelined for an extended period. This has resulted in an open audition for the spot, and no one has yet managed to seize that opportunity. Looking at the list of potential candidates, it's clear that Klinsmann has plenty to think about.

BRAD EVANS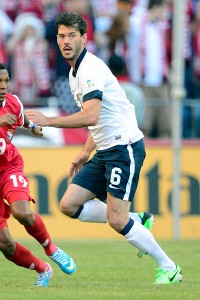 AP PhotoBrad Evans had an outstanding summer, but doubts persist if he can do the job when the U.S. gets to Brazil next year.
The surprise of the summer was the emergence of Evans, who stepped on the field for the friendly against Germany and held onto the spot throughout the June qualifiers. His passing out of the back and ability to pop up for a critical goal on the road against Jamaica only added to his confidence. Were it not for a calf injury sustained in a league game last weekend, Evans would be in the lineup for Friday's game against Costa Rica.

"Evans stayed within himself, played simple, and didn't put himself in a situation where he got exposed," former U.S. international defender Jimmy Conrad said. "He knows how to hold the line, he knows how to work within the back four, and he's built some good rapport with whoever is in front of him."

-Altidore cleared to play

Yet some doubts persist about whether Evans is the guy Klinsmann will select when the World Cup rolls around next June. There were moments against both Jamaica and Panama where speedy attackers pushed Evans to his absolute limit in terms of his one-on-one defending. Granted he adapted to his circumstances both times and got better as the game went on, but those shaky moments can't be discounted entirely.

"I think Evans has to be tested against better opponents," said ESPN analyst Taylor Twellman, a former U.S international. "Brad Evans will get you through CONCACAF at right back. Will he get you through the first game of a World Cup if you're playing Germany? In Brad's defense, he's not even playing there for his club team, so to judge Evans as a right back for the national team is difficult."

There aren't many opportunities left either, but if he remains healthy, Evans should remain in the mix.

GEOFF CAMERON

With Evans sidelined, it will likely fall to Cameron to man the right back spot against the Ticos Friday, and the Stoke City defender certainly brings valuable traits to the position. His size and athleticism provide an imposing presence, and he's also gotten forward and threatened on set pieces. Yet as so often happens with versatile players such as Cameron, there are questions as to what his best position is, even though he is currently playing right back for Stoke.

"I think Cameron, in Jurgen's eyes, is viewed as being more valuable in the middle, either at center back or center midfield," Twellman said. "I think if Cameron plays well at right back, then I think it solidifies him as Mr. Versatility for Jurgen Klinsmann and his squad going into Brazil. But ideally, I don't think Klinsmann wants Cameron playing right back."

There have also been moments where Cameron's concentration level has been suspect, although playing in England should improve that aspect of his game. And Cameron certainly wouldn't be the first player to cement a spot in the U.S. lineup that wasn't his preferred position.

"I liken Cameron to a Tony Sanneh, maybe not playing his best position but can still give you something," said Conrad. "He likes to go forward, can hit a good cross, and can score from distance. If utilized the right way, like Bruce Arena did with Sanneh a long time ago, I think he can be a real asset to the team. Right back is a position where he can step up."

STEVE CHERUNDOLO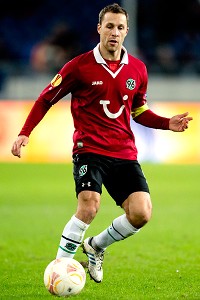 Odd Andersen/AFP/GettyImagesAt 34, Steve Cherundolo is trying to recover from three knee surgeries to reclaim his right back spot with the U.S.
With no one stepping up to claim the right back slot outright, Cherundolo remains very much in the mix. Granted, questions about his health will remain until he gets back on the field for Hannover. But if he can return to full fitness, it will be tough to keep the 34-year-old off the field, even though there are few remaining chances for him to link up with his U.S. teammates.

"It's Cherundolo's job to lose at this point," Twellman said. "Cherundolo is a seasoned veteran. As long as he can get two, three months worth of games, you're trying to tell me you wouldn't want Steve Cherundolo at right back? This period really underlines how good he is and was for the U.S. team for so long."

MICHAEL PARKHURST

Parkhurst has shown well in his stints with the national team this year. Always an intelligent player, Parkhurst has overall been solid in his defending, and has improved on the attacking side of his game as well.

"Parkhurst has done a good job of taking the space in front of him, being more aggressive and getting involved in the attack," Conrad said. "I don't think he would have done that a few years ago."

The problem for Parkhurst is his club situation. Currently on the books of FC Augsburg in the Bundesliga, he is stuck behind club captain Paul Verhaegh, meaning playing time has been limited to reserve team matches. Without first-team action, it's difficult to see how he forces his way into the lineup.

Parkhurst admitted at Wednesday's training session he has been looking at other options. He revealed that a loan deal with a team in the Bundesliga second division -- believed to be 1860 Munich -- fell through at the last minute due to lack of funds. Danish side Brondby was also interested, but he turned that down due to the team's recent financial struggles.

"I'll stick it out with Augsburg for now, and if nothing changes I'll look to move permanently in January," he said.

If that happens, perhaps he can still force his way up the depth chart, although time is running out.

TIMOTHY CHANDLER

Once thought to be the preferred successor to Cherundolo, Chandler has practically disappeared. The Nuremberg defender's commitment to the team has often been called into question after turning down several opportunities to play. And he suffered through a terrible outing in the opening Hexagonal match at Honduras, where the heat appeared to take a considerable toll on his performance. A knee injury sustained just prior to the June World Cup qualifiers prevented him from contributing during that stretch, and by all appearances he seems to no longer be in Klinsmann's plans.

"Chandler's positioning could probably be a little bit better," Conrad said. "I think he's made up for it with athleticism, and when you get up to the higher levels everything has to be working; your positioning, your communication, your physicality, your decision-making. One or two mistakes can cost a team. That just comes with experience. He's got the tools to be one of our key guys moving forward, but he hasn't stepped up and owned it."

Anyone else?

"I still think there are one or two players who we're not talking about who could play a part in the World Cup," Twellman said. "I think the January camp of MLS players -- and I was part of them for two of them -- you don't know who is going to step up. You have no idea."

History has shown Twellman's assessment has merit, with several players who didn't figure in qualifying worming their way on to the final World Cup roster. There was Beasley and Pablo Mastroeni in 2002, as well as Herculez Gomez and Robbie Findley in 2010.

So is there a player like that who could fill in at right back? It's certainly possible. Alejandro Bedoya, who has improved his national team prospects in recent months as a wide midfielder, has been lining up as a wing back recently for Nantes. Tony Beltran got some looks during the recent Gold Cup, while DeAndre Yedlin has turned some heads in Seattle with his ability to get forward, although his defending still needs work.

All told, the competition looks set to continue right up until the final roster is announced.

USMNT notes

-Jozy Altidore practiced on Wednesday. Sort of. The Sunderland striker -- who missed last weekend's league match due to an injured hamstring, but was deemed fit enough to travel to Costa Rica -- was seen stretching with his teammates, albeit in running shoes. Whether this is a clever bit of misdirection by Klinsmann, or a sign Altidore is unlikely to play, isn't entirely clear, but the evidence would point towards the latter. (Altidore was not made available to the media by U.S. Soccer.)

-Striker Aron Johannsson appeared to settle in easily with the U.S. during last month's 4-3 friendly win over Bosnia, his debut in a U.S. shirt. The AZ Alkmaar striker was aggressive every time he was on the ball, and was able to link up well with his teammates.

"Soccer is a universal language," he said before Wednesday's training session. "It doesn't matter if I've been with the guys for a year or three days. I can play soccer with them, and now it's just focusing on getting to know them even better and playing better with then on the field."