Bad Jamaica memories temper USMNT confidence
KINGSTON, Jamaica -- If the U.S. doesn't manage to get the win it wants or the tie it would settle for in Friday night's World Cup qualifying match here against the Reggae Boyz, it won't be because coach Jurgen Klinsmann's squad wasn't ready.

One way or another, the Americans' preparation was referenced repeatedly around the team hotel on Wednesday, and for good reason. After dropping a qualifier in Kingston eight short months ago -- the lone U.S. loss to Jamaica and the most disappointing result of Klinsmann's tenure so far -- the coach and his staff are taking no chances ahead of the first of three pivotal qualifiers they'll play this month.

-Carlisle: Jones' maturation and adaptation

More specifically, they're doing all they can to make sure history doesn't repeat itself Friday. "It kind of still sits in the stomach," Klinsmann said Wednesday of last year's loss. "We want to correct that."

It's not just that, in an effort to acclimate to the hot and muggy conditions, the Yanks arrived in the country almost two full days earlier than they did before road games in Honduras and Mexico earlier this year.

The U.S. players have also pored over video in recent days. They dissected video of their own recent friendlies against Belgium and Germany, in which they were scored on seven times in 180 minutes. Plus, they watched Jamaica's 1-0 loss to Mexico on TV Tuesday night. And it sounds as if it's helped.

"In a way, I'm kind of thankful that those [goals] did happen," defender Omar Gonzalez said. "We've looked at them and now we've figured out what went wrong and how to stop it."

Stopping Jamaica's attack should be easier than shutting down two of Europe's best, but that's not to say the hosts can't cause the Americans problems. The Reggae Boyz are in must-win mode after losing to El Tri, which, depending on who you talk to, will either help or hurt the visitors.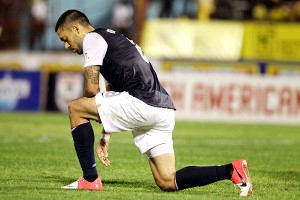 no_source / Marc Serota/Getty ImagesClint Dempsey shows the U.S. disappointment after September's 2-1 loss in Jamaica.
What's for sure is the U.S. will have to absorb the Jamaicans' physicality better than last time. After taking an early lead, the Americans lost the midfield battle badly that night and were punished on two free kicks, something they can't afford to do again.

Having Michael Bradley patrolling the middle will help. Bradley missed September's game due to injury, and his partnership with Jermaine Jones -- whose own play for his country has improved markedly in recent months -- has grown by leaps and bounds since.

So has morale within the team. The U.S. players are clearly tighter now, and while some of that probably has to do with the good results they picked up against Costa Rica and Mexico in March under adverse conditions, Klinsmann believes it's part of the natural evolution of the group. His staff knows the players better now, too.

"The coaches have a much better picture with every game we have these guys," Klinsmann said. "Every get-together we learn about them, we fine-tune things, we see deeper and deeper into their strengths and weaknesses."

But whether the U.S. is successful in Jamaica will mostly come down to personnel. Besides Bradley, there will be several other changes to the lineup that played here last time.
The entire back four could be different, for starters. The good news for the U.S. is that for the first time in 28 games at the helm, Klinsmann is in position to select the same lineup.

All the starters from Sunday's 4-3 win over Germany are available -- Fabian Johnson's tight hamstring is not considered serious -- and the coach does not seem to be leaning toward replacing Gonzalez with Geoff Cameron in central defense.

Combined with the thorough prep, that bodes well for the Yanks' chances in Kingston "I think the players understand the key points, what we want to do, how we want to execute our game plan." Klinsmann said. "There's a huge opportunity Friday night."

ESPNFC's Jeff Carlisle contributed to this story.