USMNT hot list: Tracking Dempsey; What's best team for Bradley?
When it comes to tracking the fortunes of American soccer players around the world, what happens off the field often is as important as what happens on it.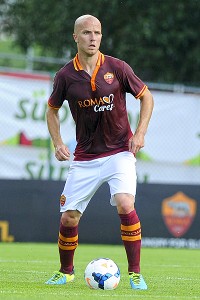 Claudio Villa/Getty ImagesU.S. fans are divided on whether Michael Bradley would benefit more from staying with Roma in Serie A or joining Sunderland and Jozy Altidore in the Premier League.
Need proof? Look no further than Michael Bradley's potential transfer from Roma to Sunderland. As soon as reports dropped early Saturday that the Black Cats' bid for Bradley had been rejected by the Italian club -- one source tells ESPN FC that Sunderland is expected to present an improved offer before Europe's transfer window closes next week -- U.S. fans began debating if such a move might help or hurt the national team on message boards and comments sections.

It's clear Bradley is valued in Rome. On Sunday, the midfielder played 90 minutes in the Giallorossi's season-opening win at Livorno. And if he stays, he'll be a key part of a team pushing for a finish toward the top of Serie A. Does that carry more weight with Jurgen Klinsmann than playing for a less-glamorous team in the more competitive Premier League? How might getting a season's worth of reps in same front six as U.S. teammate Jozy Altidore benefit the U.S.? Until it happens, it's hard to say.

We're not sure exactly what to make of Clint Dempsey's first three games back in MLS, either. Dempsey has helped Seattle to a 2-1 record since joining the Sounders, including a raucous 1-0 win Sunday over the archrival Portland Timbers. But he's also been held scoreless while adjusting to his new teammates, and he's been the focus of hack-happy opposing defenses.

Of course, no matter what happens with their club teams over the next two weeks, the smart money is that Dempsey and Bradley will both be in Klinsmann's lineup when the Yanks resume World Cup qualifying in Costa Rica on Sept. 6. Expect them to be joined by a few of the players listed below.

WARMING UP

Landon Donovan, M-F, L.A. Galaxy (MLS)

Why he's here: Donovan has four goals in three games for the Galaxy since returning from Gold Cup duty, including his rocket of a game-winner at Vancouver on Saturday. He also added another in an International Champions Cup win over Italian champion Juventus.

What this means: Based on current form, Donovan is probably the best U.S. player anywhere right now. If he manages another big game against San Jose next weekend, it could be hard for Klinsmann to leave him out of his starting XI against the Ticos.

Alejandro Bedoya, M, Nantes (France)

Why he's here: After being used off the bench last week, Bedoya made his first league start for his new club and was sharp and involved in a tight 2-1 loss to star-studded defending champion Paris Saint-Germain.

What this means: Bedoya had already upped his stock under Klinsmann -- who once played in Ligue 1 with Monaco -- at July's Gold Cup. If Bedoya keeps playing (and impressing) with Nantes this season, the Floridian, one of the last cuts from the 2010 World Cup team, has a huge opportunity to cement his place on the 2014 squad.

Paul Arriola, M-F, Tijuana (Mexico)

Why he's here: The 18-year-old continues to earn first-team minutes for the Xolos, and he continues to produce. Last week he scored his first Liga MX goal and then added another midweek in CONCACAF Champions League action. On Friday, he played 45 minutes off the bench and helped set up his team's lone score in a 1-1 tie against powerful Santos Laguna.

What this means: Arriola is just a few games into his pro career, so he's a long shot (at best) to get any looks from Klinsmann this cycle. That said, players always seem to come out of nowhere on the eve of a World Cup. And against quality competition, the SoCal native has quickly showcased himself as fearless, skillful attacking option despite his tender age.

COOLING DOWN

John Anthony Brooks, D, Hertha Berlin (Germany)

Why he's here: A week after being dropped from Hertha's starting lineup, the rangy center back was subbed out of Saturday's match against Hamburg after just 23 minutes.

What this means: Coach Jos Luhukay told Hertha's website the change was a tactical one, designed to stop Hamburg star Rafael van der Vaart. But whatever the reason, it won't help Brooks' case for cap-tying playing time in next month's qualifiers if he is not seeing 90 minutes regularly leading up to them.

Graham Zusi, M, Sporting Kansas City (MLS)

Why he's here: Playing his first game after being out three weeks with a leg injury, Zusi was mostly ineffective in SKC's 1-0 loss in Chicago.

What this means: This isn't about Zusi as much as it's about timing and the recent play of Bedoya and Donovan. All three are options at right midfield if Klinsmann uses Fabian Johnson on the opposite wing, and if Zusi is at all rusty following his time on the shelf, he could find it difficult to stave off the challenge with the qualifiers fast approaching.

OF NOTE: Jones hurt, but expected to play

U.S. midfielder Jermaine Jones suffered an apparent head injury late in Schalke's 2-1 Bundesliga loss to Hannover, but a club spokesman said Jones suffered only some minor bruising to his neck. "It's nothing serious," Schalke media director Thomas Spiegel told ESPN FC on Monday. "Jermaine will be definitely in our squad traveling to Saloniki this morning and should be no concern for the game [Tuesday]," referring to Schalke's second-leg Champions League playoff match against Greek club PAOK.