USMNT Hot List: The Debut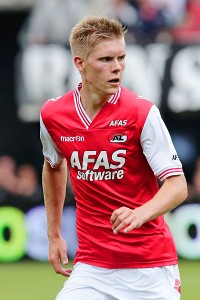 Getty ImagesAron Johansson's form in the Dutch league is an encouraging development for U.S. coach Jurgen Klinsmann.
Welcome to ESPN FC's first USMNT Hot List, a new weekly feature that goes beyond the Americans Abroad roundups.

The idea is simple: Highlight five or so national team-eligible players (whether they're based in Europe, Mexico or MLS), report on how they're playing (and being played) and explain why their stock with U.S. coach Jurgen Klinsmann is trending up or down based on developments with their clubs.

It's not necessarily about scoring, keeping a clean sheet or getting sent off. In most cases, it's usually not about a single performance, either. After all, one game rarely changes much.

Take Clint Dempsey's first start for Seattle on Saturday night. Dempsey was largely marked out of the Sounders' 3-1 loss to the Houston Dynamo, but how he does over the next two weeks (including his home debut Sunday versus Portland, 10 p.m. ET, ESPN2/WatchESPN) is far more likely to determine the role he plays for Klinsmann when the Americans resume World Cup qualifying in Costa Rica on Sept. 6.

In any case, a player's form is only one part of the equation. Last season, ESPN Insider reported that Brad Evans' confidence was building, examined the impact of Roma's midseason coaching change on Michael Bradley, and explained why Fabian Johnson's move to left midfield with Hoffenheim was a godsend for the U.S.

We keep track of it all here: injuries, tactical adjustments, coaching and position changes -- anything that can quickly affect a player's standing for his club, and by extension, his country.

It's a Euro-centric list this week, which is probably fitting since the new Premier League campaign is now underway. Without further delay, here are the Yanks who are hot (and not) in the EPL and beyond.

WARMING UP

Aron Johannsson, F, AZ Alkmaar (Netherlands)

Why he's here: Three days after making his U.S. debut in the Yanks' thrilling comeback win in Bosnia, Johannsson made AZ's score sheet for the fourth time in four games in all competitions this season. Watch the Iceman's latest strike here.

What this means: When Jozy Altidore was scoring a bunch of goals in the Eredivisie last year, Klinsmann was quick to point out the differences between the wide-open Dutch league and the defensive international game. Still, the U.S. coach rates Johannsson highly. With foot skills, smarts and a nose for the net, the 22-year-old gives the U.S. a different look up top. He'll be in the mix all the way to Brazil.

Brad Guzan, GK, Aston Villa (England)

Why he's here: With his team up a goal at 10-man Arsenal, Guzan made an all-world save late in the game on Gunners midfielder Santi Cazorla. Villa won 3-1.

What this means: Guzan remains behind No. 1 keeper Tim Howard in the national team's pecking order, but he's closing the gap quickly. That will force longtime starter Howard, faultless in Everton's 2-2 result at Norwich, to be atop his game consistently this season.

Jozy Altidore, F, Sunderland (England)

Why he's here: Altidore didn't score in the Black Cats' season-opening home loss to Fulham, but his smart, hard-running play was one of Sunderland's few bright spots. If the 23-year-old keeps it up, goals should follow.

What this means: That's the hope, anyway. Teammates left Altidore isolated often against the Cottagers and struggled to get him the ball on the ground. The lack of quality service is worrying, but Altidore's work rate and battle level -- which haven't always been strengths -- were the silver lining.

Geoff Cameron, RB, Stoke City (England)

Why he's here: The 28-year-old started the season as Stoke's right back in a 1-0 defeat at Liverpool.

What this means: Klinsmann may prefer Cameron in the middle, but if plays here for the Potters all season (and if he improves his crossing from the right flank) he could challenge Brad Evans for time on the right side of the Americans' back four.

Others notables: Alejandro Bedoya, Paul Arriola, Sacha Kljestan

COOLING DOWN

Terrence Boyd, F, Rapid Vienna (Austria)

Why he's here: Boyd's club announced Saturday that the 22-year-old striker hurt his shoulder while training with the U.S. squad in Sarajevo. He will miss up to three weeks.

What this means: The injury could force Boyd, who has been a consistent call-up throughout World Cup qualifying, to miss the Yanks' September matches just as competition up front is stiffening.

Michael Parkhurst, RB, Augsburg (Germany)

Why he's here: After helping the U.S. claim the Gold Cup title last month and playing well as a substitute against Bosnia-Herzegovina, Parkhurst was left off his Bundesliga team's match-day roster for the second straight week.

What this means: Ideally, Parkhurst would leave Augsburg before the summer transfer window closes. If not, and if he continues to sit, he could fall off Klinsmann's right back depth chart quickly. A January move would leave little time to climb back on.