Klinsmann's men fired up for visit to Dragons' lair
SARAJEVO, Bosnia and Herzegovina -- And now for a reality check. In the blink of an eye, the U.S. men's national team assemble in Sarajevo for a game jammed in like a jump cut between the narratives of Gold Cup giddiness and September's resumption of World Cup qualifying hostility.

Opponents Bosnia-Herzegovina -- currently ranked 13th in the world, one place above England -- await. The "Zmajevi" (Dragons) are purveyors of a bold, attacking brand of confident football that should provide Jurgen Klinsmann's U.S. team with their strongest test since the 4-2 systematic destruction by Belgium in May's friendly.

After that game, Klinsmann declared he would rather "play Belgium 10 more times than El Salvador for the 100th time, because that's where you learn." The German expects Bosnia's strong squad -- stuffed with talent from the Premier League, Bundesliga and Serie A -- will provide a similar lesson.

"We are trying to cherry-pick the world's best top-10 nations all year round," he said when asked to explain his matchmaking philosophy. "We want to raise the bar as much as we can so our players can learn playing [Edin] Dzeko, [Sejad] Salihovic, and [Miralem] Pjanic, who will provide a good benchmark."

Though the U.S. enter the game on the back of a team-record 11 straight wins, Klinsmann predicted the game would be "an eye-opener."

"We won't have majority of possession. We will have to show everything we have to compete eye to eye. We want to challenge them. We want to come in and say: 'Hey, we want to give you a game and, possibly, we want to beat you,'" he said with a quick chuckle.

The U.S. will take an eclectic squad into Sarajevo's rickety Olympic Stadium as Klinsmann is eager to test the fitness of his Europe-based players, including Michael Bradley, Tim Howard, Jermaine Jones and Jozy Altidore, who are all in early/preseason form.

"Every game is an opportunity for players to shine and show us what they are capable of," the coach explained. "In the whole year we only have eight games if you count them up until we start preparation for the World Cup, so every game matters ... as we weigh up which 23 players will go to Brazil."

As is Klinsmann's wont, the squad also includes a cluster of new faces. German-American John Brooks and fresh-faced Hawaii-born 1860 Munich striker Bobby Wood join newly eligible Icelandic dual-national Aron Johannsson. Howard, who will captain the side in Clint Dempsey's absence, appreciated Klinsmann's style of introducing new talent into the squad.

"We know that's how Jurgen operates, so we like to welcome them," he said. "It's a really easy team to fit into as there are not a lot of big egos and it is important these guys get a taste of it."

Hertha Berlin defender Brooks, raised in the German capital, is highly touted, with the 20-year-old having also represented Germany at the under-20 level. Klinsmann admitted his competitive approach with dual nationals is to "build our case as early as possible," adding: "We try to be honest with them and ... make them feel like we care about the players and will help them develop and get better and improve their personal career and our whole program, which go hand in hand."

Altidore, Sunderland's "New Star in Stripes," will lead the U.S. line, hoping to become the first American to score in five consecutive games -- a goal glut all the more remarkable for its juxtaposition with the 11-game drought that preceded it. When asked what has changed, Altidore modestly linked his form to the entire squad's progress. "We are playing better from the back to the front," he said. "We are just now starting to implement the ideas Klinsmann introduced when he came on and have become a better team for it."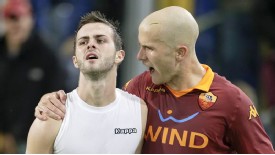 AssociatedMichael Bradley will face Roma team-mate Miralem Pjanic in Sarajevo.
Bradley attributed the United States' progress to "the strength of the leaders in the team making sure everyone keeps a strong mentality." The Roma midfielder's battle against club team-mate Miralem Pjanic promises to be a fascinating duel. "I know how much playing for the Bosnian team means to him; he knows playing for the U.S. is always a proud moment for me. So I look forward to stepping onto the field and playing against each other," he explained.

Bradley also reveled in the prospect of grappling with Bosnia's potent attacking threat. "They have a lot of guys who are dangerous and who are good on the ball and can create chances," he said. "We will have our hands full with Edin Dzeko and Vedad Ibisevic."

It is hard to exaggerate just how popular Dzeko, a striker for Manchester City, is at home in Bosnia. The face of the team's all-time leading scorer looks down from posters all over Sarajevo, and street peddlers hustle a living selling Dzeko ballpoint pens. His prolific striker partner, Ibisevic, became an All-American at St. Louis University after arriving in the United States as a 16-year-old refugee. His family still live in St. Louis.

To repel a team who have scored 23 goals while conceding only three in topping their World Cup qualification group will require the U.S. to summon a focused, organised performance. It's a style that was well symbolised by potential debutant Wood. The 20-year-old, who plays in Germany's second division, said his call-up was a "dream come true" for a man who watched the 2010 World Cup at home with "his buddies" and knows most of the squad "just from TV." Yet when asked if he believes he has a chance of cracking the 2014 World Cup squad, his entire demeanour changed and he responded in a confident style that Klinsmann would relish.

"I like to think so," he said. "I'm still a young player. I just want to get into the team first and hopefully get that opportunity to show that I can play."