U.S. can experiment as back line begins to emerge


For the first two years of this World Cup cycle, the center of the U.S. defense was a significant area of concern. There was near-universal recognition that fresh blood was needed, but the new generation of defenders was slow to emerge thanks to a combination of injury and inexperience.

Thankfully for the U.S., 2013 has witnessed a coalescing of sorts in the back. Matt Besler has arguably been the team's breakout performer in the last eight months. Omar Gonzalez has shown promise as well, even as he seeks to maintain a higher level of consistency. Clarence Goodson's consistent performances in the Gold Cup showed he still has something to offer, and Geoff Cameron remains an option as well, even as he's filled in at other positions.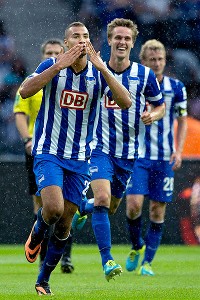 John Macougall/AFP/Getty ImagesThe friendly against Bosnia & Herzegovina offers Jurgen Klinsmann a first look at John Brooks in a U.S. national team environment.Brooks, who has citizenship in the U.S. and Germany, appears to be leaning toward the former.
"At the beginning everyone was talking about Carlos Bocanegra," former U.S. international Marcelo Balboa said about the onetime U.S. mainstay. "But the way Jurgen [Klinsmann] has brought them on, along with the coaching staff, let's be honest, we've seen the future of the back line. The back line hasn't gotten huge experience, but they've gotten some pretty interesting games in CONCACAF."

Such is Klinsmann's level of comfort with the center of his defense that he can afford to experiment a bit Wednesday when the U.S. faces Bosnia-Herzegovina in Sarajevo. It's an approach that fits with Klinsmann's long-held aim of being three-deep at every position, and with Besler, Gonzalez, and Goodson all occupied by MLS commitments -- and with Michael Orozco-Fiscal sidelined by a hamstring injury -- it appears that it will be left to Cameron to partner with one of Tim Ream or John Brooks.

The latter two performers represent an interesting contrast. After establishing himself in the first team of Hertha Berlin last season and leading the Blue-Whites to promotion to the Bundesliga, the 20-year-old Brooks is the hottest prospect in the U.S. player pool. Not only is Brooks 6-foot-4, but his skill on the ball dovetails nicely with Klinsmann's preference for playing the ball out of the back. The fact that he's a dual citizen of Germany and the U.S. has resulted in a protracted tug-of-war that the U.S. appears to be winning at present, although it won't become official until Brooks appears in a competitive match. Yet the Bosnia game and the training camp that has accompanied it mark the first opportunity for Klinsmann to observe Brooks in a U.S. national team environment.

"Brooks physically looks like he has all the tools," ESPN television analyst Alejandro Moreno said. "We'll see whether he can actually perform at this level. I'm not sure how much you can tell from a single game, but I think what Klinsmann and the rest of the coaching staff can put together is an idea of what this guy behaves like in a national team setup. Is the moment too big for him? How does he relate to the other players? What is his behavior like on the practice field, off the practice field, during team meals? All that stuff, coaches are always paying attention."

The inclusion of Ream elicited a much different reaction from Moreno.

"When I saw the name Tim Ream on the roster, I was like, 'What happened to this guy?'" he said. "He was so highly regarded."

So much so, in fact, that while Ream was more of a late bloomer than Brooks, he was at one time thought to be a leading candidate to lead the U.S. defense into the World Cup. Instead, he practically disappeared due to struggles for playing time at club side Bolton Wanderers as well as shaky performances at international level. Ream made a name for himself with his passing but seemed to suffer against physical opponents. Now he has a chance to show Klinsmann how much progress he's made.

Whomever starts will have an immense task on their hands. The Americans have spent the last two months feasting on CONCACAF opposition to the tune of an 11-game winning streak, with 10 of those games coming on home soil. Yet not only will Wednesday's match be on the road, but they'll face a Bosnian side that is on the cusp of qualifying for the World Cup for the first time in its history.

Without question, Bosnia has considerable ability in midfield, in particular Roma's Miralem Pjanic. But Bosnia's front-line tandem of Edin Dzeko and Vedad Ibisevic is as talented as they come, with Dzeko's 6-foot-4 frame providing a considerable aerial presence.

"You talk about the U.S. center backs and then you look at what Bosnia has on their side, and right away you think of Dzeko, and what kind of challenge can he pose for this national team," Moreno said. "Physically, he's a very imposing player."

The 6-foot-2 Ibisevic isn't exactly slight, but the Stuttgart forward -- a product of Saint Louis University it should be pointed out -- is more impactful on the ground and can finish with his feet or with his head.

With Michael Bradley and Jermaine Jones on hand to man the center of midfield, the U.S. will be hoping that the duo can provide an effective bulwark against most of Bosnia's attacking forays. But ultimately it will be up to the likes of Cameron, Ream, and Brooks to prove they belong. When Klinsmann has thrown young players into difficult situations in the past, they've usually responded. A repeat of that outcome Wednesday will only add to the team's depth.

Johannson's application accepted: Aron Johannsson's application to FIFA for a change of association was approved Tuesday, meaning he is now eligible to play for the U.S. Johannsson formerly represented Iceland at the U-21 level.