Chandler's latest U.S. omission raises eyebrows
There was no shortage of interesting inclusions -- recently recruited dual nationals Aron Johannsson and John Anthony Brooks among them -- on the roster U.S. coach Jurgen Klinsmann released ahead of Wednesday's friendly against Bosnia and Herzegovina in Sarajevo (2:30 p.m ET, ESPN2/WatchESPN).

But more intriguing than any of the names on Klinsmann's list could be Timmy Chandler, who wasn't selected to the 23-man squad.

On the surface, the omission of one the U.S. program's top young players is justifiable given that Chandler didn't play in Nurnberg's Bundesliga opener on Saturday -- and endured a nightmarish performance in a German cup game against second-tier Sandhausen the week before. Still, it's hard to ignore that there are larger questions still hovering over the 23-year-old right back's future with the U.S. program -- ones that leave many observers wondering whether Chandler will return to the national team at all before the 2014 World Cup in Brazil.

- Report: Johansson added to U.S. squad

It's no secret that Chandler has had commitment issues in the past. He debuted for the U.S. in March 2011 but skipped that summer's Gold Cup, which would have tied him to the U.S. for the rest of his international career. That led to worries that the Frankfurt-born Chandler was holding out for a call-up from his birth nation. Those concerns were eased somewhat when German legend Jurgen Klinsmann replaced Bob Bradley as U.S. coach two years ago and Chandler returned to the fold. But once again, the player begged out of cap-tying matches when World Cup qualifying began last summer.

Chandler seemed to have made up his mind last November when he told ussoccer.com that he was "1,000 percent committed" to the U.S. cause after being recalled for the 2012-ending friendly in Russia. And when the final round of World Cup qualifying began in Honduras in February, Chandler was included in Klinsmann's starting lineup. That appearance ended any chance of Chandler playing for Germany, but was otherwise forgettable. The U.S. lost to the Catrachos that day, and Chandler delivered a listless performance in the stifling heat and humidity of San Pedro Sula.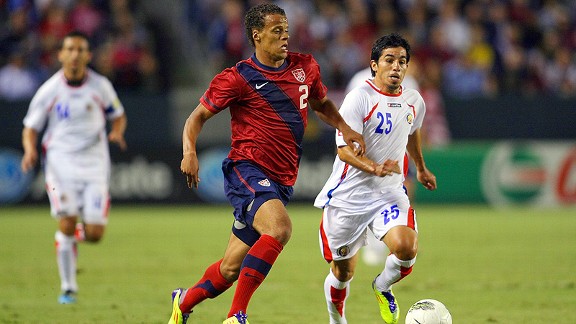 Victor Decolongon/Getty ImagesOnce considered the top young U.S. talent, Timmy Chandler's international career appears to be stalling.

He wasn't the only one, to be sure, but the following month, Chandler was left off the U.S. squad for a pair of crucial qualifiers against Costa Rica and Mexico. Official word was a hamstring injury, yet eyebrows were raised when Chandler went 90 minutes for Nurnberg on March 31, just days after a patchwork U.S. team ground out a scoreless draw against El Tri in Mexico City.

In May, Chandler was off the U.S. roster again, this time because of a knee injury. But he is healthy now -- Chandler was fit enough to be available on the bench for Nurnberg two days ago, making his omission for the Bosnia match strange given the Yanks' lack of depth at right back. (A U.S. Soccer spokesman confirmed Monday that Chandler is not injured.)

Steve Cherundolo turns 35 in February and is recovering from a second knee surgery in four months. Klinsmann prefers using Geoff Cameron -- who usually plays as a fullback for Stoke City -- in central defense or in front of the back four, so much so that he had Brad Evans, a central midfielder in MLS, line up at right back in the Americans' three June qualifying wins.

And if Klinsmann or his players are still unsure of Chandler's commitment, there might not be enough time left now for Chandler to regain their trust and work his way back into the squad -- especially given how long it took Landon Donovan, the team's all-time leading scorer, to work his way back into the coach's good graces.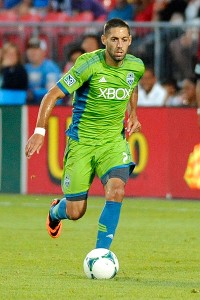 Brad White/Getty ImagesClint Dempsey's absence is understandable as Klinsmann's giving the U.S. star more time to settle at new club Seattle.

Klinsmann insists that the door remains open for any player and that plenty can change over the next nine months. For Chandler it will have to, and quickly, before that door finally shuts for good.

Notes
-- Only two MLS players, Evans and Seattle teammate Eddie Johnson, were named to the U.S. roster. Their new Sounders teammate, U.S. captain Clint Dempsey, was not picked as Klinsmann opted to let him settle at his new club following his recent transfer from Tottenham Hotspur. "It's been a long week for Clint and he is still in preseason and getting a rhythm," Klinsmann told ussoccer.com. "So we leave him in Seattle and get him ready for the games in September."

-- Klinsmann also offered his first public comments on Dempsey's return to MLS: "Clint himself has set the highest benchmark for himself over the last year," the coach said. "He became our captain and he has to keep that benchmark and he knows that. ... Obviously, we want the best Clint Dempsey ever and that's what we're going to push him toward as we begin to look toward Brazil. He has set a high standard for himself, and it's up to us coaches to make sure he keeps that high standard."

-- Five players on the squad play for English Premier League teams, while four play in Germany's Bundesliga. Also, six members played in all three of the Yanks' June World Cup-qualifying wins (Evans, Johnson, Jozy Altidore, Michael Bradley, Tim Howard and Fabian Johnson) and seven were on last month's Gold Cup-winning side (E. Johnson, Alejandro Bedoya, Edgar Castillo, Joe Corona, Mix Diskerud, Michael Orozco Fiscal and Michael Parkhurst).