Graham Zusi quietly rises up USMNT ranks
Want an idea of how far Graham Zusi has come over the last 12 months? Just take look at the lineups listed in the men's national team section of U.S. Soccer's website.

Believe it or not, Zusi had yet to make an appearance with the Yanks' first string this time last year, a fact that's easy to forget now that the 26-year-old Sporting Kansas City midfielder has become not only one of the few automatic starters on Jurgen Klinsmann's World Cup qualifying squad, but has played so well at international level that he's expected to keep all-time scoring leader Landon Donovan out of his longtime spot on the right wing when qualifying resumes in September.

Zusi joins Donovan, World Cup winners Thierry Henry and Francesco Totti and U.S. teammate Michael Bradley as the headliners when the MLS All-Stars host Serie A side AS Roma at Sporting Park in the league's annual midsummer classic Wednesday (9 p.m. ET, ESPN2), but he still seems slightly out of place in such company.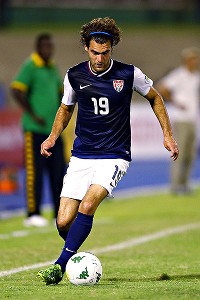 Streeter Lecka/Getty ImagesGraham Zusi's focus has made him a favorite of U.S. coach Jurgen Klinsmann.
That's because, as fast as Zusi's rise has been, it hasn't been flashy. Unlike some players who have burst onto the scene only to flame out just as quickly, the Orlando, Fla., native's progress has been quietly steady.

"He's totally focused on his game every day, and that has really allowed him to improve immensely," said SKC coach Peter Vermes, who will lead MLS' best against Roma. "And because of that, he's got a really high ceiling as a player."

Zusi's single-minded desire to get better quickly endeared him to Klinsmann in 2012, and it aligns perfectly with the coach's constantly repeated philosophy of constant improvement.

But it's Zusi's production -- not his mentality -- that has kept him in Klinsmann's first XI since a breakout performance in a crucial semifinal round qualifier against Jamaica last September.

Zusi helped the Americans to victory that day, and he's started six of the seven qualifiers he's been available for since. In June, Zusi assisted on two of Jozy Altidore's four goals, including the game winner in a 1-0 victory against Honduras that avenged the Americans' Hexagonal-opening loss in San Pedro Sula four months earlier. (Perhaps not coincidentally, that was the only qualifier in which Klinsmann opted not to play Zusi from the beginning of the match.) He also impressed in spring friendlies against Belgium and Germany, easing concerns that he'd be physically overmatched against top-end European foes.

"I want to make it hard for the coaches not to put me on the field," Zusi told ESPN FC in a sit-down interview last week. "There's so many quality players on the national team, I think if you get complacent, you'll find yourself out of the picture pretty quickly."

Zusi's play for country and club -- he was a finalist for MLS MVP last season -- recently convinced Sporting's ownership to tear up his contract for the second time in 16 months and ink him to a multiyear extension.

The move surprised some. Zusi could have become a free agent after next season, and he surely would have attracted interest from a host of foreign clubs. But even for a player who says he's "never satisfied with where I'm at," the deal made sense for several reasons.

"I don't want to sound arrogant, but Sporting is a very good club to be at," Vermes said. "The grass isn't always greener in Europe and I think he realized that this environment has helped him get where he is and can continue to help propel him toward where he wants to go."

Where Zusi wants to go, at least eventually, is to one of the world's top leagues. He spent a week on trial with Premier League side West Ham last January, but with the club mired in a relegation dogfight at the time, no offer materialized. But even though his new pact with SKC makes him the undisputed face of the franchise, it doesn't necessarily mean he'll be in Kansas City long-term.

"If a good club comes along and the deal is one that's beneficial for both parties, he knows we're not going to hold him back," Vermes said. "We've demonstrated that time and again with other players."

Zusi is hoping to pursue loan opportunities abroad in early 2014, much like Donovan, Henry, Sporting teammate Kei Kamara and other MLS stars have in recent offseasons.

Speaking of Donovan, Zusi laughs off suggestions that America's all-time scoring leader won't be welcomed back into the fold by the first team after opting to skip the Yanks' first three qualifiers of 2013.

"People on the outside looking in can say whatever they want, but that was never the feeling in the group."

As for those who think Donovan's return could threaten Zusi's playing time, Zusi doesn't see it that way.

"He's still an incredible player and always makes people around him better, so as far as I'm concerned, I think it would be a lot of fun to be on the field at the same time with him," Zusi said, noting that Donovan played several different attacking positions during the Americans' successful Gold Cup campaign.

But the spot that Donovan, the three-time World Cup vet, is probably least likely to occupy if he's in Klinsmann's lineup in Costa Rica on Sept. 6 might be right midfielder.

Few could have seen it coming a year ago, but that position is now firmly Graham Zusi's to lose.

NOTES

• Everyone connected to American soccer is still reeling from the news that Stuart Holden, aka "the unluckiest footballer on earth," tore the anterior cruciate ligament in his right knee in the first half of Sunday's Gold Cup final. But for those worried about Holden's chances of returning in time for the 2014 World Cup, don't forget that U.S. legend Clint Mathis tore an ACL in June 2001 and was back on the field with the national team the following January. Mathis -- hardly the fitness freak Holden is -- went on to play a big role for the Americans at Korea/Japan 2002. So even if Holden is two months behind where Mathis was a dozen years ago, the March 5 FIFA friendly date seems like a realistic target for Holden's return, barring any further setbacks. Only a fool would could him out.

• On Monday, Alabama-born Icelandic national Aron Johannsson -- Jozy Altidore's former teammate at Ducth Club AZ Alkmaar -- declared his intent to represent his birth country at senior level. Even if his application to FIFA for a one-time switch of international allegiance -- the 22-year-old striker played competitive matches for Iceland at youth level -- isn't approved before the USA's Aug. 14 friendly in Bosnia, expect Johannsson (who was profiled in ESPN The Magazine in December) to be invited in with the U.S. squad.
"Such a quality player," Altidore wrote on Twitter shortly after Johannsson's announcement. "Fans and players will love him."

• Like Zusi, central defender Matt Besler is another SKC star who's been fast-tracked into Klinsmann's starting lineup -- not that Zusi is surprised. "To see a young guy come in so quickly I think shocked people, but he's a very smart player; he's a lot faster than he looks," Zusi said of Besler, who in January became the first player from Kansas to earn a U.S. cap. "He's been killing it. He took his opportunity, and as far as I'm concerned he's the guy back there."