Donovan sets the Gold standard
CHICAGO — The 2013 Gold Cup will be remembered as the competition in which Landon Donovan resurrected his international career, and with good reason. His goal scoring, passing and movement were devastating to the point that he was the overwhelming choice for the Golden Ball, emblematic of the tournament's most outstanding player.

• McIntyre: Holden injury sours triumph

This was true even on a day when Donovan didn't get on the scoresheet. In the first half of Sunday's final, Panama's defense did plenty to limit his space, and the U.S. failed to create much in the attacking third as a result. But, as it has so often in this tournament, the Americans' edge in possession began to have an effect, and eventually the U.S. simply wore Panama down and won the game 1-0.

"I was [dropping into midfield] in the first half, but they had a lot of guys in there," Donovan said. "It was almost impossible to really make an impact, but as they got tired there was more space, it opened up more. We kept going, our tempo was good and eventually there were more opportunities."

In fact, Donovan is on such a run that even when he makes a mistake it ends up working out. He admitted that he made a hash of connecting with Alejandro Bedoya's pass, yet the ball appeared set to roll into the goal, only for Brek Shea to tap it in from close range.

It was enough for U.S. manager Jurgen Klinsmann, who has doled out praise to Donovan by the thimbleful during the tournament, to finally concede that there was a "high probability" that the national team's all-time leading goal scorer would be called in for the September World Cup qualifiers away to Costa Rica and home to Mexico.

But if Donovan's individual brilliance will linger in the memory, so will the team's collective contribution, and there were plenty of players who helped their cause in terms of possibly forcing their way into the "A" team.

Mix Diskerud came on for the injured — and brutally unlucky — Stuart Holden, and he later recalled how his professional debut back in Norway occurred under similar circumstances. And much like on that day, he took a while to settle into the match, but ultimately put in a shift that grew in influence as the game went on. His defense has also shown immense improvement from his first appearances with the national team. It capped off a special month for a player who admitted he agonized over which country to play for, the U.S. or his native Norway.

"I'm happy about [my performance]," he said. "I'm proud of myself, proud of the team, and hopefully I'm going to get the chance of [moving] myself forward and being part of this team, this group."

There were other notable performances as well. Clarence Goodson's composed play means that Omar Gonzalez is no longer the automatic starter he was before the tournament. Kyle Beckerman was consistently excellent from the start of the Gold Cup until its end. Joe Corona showed well for much of the tournament, even if he did have a quiet final. Bedoya looked at one point like he was going to spend the rest of the Gold Cup on the bench. Yet he delivered two excellent performances in the semifinal and final, and it was partly due to his play that the U.S. finally made a breakthrough against Panama. Then there was Shea scoring in two games, both after coming on as a substitute.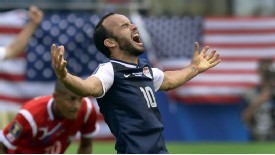 GettyImagesLandon Donovan celebrates after victory over Panama.
Donovan said: "The reality is, and [Klinsmann] has shown this in this tournament, he makes decisions on how you're playing at the time. That's the way it's going to be going forward."

Of course, helping one's cause doesn't necessarily guarantee time with the first team. Beckerman and Diskerud happen to play in the deepest position in the player pool. Corona and Bedoya don't appear to be ready to displace the likes of Graham Zusi anytime soon. But as Holden's injury shows — in the most depressing way, it should be pointed out — the development of depth is critical to the continued evolution of the squad for the simple reason that you never know when injury or a drop in form will strike a player.

"We want to create competition everywhere," Klinsmann said. "We want not only double positions but triple positions. We want to see how deep we are."

Plenty, as it turned out, and the team's collective hunger was best illustrated by one of its oldest members.

"This is not the end," Donovan said. "It's the end of the tournament, but hopefully it's just the beginning for a lot of us. We want to be part of the bigger picture."

For the tournament's Golden Ball winner, that scenario seems guaranteed.

Notes:

• Klinsmann's suspension for the match meant that he was forced to watch the match from a private box alongside U.S. Under-20 head coach Tab Ramos. It was not an experience Klinsmann wants to go through again.

"From the box, watching it was horrible," he said. "I think I hit a TV at one point or something like that. I tried to keep myself together."

• The victory extended the U.S.'s record winning streak to 11 games, four more than its previous high of seven straight wins accomplished in 2007. The U.S. also improved to 12-2-2 in 2013. Along with its overall winning streak, the U.S. tied a record for its longest home winning streak at 10, which was set from June 15, 2008, through July 11, 2009.

• Donovan shared the Gold Cup's top scorer award with teammate Chris Wondolowski and Gabriel Torres of Panama. Each player scored five goals in the tournament.