No Klinsmann, no worries as U.S. lifts Gold Cup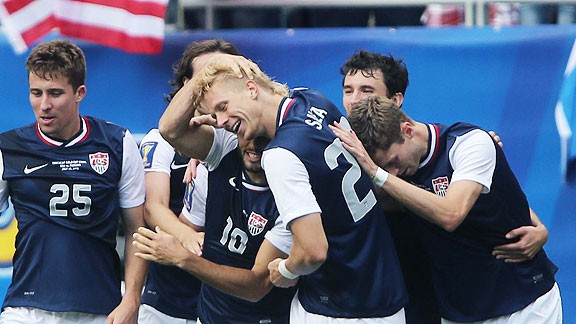 Jerry Lai/USA TODAY SportsBrek Shea's super sub turn sealed a fifth Gold Cup title for the United States.
CHICAGO -- Even with Jurgen Klinsmann suspended, the United States' golden touch with substitutes continued and now, the Americans are Gold Cup champions after beating Panama 1-0.

Brek Shea scored the game's only goal just minutes after coming on, slamming home Alejandro Bedoya's low, goal-bound shot in the 69th minute. It marked the second time in the tournament that Shea had scored the game winner as a sub and with the U.S. defense playing its most complete game of the tournament, the Americans were left to celebrate their fifth Gold Cup title in front of sizable crowd (57,920) at Soldier Field.

The match marked one of the few times the U.S. had been challenged in the Gold Cup -- their previous five encounters had been won by a combined score of 19-4. But Panama proved to be as tough to break down as advertised, especially true in a cagey first half that was largely devoid of chances. But the Americans' edge in possession began to tell in the second half and as Landon Donovan's influence in the attacking third began to increase, it seemed only a matter of time until the U.S. scored. That proved to be the case when Donovan ran onto a pass from Bedoya, only to fan on his shot attempt but enabling Shea to provide the final touch.

Report: Shea secures Gold Cup for U.S.

Klinsmann's suspension, having been dismissed in the semifinal win over Honduras, meant that assistant Andreas Herzog was listed as the coach of record. And in the opening exchanges, the U.S. seemed none the worse for the German's absence as the side settled into an early rhythm. Yet none of it was enough to trouble the Panamanian defense.

It was even Los Canaleros who came closest to scoring. Marcos Sanchez robbed DaMarcus Beasley in the U.S. half, but his cross was acrobatically cleared by Matt Besler. Panama threatened again a minute later when Gabriel Gomez broke down the right wing, though Michael Parkhurst was on hand to sweep his cross out for a corner with Gabriel Torres lurking nearby.

The U.S. had its best early chance in the 11th minute when Stuart Holden pounced on a loose ball at the top of the box but could only fire his shot over the bar. Alas, Holden's day wouldn't last much longer. A knee-to-knee collision with Alberto Quintero in the 19th minute saw Holden come off second best. He was replaced by Mix Diskerud four minutes later.

The rest of the half was played out in tense fashion. The U.S. had a solid edge in possession -- Joe Corona provided some slick approach work -- with Bedoya occasionally shaking free on the right wing. But Panama looked solid defensively and always looked capable of attacking on the break. This was especially apparent when Quintero and Sanchez were on the ball, a threat that added a bit of caution to the U.S. approach.

As for Donovan, he was a non-factor as Panama succeeded in limiting his touches -- the tournament MVP had just one in the box for the entire first half. Yet the U.S. still succeeded in creating a couple of half-chances just before halftime. A Donovan free kick was half-cleared to Besler only for his shot to be blocked. Bedoya suffered the same fate three minutes later as he dribbled across the box.

The second half began with the U.S. doing more to force the tempo and nearly scoring just two minutes in, only Donovan's free kick skimmed off the head of Goodson and went wide. The U.S. then had a penalty claim in the 52nd minute when Donovan's cross appeared to catch the arm of Carlos Rodriguez, but referee Joel Aguilar waved play on.

Four minutes later, the Americans then constructed a great chance as Diskerud's sweeping pass picked out Beasley on the left wing. The captain's cross found a wide-open Donovan, who unfortunately contrived to put his header wide.

All that merely set the stage for Shea's heroics, even if it was Bedoya who did the heavy lifting.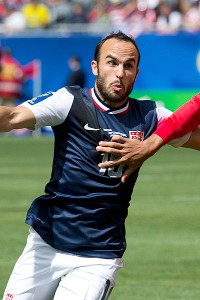 Don Emmert/AFP/Getty ImagesLandon Donovan was muzzled in the first half but did enough after the interval to inspire the U.S. to victory.

Panama pressed forward in search of an equalizer but Roberto Chen shot just wide in the 72nd minute and Kyle Beckerman was on hand to block a shot in the 85th minute.

Given Panama's increased impetus, the U.S. did have its chances to put the game away. Shea misplayed Donovan's through ball in the 80th minute, and then Eddie Johnson ballooned his close-range shot over the bar after good work from Shea. But the poor finishing didn't come back to bite the U.S., leaving the Americans to celebrate a deserved victory.

Player ratings: (0-10)

G - Nick Rimando, 6: Had a pretty quiet first half, as he was only asked to clean up some loose balls in the box.

D - DaMarcus Beasley, 6.5: Was robbed in one sequence early with Sanchez but recovered to hold his own. He found more opportunities to get forward in the second half and put in some telling passes.

D - Matt Besler, 6.5: Had some dynamic clearances, and was sharp on the ball. Did get caught out on one through ball, but the attack came to nothing. Raised his game a notch in the second half.

D - Clarence Goodson, 7: Looked composed in his defending and his passing and did well in his battles with Perez. Overall, Goodson has done plenty in this tournament to remain in Klinsmann's reckoning.

D - Michael Parkhurst, 7: Was forced to defend more than in previous games, but fared well in his encounters with Quintero. Had a vital clearance on an early Gabriel Torres cross.

M - Joe Corona, 5: Had some bright moments in the middle third to help the U.S. get forward, but wasn't as effective as he got closer to goal. Faded out of the game in the second half.

M - Kyle Beckerman, 7: His positioning was excellent per usual as he claimed lots of loose balls. No complaints about his distribution, either. Had some vital blocks and clearances late in the match.

M - Stuart Holden, 5.5: Got off to a promising start, shooting over the bar after a steal in the 11th minute, but was forced off with a right knee injury eight minutes later, an incredibly bad break for a player who battled left knee injuries over the course of the last two years.

M - Alejandro Bedoya, 7: Took up some good positions in the first half, and shook free from Panama's defense a couple of times, but needed more end product. He solved that problem in the second half as his telling pass picked out Shea in the run-up to the goal.

F - Landon Donovan, 7: Was very quiet in the first half as Panama denied him space. Looked a different player after halftime, thankfully, and was part of the team's best attacking sequences. Should have done better on his 56th minute header but inadvertently played a critical part in the run-up to the goal. Fully deserved his tournament MVP honor.

F - Eddie Johnson, 5: Drifted out wide in an attempt to find the ball but found space tough to come by. Stayed more central in the second half and created space for Donovan, yet should have done better with a late chance.

Subs:

M - Mix Diskerud 6.5: Connected his passes well, and helped his team out by earning some free kicks. Picked up the pace in the second half, and sprayed some accurate long-range passes.

M - Brek Shea, 7: Scored one of the great two-foot putts but they all count, and but for one flubbed touch, he was generally a menace on the wing.

D - Omar Gonzalez, 6: Late cameo but provided a sturdy aerial presence at the end.