The next phase of Landon Donovan's USMNT reintegration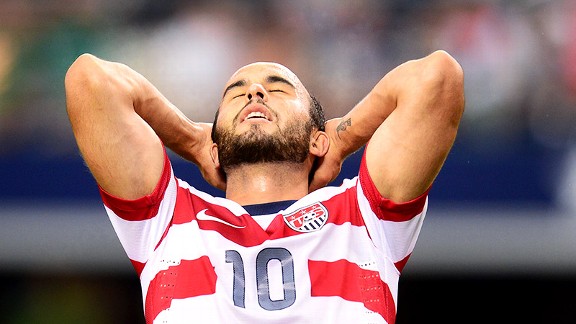 Frederic J. Brown/AFP/Getty ImagesLandon Donovan's return to the USMNT A-team looks likely, but questions remain about his role within the squad.
Regardless of what happens in Sunday's Gold Cup final between the U.S. and Panama, the tournament has been a tremendous success for Landon Donovan. He has served up five goals and seven assists, generally dominating the proceedings. Even if you ignore his impact on the score sheet -- admittedly, not an easy task -- Donovan has contributed in other ways with his defense, link play and movement off the ball.

- Donovan's quality foretells his Hex return

It's worth noting that this stretch of international games is by no means the most strenuous Donovan has encountered in his career. Every single game Donovan has played for the U.S. in the last month has been against a B-side -- or worse -- and not one of those matches was on the road. That said, Donovan deserves some credit for having aced this particular exam, even if it was of the open book variety.

Now the question of how best to continue Donovan's reintegration into the national side enters a new, and perhaps more critical, phase. The temptation is to think that having served his penance for taking a four-month break from the game, Donovan should be immediately put back into the lineup on Sept. 6, when the U.S. will face its next World Cup qualifier at Costa Rica. It's a powerful impulse, especially given Donovan's history of success with the U.S. since making his international debut back in 2000.

"When the big games really start, Donovan is one of the best at making sure he's completely ready to go and playing at his best when the team needs him," said Frank Yallop, who coached Donovan during stints with both the San Jose Earthquakes and the L.A. Galaxy. "He has an amazing way of doing that: playoffs, World Cup qualifying, all of it."

There have been exceptions, of course. The 2006 World Cup proved overwhelming for Donovan when, by his own admission, he crumbled under the weight of expectations attached to him and the team. But that proved to be a low ebb in what has otherwise been a highly successful international career. In particular, his play in the 2010 World Cup in South Africa saw him deliver in critical moments, enabling the Americans to win their group.

The performance also brought into focus the relationship between Donovan and the national team. Yallop, in an interview back in 2010, quite rightly stated that the U.S. needed to play well in order for Donovan to play well. But in a sense, the opposite was also true. It is no coincidence that the Americans' best World Cup moments have come when Donovan has been at his most lethal.

But then Donovan took his sabbatical (from December 2012 to March 2013) and with it came an unintended consequence for both team and player. The security blanket that Donovan provided was shed. Other players -- most notably Clint Dempsey, Michael Bradley and Jozy Altidore -- stepped into bigger roles, and the U.S. learned to cope and even thrive without Donovan.

It's perhaps the most significant growth element for the U.S. in this World Cup cycle, and it speaks to a deeper, more flexible squad. And through it all, manager Jurgen Klinsmann deserves immense credit for sticking to his guns and resisting the urge to bring Donovan back into the team once he returned to his club. What Klinsmann has received in return is perhaps the most dangerous Donovan of all, a player with something to prove, although subsequent tests will provide a better gauge of the Galaxy attacker's effectiveness.

But now that Donovan is back in the international fold, it also creates a delicate situation in terms of team chemistry. The U.S. side that contested the qualifiers was put through a series of crucibles. There was the Sporting News article that spoke of general dissatisfaction with Klinsmann's methods. Then there were the next two qualifiers: a game in which the U.S. gutted out three points against Costa Rica in a blizzard, and then the draw on the road against Mexico. The trio of June qualifiers -- all victories -- has put the U.S. in firm control of its qualifying destiny. All of this was achieved without Donovan.

"There is something special about that team [that played in the June qualifiers], and if you start taking pieces out or putting pieces in, you can mess it up very quickly," said former U.S. international and current ESPN television analyst Alexi Lalas. "I do know Jurgen professionally and personally, and I do know that he thinks about this undefinable [concept] of team spirit a lot. He really looks back at the times when he was a coach or a player and the positive and negative times with regards to that. I think that weighs heavily. I don't think it has anything to do with whether Donovan is a good soccer player. He's always been a good soccer player in Klinsmann's eyes."

So far, Klinsmann's approach to Donovan's reintegration has been to take things step by step, both in terms of the responsibility handed to him and the difficulty of the opponent. Nothing has been rushed, which is why it's very possible that Donovan, assuming he's called in, could start the Costa Rica game on the bench. That will border on the sacrilegious for some, but it might be what is needed for Klinsmann to maintain the meritocracy he has so carefully nurtured.

"I think most players are pretty pragmatic when it comes down to it, when they're actually playing," said Lalas. "But a team's success is not limited to the 90 minutes that they play. Oftentimes it's determined by the other 22 hours and 30 minutes of the day. So I think that they would be accepting based purely on his track record as a soccer player and potential for a good soccer player to come in. But is that enough?"

Then there is the issue of the position Donovan would occupy on the field. In the Gold Cup, Donovan has played up top in the role usually occupied by Dempsey. While players' club situations make for a fluid roster dynamic within the national team, it seems unlikely that Dempsey will make way for Donovan. That leaves the left side of midfield as the most likely position for Donovan to take up, with Fabian Johnson sliding back to defense to duke it out with DaMarcus Beasley for the left-back spot. It's a position Johnson has occupied often in the past for both club and country, so finding a comfort level there isn't an issue.

Another possibility is that Klinsmann might opt to leave his starting XI intact, and simply use Donovan as a sub. That could create an even more fragile situation.

"It's one thing if you are accepting of a different role, and you yourself recognize that it's completely legitimate," said Lalas. "It's another thing if you're accepting of the role, and deep down don't agree with the assessment. That can be problematic. Donovan sitting on the bench and saying all the right things is fine, but coming to the realization and believing the assessment that he is not a starter is fair, that's a whole other thing. I look at Cobi Jones in the 2002 World Cup. At that point, he knew his role, and if you were to ask him now, he would agree with it. That's good to have. Me in 1998, sitting on the bench, heck no."

That is essentially what Klinsmann must manage in the coming months. The best 23 players don't always make the best team. So far, it appears that the path to the starting XI looks clear for Donovan. But the process of building a team is akin to a jigsaw puzzle, and it's Klinsmann's job to make sure the pieces fit together.

Only then will something special be achieved next summer.