Donovan's quality foretells his Hex return
The question now isn't so much whether Landon Donovan's utter Gold Cup domination will land him a return to Jurgen Klinsmann's first-team roster when the national team's World Cup qualifying campaign resumes six weeks from now. It's whether Donovan has done enough to be in the coach's starting lineup when the U.S. takes the field at Estadio Nacional in San Jose, Costa Rica, on Sept. 6.

Donovan's scintillating two-goal, one assist performance in Wednesday's 3-1 semifinal win against Honduras -- a game that was supposed to be the Yanks' toughest test so far -- showed a player close to the very top of his game. And when that player happens to be the all-time leading scorer in U.S. history, you'd think that "close" would be good enough to merit a starting job alongside his peers.

On the other hand, Klinsmann never seems to stop challenging norms. That's why Donovan is here, after all. It's also why he was left off the squad in June following his early-2013 fatigue-driven sabbatical, and why he was passed over for the Gold Cup captaincy despite his unparalleled experience on the squad.

And up until Wednesday's postmatch news conference, Klinsmann had offered only tepid, noncommittal responses to every query about the 31-year-old's potential involvement in the final four qualifiers of this year's Hexagonal. Even as he finally allowed himself to gush about Donovan's contributions "both on and off the field" after the win, there remained an air of caution in his comments.

- Carlisle: Donovan golden yet again
- Report: U.S. through to Gold Cup final
- Video: Klinsmann happy with U.S. progress
- Watch: CONCACAF sanctions?

"I told him that in our conversations: '[How] I measure you, your benchmark is the best Landon Donovan ever,'" Klinsmann said in the news conference. "I'm not taking anything less than that."

So far, he hasn't had to.

As much as Donovan and the U.S. have faced inferior competition in this tournament, it would have been hard for Klinsmann to get more out of him. Donovan has five goals -- tied with teammate Chris Wondolowski and Panama's Gabriel Torres for the tourney lead -- to go with seven assists. Better yet, he's been directly involved in eight of the nine goals the U.S. has scored in its past three matches.

More impressive than the numbers is the way Donovan's game has evolved. At 31, he admits that his first step isn't quite as explosive as it was in his younger days. Yet he's been a model of efficiency since making his U.S. return. As ESPNFC's stats czar Paul Carr pointed out following Wednesday's game, Donovan had the fewest touches of any American starter versus Honduras despite being the most influential.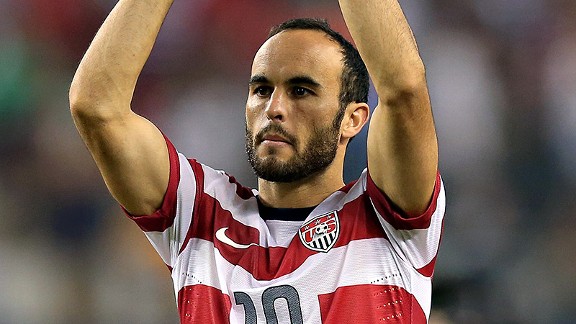 Ronald Martinez/Getty ImagesWhatever happens moving forward, Landon Donovan's served his penance since returning to the U.S. fold.

Still, Klinsmann seemed to have found his preferred XI with the first string this spring after starting 27 different lineups in his first 27 games as manager of the U.S. men's national team. In four matches in June, including three consecutive qualifying wins, the only lineup changes Klinsmann made were due to injury or suspension.

So Donovan will need to keep pushing to reclaim his old job, in Sunday's finale and beyond. He has never been the top scorer at a major tournament, and desperately wants the U.S. to win the title even if Panama's defeat of Mexico in Wednesday's other semifinal denies him the dream matchup against an El Tri side he's tortured in the past.

And there's still no guarantee that Donovan immediately sends Graham Zusi or Eddie Johnson (who has also impressed during the Gold Cup) to the bench in September, no matter how well he plays before then.

At some point, though, he'll be back in the starting lineup. And whenever that is, the senior leadership corps of Michael Bradley, Tim Howard and captain Clint Dempsey will welcome him back with open arms. They all respect Donovan as a player and teammate despite the special treatment he's received at times through the years. Because let's face it: Donovan is special and has been for a long time.

Furthermore, Donovan has paid his penance this month. He's earned his return to the first team during this Gold Cup, even if he might have to wait a bit longer for his chance to come. Because it isn't a matter of "if" anymore. Now, it's only a matter of "when."