Donovan comes up Gold yet again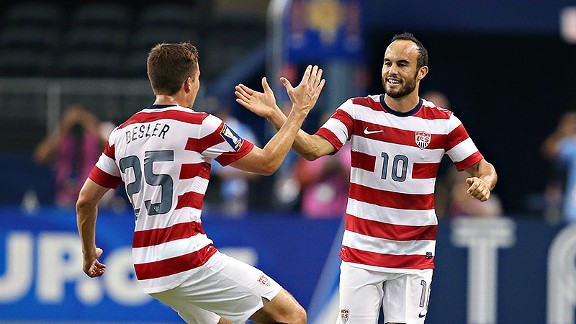 Matthew Emmons/USA TODAY SportsAnother game, another dominant effort for Landon Donovan, one that Honduras had no answer for.
Landon Donovan continues to own the 2013 Gold Cup. The U.S. national team's all-time leading scorer scored twice after Eddie Johnson's opener to give the Americans a 3-1 semifinal victory over Honduras.

The result wasn't dominant in terms of scoreline, but with regard to the team's overall play the Americans delivered a near complete performance, somewhat surprising given how stingy Honduras had been defensively during the tournament. But the U.S. seized the initiative early -- Johnson put the U.S. ahead before the game was 11 minutes old -- and Donovan added the team's second midway through the first half. The Americans endured a brief hiccup after halftime when Nery Medina pulled a goal back for Los Catrachos on a set piece header, but Donovan restored the Americans' two-goal advantage just a minute later and the U.S. was never really threatened thereafter.

While the match was just the latest sign of Donovan's continued resurgence, it was also a testament to the Americans' depth. Not only did Johnson deliver an impressive performance in his first start of the tournament, but Alejandro Bedoya, who was given a surprise start on the right side of midfield, was a constant threat throughout the match and assisted on both of Donovan's goals.

The U.S. started the game in much the same manner as its earlier Gold Cup encounters, dominating possession and patiently probing for weakness. It was precisely that approach that led to Johnson's goal. The U.S. forward checked back toward Clarence Goodson, but with Osman Chavez tight on him, Goodson played the ball deeper to Donovan instead. Johnson then turned Chavez and ran into the vacated space, collecting Donovan's square pass and, after carrying the ball into the box, powering a finish high past Donis Escober.

Promisingly, there was no let-up by the Americans, who at times looked like they were toying with what appeared to be a fatigued Honduras side. Stuart Holden seemed to have a legitimate appeal for a penalty in the 16th minute when he was elbowed in the face by Juan Carlos Garcia, but referee Walter Quesada waived play on. Holden, who looked more incisive than he had in his previous two matches, then shot just over the bar after being set up by Donovan.

The Americans doubled their advantage in the 27th minute, and if the first goal was due to clever passing and movement, their second was straight out of the "route one" playbook. Nick Rimando's goal-kick was flicked on by Johnson and, initially, it seemed as though Honduras had adequate numbers at the back to snuff out the threat. But Bedoya showed terrific hustle to knife between two defenders and touch the ball to a wide-open Donovan, who put his low finish past a despairing Escober.

- Report: Donovan tallies twice in U.S. win

Honduras did threaten briefly in the 29th minute when Diego Reyes found room near the top of the box, but his long-range strike was hit straight at Nick Rimando. Otherwise, the first half was complete domination by the Americans. Donovan nearly added his team's third but could only touch Bedoya's low cross just wide of goal.

At halftime, Honduras brought on Marvin Chavez and Jerry Palacios but there was little change in the game's tempo. The U.S. continued to threaten, with Bedoya's 50th minute strike touched around the post by Escober.

But if there's been one weakness in this Gold Cup for the U.S., it has been set pieces, and that frailty was exposed again in the 52nd minute. Chavez's free kick found a wide-open Medina in the box and he buried his header past Rimando at the near post.

The U.S. reacted to the wakeup call in the best way possible. Another Goodson long ball found Bedoya in stride, and his centering feed enabled Donovan to score with a simple tap-in.

With an eye on Sunday's final, U.S. manager Jurgen Klinsmann brought off Kyle Beckerman, Jose Torres and Donovan with Mix Diskerud, Brek Shea and Chris Wondolowski coming on. While Honduras began to have a little bit more of the ball in the game's latter stages, it was the U.S. that produced the best chance: Bedoya set up Johnson for a clear look at goal in the 77th minute only for the U.S. striker to drag his shot wide.

About the only downside to the victory came late in the match when Klinsmann was asked to leave the sideline for protesting some heavy Honduran challenges -- it's unknown at the moment if he'll be able to be on the bench for Sunday's final. Overall, the game went about as well as could be expected.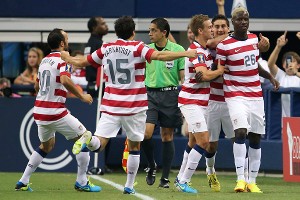 Matthew Emmons/USA TODAY SportsEddie Johnson was superb vs. Honduras, full value for the U.S. in his first start of the Gold Cup.

Now all that remains is Sunday's final in which the U.S. will face the winner of the other semifinal between Panama and Mexico. It figures to be the toughest game of the tournament given the quality of those two teams, but difficult matches have been expected ever since the knockout rounds started and yet the U.S. has continued to deliver dominating performances. That level of form, for Donovan in particular, makes them heavy favorites to claim the trophy in Chicago.

Player ratings: (0-10)

G - Nick Rimando, 6: Wasn't asked to do much but was well-positioned to collect Diego Reyes' bullet shot in the 29th minute. Was alert when he needed to be in corralling some low crosses.

D - DaMarcus Beasley, 6.5: On the rare occasions when he was beaten he recovered well to deny service from out wide. Solid for the most part.

D - Matt Besler, 7.5: A much sharper performance compared to the quarterfinal, with more consistent defending. No complaints about his distribution either. He also delivered a vital block of a Palacios shot to prevent any chance of a Honduran comeback.

D - Clarence Goodson, 7: His sharp pass to Donovan helped set the table for the first goal and he released Bedoya in the buildup to the Americans' third. Largely mistake-free in his defending, although he did get caught in possession once only to be bailed out by Rimando. All told, Goodson has done his bit to push for starting spot when the full team reconvenes in September.

D - Michael Parkhurst, 7: He practically wore a groove into the suspect Cowboys Stadium turf with his continual forays up the right flank. His passing was precise as well.

M - Jose Torres, 5: Seemed to be preoccupied with how many times he was being fouled instead of playing his game, seemingly struggling to find a rhythm. He's still favored to be on the field for the final, however.

M - Kyle Beckerman, 7: Gave the U.S. what we've come to expect in this tournament, solid passing combined with timely tackles.

M - Stuart Holden, 6.5: Enjoyed something of a bounce-back game after a few tepid appearances. Was more aggressive on the ball and might have won a penalty after taking an elbow to the face in the first half.

M - Alejandro Bedoya, 7: A surprise starter in place of Joe Corona, Bedoya's tenacity and aggressiveness served him well. He chased a lost cause to set up Donovan's goal and added a second assist in the second half. The only negative was his failure to mark Medina on Honduras' goal.

F - Landon Donovan, 8: Another game, another dominating performance. His movement and clever touches absolutely tormented the Honduran defense. Rightfully received a deserved standing ovation when he was subbed out for Wondolowski.

F - Eddie Johnson, 7.5: His versatility, power and shooting made him an absolute handful for Honduras. He delivered a composed finish for the Americans' first goal while his flick-on helped set up the second. Nearly bagged his second goal of the match in the second half, only to shoot wide.

Subs:

M - Brek Shea, 4: Was pretty ineffectual for the most part, struggling to connect on his passes in the attacking third.

M - Mix Diskerud, 6: Did well to track back on defense and break up some Honduran attacks.

F - Chris Wondolowski, 5: Had the toughest of all acts to follow by coming on for Donovan in a game that was already over. Did release Johnson with one telling pass.