Klinsmann, players elated with U.S. progress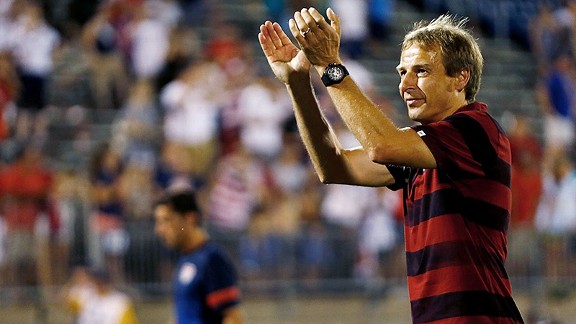 Jared Wickerham/Getty ImagesDespite past struggles, Jurgen Klinsmann has got the U.S. on a winning, confident track.
Things could have gone differently for Jurgen Klinsmann and the U.S. national team after that article came out back in March.

The pressure on Klinsmann already was mounting after the Yanks lost their opening match of the final round of World Cup qualifying in the previous month, and the critical Sporting News piece -- the one whose headline challenged the coach's "methods, leadership and acumen" -- broke just days before an injury-ravished American squad played a pair of pivotal Hexagonal games versus Costa Rica and at Mexico.

The fallout threatened to derail Klinsmann's rebuilding effort as well as the Americans' journey toward Brazil 2014, but a patchwork U.S. team (missing seven regulars) rallied with a win over Costa Rica in snowy Denver, then picked up an unlikely point in Mexico City, setting the stage for the most remarkable turnaround in the program's 100-year history.

Now, after Sunday's 5-1 Gold Cup quarterfinal beatdown of El Salvador in Baltimore, the U.S. has won a record nine games and has gone a remarkable 10-1-1 in its past 12. It's the obvious favorite to win this competition, but more important are the depth and camaraderie that have developed through the squad over the past four months -- and the way, after some early resistance, the entire player pool appears to have finally and fully bought into the coach's high-tempo system.

Carlisle: Donovan shines in Gold Cup QF romp

"This is a process, and I think that process is coming along with both groups, the group that was in May/June and now the group that's in in July," Klinsmann said after Sunday's victory. "Overall we see that team clicking more and more and connecting better and better."

The players deserve much of the acclaim, of course, but Klinsmann deserves plenty of praise, too. Not only did he brush off or at least redirect the criticism, he's also been able to adapt, helping create the environment that has allowed the current successes take root.

"I think both the players and Jurgen deserve a ton of credit," former U.S. forward and current ESPN analyst Taylor Twellman told the blog. "There's no doubt in my mind that when that article came out in March questioning the locker room, how the team responded was big. They answered adversity and stuck together, and I think also it was a little bit of a wake-up call to Klinsmann and his staff. Now he's changed a few things with how he's dealt with the players. These are the kind of experiences you need going into a World Cup -- it's all part of a team growing under a head coach."

Since March, the coach has gotten almost every decision right. He's managed his rosters expertly, using 32 different players -- almost three full teams -- in the nine wins, striking balance between giving players opportunities and keeping them hungry for more. Even his most controversial decision -- leaving Landon Donovan off the squad for three June qualifiers -- has worked out, as Klinsmann has relied on Donovan's ability and leadership heavily at the Gold Cup. Donovan is the only American not to miss a minute of the competition so far, and the Yanks' all-time scoring leader has rewarded the coach by being the best U.S. player to date.

That's not to say there weren't signs of a method to Klinsmann's often-unconventional approach earlier in his tenure. The team won in Italy and Mexico last year and equaled its best winning percentage in 2012, and he slowly but surely integrated new players along the way.

On Sunday, one of them, second-half sub Eddie Johnson, made the coach look smart when he scored 14 seconds after being introduced. But then Klinsmann's decision to start Johnson in a rain-soaked qualifier in Antigua last October, two years removed from his last national team appearance, was even bolder. Johnson had two goals in a 2-1 win that day and has been a staple with the first team since, proving that when Klinsmann says "the door is always open," it's not simply lip service.

"It's just another game for me to reward the coach for bringing me in and having faith and confidence in me," Johnson said after his latest round of heroics. "It's just good to see everyone happy and enjoying their soccer. That's what it's about."

It's also about winning, and now the U.S. is just two results from its first Gold Cup crown since 2007. A title would boost the Yanks heading into their final four qualifiers, but even a loss might not undo the progress that's been made since March.

"Winning is nice," Twellman said. "But I don't think the winning streak is as important as how the team responded when adversity came their way."