Donovan shines again for U.S. in Gold Cup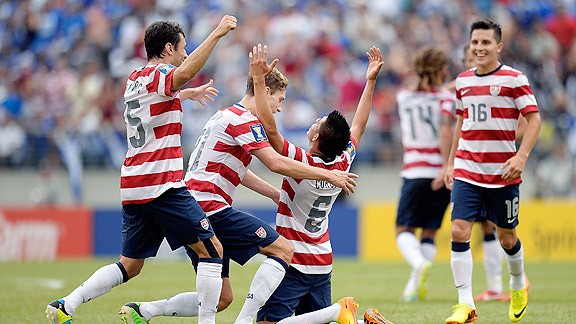 Patrick McDermott/Getty ImagesA total team effort, led by Landon Donovan, pushed the U.S. to hammer El Salvador.
With each passing game, the evidence has been mounting that Landon Donovan is back. In Sunday's Gold Cup quarterfinal against El Salvador, Donovan delivered his most impressive performance to date since his national team return, delivering a goal and four assists in a 5-1 victory.

In the first half, Donovan set up Clarence Goodson and Joe Corona to stake the Americans to a 2-0 lead. El Salvador then pulled a goal back just before halftime thanks to a Rodolfo Zelaya penalty and went on to create some nervous moments for the U.S. immediately after the break.

But Donovan's pinpoint cross to substitute Eddie Johnson -- who had entered the game just 15 seconds earlier -- created some much needed breathing room and the U.S. coasted from there, with Donovan and Mix Diskerud adding to the Americans' final tally. The U.S. will now face the winner of the day's other quarterfinal (Costa Rica versus Honduras) on Wednesday in Dallas.

Ultimately, it's a result that was somewhat tougher than the final scoreline indicated. The U.S. dominated for long stretches but found El Salvador goalkeeper Dagoberto Portillo in inspired form -- his play allowed Los Cuscatlecos to stay in the match. The U.S. also looked vulnerable on the break, especially when the ball was at the feet of Zelaya, and the Americans were on their heels for a brief stretch before that attacking prowess came to the fore.

Report: U.S. cruises into Gold Cup semifinal

Of course, Donovan had plenty to do with that. Granted, his finishing wasn't as sharp as he would have liked as he failed to convert some clear chances. But his passing and movement remain impressive, and those aspects will allow him to carry considerable confidence into the semifinals.

As longtime observers of the U.S. team will know, a confident Donovan is nearly impossible to stop.

The first half began with El Salvador hunkering down and looking to threaten on the break, a tactic the U.S. has seen in all its Gold Cup games so far this summer. As a consequence the Americans repeatedly probed the flanks only for the final pass to be just a tad off-target. One exception came in the 15th minute when Michael Parkhurst teed up Diskerud, only for the midfielder to scuff his shot.

The Americans continued to apply pressure and broke through in the 21st minute thanks to a clever set piece. A corner was played short to Donovan and relayed back to Parkhurst, whose deft chip found Donovan in stride. His subsequent cross was hammered into the box through the legs of defender Jose Henriquez and Goodson's first-time finish easily beat Portillo in the Salvadoran goal.

El Salvador nearly leveled the match four minutes later but was stymied thanks to a tremendous double save from U.S. keeper Nick Rimando. First, Rimando denied Mark Blanco from close range after good work from Zelaya on the left wing and then touched Andres Flores' rebound attempt around the post.

The save proved critical as Corona doubled the Americans' advantage in the 29th minute. Donovan found Chris Wondolowski at the top of the box, whose square pass to Corona saw the midfielder dance around a Salvadoran defender before firing past Portillo.

The U.S. then threatened to turn the game into a runaway as Corona, Parkhurst and Donovan all had clear chances only to be denied by the brilliance of Portillo. At the time, it hardly seemed to matter as the Americans were firmly in control, but then a great individual effort from Zelaya turned the game around in the 38th minute. The Salvadoran forward collected the ball on the left wing and proceeded to evade a trio of U.S. defenders before being felled by DaMarcus Beasley for a penalty. The ensuing spot kick saw Zelaya coolly chip the ball down middle to pull the visitors within one.

The score remained the same until halftime, but the second half began with El Salvador seizing the initiative. Manager Augustin Castillo made a pair of attacking substitutions, bringing on Rafael Burgos and Kevin Santamaria for Osael Romero and Blanco respectively, and when combined with some high pressure, the changes put the U.S. on the back foot. Santamaria fired high in the 49th minute after being set up by Zelaya before Zelaya then bent a shot just wide a minute later.

But with the U.S. looking wobbly, manager Jurgen Klinsmann delivered a telling substitution of his own. Eddie Johnson came in for Wondolowski and his thumping header from a Donovan cross just 15 seconds after coming on reestablished the Americans' two-goal advantage and, more importantly, settled the team's nerves.

The goal also seemed to break El Salvador's will and the rout that was expected in the first half soon commenced. Donovan scored the fourth U.S. goal in the 78th minute, running on to Johnson's flick-on and then rounding Portillo to score into an empty net. He wasn't finished, either, collecting a pass from Kyle Beckerman on the right wing and delivering a cross for Diskerud to nod home and complete the scoring.

All told, the manner in which the U.S. has put away overmatched opponents remains impressive given that it's an aspect of the Americans' game that has proved troublesome in the past. That said, the way the U.S. struggled to contain El Salvador's counterattacks should be enough to prevent any overconfidence from seeping in ahead of Wednesday's semi.

No matter what concerns linger after Sunday's rout, Donovan's form should make the U.S. heavy favorites to reach the final, regardless of its opponent.

Player ratings: (0-10)

G - Nick Rimando, 7.5: Produced a fabulous double save at a critical moment to first deny Blanco and then Flores. Solid in the air, as well.

D - DaMarcus Beasley, 5: Always dangerous going forward but could have few complaints about the penalty call. Battled well during some second-half tussles with Zelaya.

D - Matt Besler, 4.5: Composed on the ball and had a couple of key interventions early on, but was among those flummoxed by Zelaya's movement, including the run-up on the penalty. Looked to be chasing the play too often.

D - Clarence Goodson, 6: In the first half, had a better game in attack than he did in defense. Took his goal well but had some major hiccups that sparked some Salvadoran counterattacks, including one that saw him booked for a foul on Zelaya. Looked more assured in the second half.

D - Michael Parkhurst, 6: His deft chip to Donovan set the stage for Goodson's opener and he delivered some other penetrating passes, as well. Looked a tad exposed when faced up against Zelaya.

M - Jose Torres, 5: Started out sharp as he found space in central positions, but didn't seem very impactful thereafter.

M - Kyle Beckerman, 7: His performance picked up when his speed of play did. Once that happened, he began connecting on his passes and having an impact. He was also a threat with his shooting from distance and might have scored if not for Portillo.

M - Mix Diskerud, 6: Like Donovan, Diskerud struggled with his finishing before finding the net late in the match. He wasn't as clean in possession as usual, something he'll need to clean up in the semifinal.

M - Joe Corona, 6.5: Scored with a composed finish and could have had more if not for the heroics of Portillo. His influence seemed to wane in the second half.

F - Landon Donovan, 8: Dynamic in all respects save his finishing, as he squandered a few clear chances despite scoring in the second half. There was an element of luck on his first assist that went through Henriquez's legs, but it was effective, as was his inch-perfect cross on Johnson's goal.

F - Chris Wondolowski, 6: His link-up play was miles better than it was against Costa Rica, as he set up Corona's goal and sprung Donovan with a telling through ball. Seemed to struggle with some of El Salvador's physical antics. Will Eddie Johnson get the nod in the semi?

Subs:
F - Eddie Johnson, 7.5: Talk about instant impact -- he settled U.S. nerves by scoring on his first touch, a thumping header from Donovan's cross. His flick-on set up Donovan's goal and sealed the match.

M - Brek Shea, 6: Brought more of a pure flank presence and got involved right away with a cross to Johnson that ended with a Beckerman drive.

D - Michael Orozco-Fiscal, 6: Entered the game with the match already decided, but looked composed in his brief, 15-minute stint.