Jozy Altidore on his Sunderland switch, playing for Paolo Di Canio and more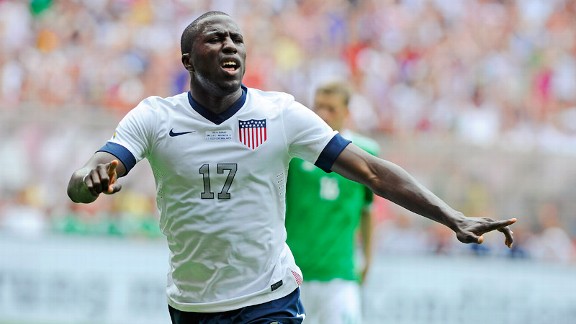 Brad Mills/USA TODAY SportsJozy Altidore was pursued by clubs in Germany, Italy and Spain before settling on Premier League side Sunderland.
After scoring 31 goals in all competitions for Dutch club AZ Alkmaar last season, 23-year-old U.S. national team striker Jozy Altidore had no shortage of suitors for this summer. Clubs from all over Europe, including four of the world's biggest leagues -- Germany's Bundesliga, Italy's Serie A, La Liga in Spain and the English Premier League -- all came calling for Altidore, who had one year remaining on his contract with AZ. In the end, though, it was EPL side Sunderland that nabbed him for about $10 million, a transfer fee that could eventually reach $13 million depending how Altidore does with the Black Cats.

- Altidore raring to get Sunderland career underway
- Altidore seals Sunderland switch

It's been a whirlwind for the American in the 10 days since the deal was sealed. Last week he joined Sunderland's preseason camp in Italy. On Friday, he was back in northeast England, and after spending much of the day (unsuccessfully) apartment-hunting alongside fellow Sunderland newcomer Emanuele Giaccherini, Altidore gave a wide-ranging interview to ESPNFC.com, his first since making the switch. (Edited for length and clarity.)

You could have gone a lot of places. Why did you pick Sunderland?

"Obviously there was the appeal of playing in an amazing league, and when I spoke with Sunderland they seemed really intent on bringing me in. We spoke extensively, and they expressed how they want to play going forward and how I fit into that. They told me the kind of training I could expect under Paolo Di Canio, that type of thing, and shared a lot in terms of what it would be like there. It was just real positive. I felt that it was a good situation."

It sounds almost like a college recruiting visit.

"You have to try to find out as much as you can. I spoke to a lot of teams, but at the end of the day it was just where I felt the most comfortable in terms of the coaching staff and having that feeling of going into a good situation in terms of developing and getting better as a player."

How many teams did you speak to in all?

"I don't want to say out of respect for Sunderland. And honestly, it doesn't matter anymore. Obviously there were some options but I felt this was the best one."

Where were you when you heard the deal was done?

"I actually did a week of preseason at AZ, so I was in Alkmaar just training as usual, going about my business, when I was notified that negotiations were at a further stage on the Friday. My agent called and told me the bid was accepted, and we went on to negotiate personal terms."

Sunderland is such a well-supported club whether they're in the top flight or not -- I'm not sure people realize it.

"Sunderland has everything in place to be a massive club in England. The stadium seats almost 50,000 people, the training ground and everything around the club is absolutely first-class and state-of-the-art. So everything is in place, it's just about fielding a team worthy of their amazing fan base. It's a great opportunity for me to play for a really big club in terms of history and support, but it was a decision that I think that would help my development, especially looking at the coaching staff. Paolo Di Canio was a very good player, and the way we'll play and train under him was a perfect fit for me at the moment."

Did you speak to former U.S. star Claudio Reyna about playing there?

"I did actually speak to Claudio a little bit. He's always straight with everything, has always given me good information and he's always had positive things to say about Sunderland."

What was your first meeting with Di Canio like?

"We didn't get the chance to really sit down and have a good conversation until a couple of days ago. During negotiations it's difficult -- you have to respect the club that owns your rights, so we didn't really talk. But I did get a chance to speak with the club and the feedback on Paolo was great. The way we're going to try to play is exciting for me. Obviously how they finished last year wasn't the best and they'll be the first ones to tell you that, but he's looking to change that and play a different style.

"When we finally met, we spoke for about 40 minutes. He's very driven. He's very passionate about what he does and I think that's important. When the guy at the head of the ship really has a plan and he believes in it, it's huge. He has a clear plan of what he wants to do with the club and he sticks to it.

"Obviously I spoke to him about how he sees me as a player, and it felt good that the club did their research and they wanted me here. That tells me that if I do what I have to, I'll get my chances on the pitch and then it's up to me to play well enough to keep my spot."

What did he say he likes about your game?

"He said the club watched me about 15 times. They came to games, watched me extensively. He watched my movement and the way I play and wants me to play like that here."

You always said if you left AZ this summer, you wanted to go where you'd continue to develop. How will Sunderland help you improve?

"I did a lot of asking around before I signed, and already I've seen how the coaching staff can help me get better. The way Di Canio coaches, the way he trains, is great. On the training field he does a great job instructing the guys. A lot of Premier League teams don't train that much during the season. At Sunderland, there's a lot of tactical work, a lot of crossing and finishing -- the same things I was exposed to in Holland. I'm hoping to have that same kind of environment here. So far it's been fantastic."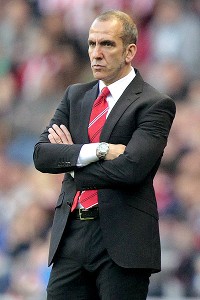 GRAHAM STUART/AFP/Getty ImagesAltidore expects to grow as a player under the watchful eye of manager Paolo Di Canio.
How would you describe the style Di Canio wants to play?

"Paolo's always stressing that he wants to play out of the back. That's encouraging. You want to keep the ball and play good football. It might not always turn out that way but that's the style he's implementing and the style I enjoy. It was one of the reasons that I wanted to be part of this project he's trying to build."

What are your early impressions of Giaccherini?

"He's only been here training for a few days, but he's clearly a very good player. He's also a good guy, and anytime you add a guy who played for Juventus and the Italian national team, it's going to help."

What did you learn last time around in the EPL that will help?

"It was great playing here. I think I was 19 when I joined Hull, and I feel like I got a lot of experience playing at the highest level against some of the best players in the world at a really young age. Getting to play against Manchester United, Chelsea -- that was huge for me. What I take from that going forward is I know what the league is like, I know what's expected. That will help me adjust a little quicker as opposed to going somewhere I've never been."

Did you know any of the Sunderland players before you came in?

"At this stage of my career, I've played against almost all of them before, so there's already a professional respect, even if you've never actually met personally. But the guys have been good -- they're a really easy group to fit in with. Already I have a good relationship with everybody."

I know it's early, but have you started to develop any chemistry with your new teammates yet?

"To be honest, we've mostly been running (laughs). It's been a lot of fitness during preseason, which is no problem -- it's so important. It's a long season and you have to be ready for it physically. But hopefully we'll start playing a little more soccer soon (laughs)."