U.S. overcomes rocky start to top Cuba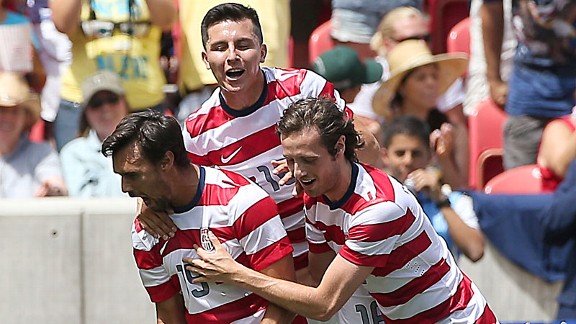 George Frey/Getty ImagesChris Wondolowski celebrates the first of his two goals versus Cuba with U.S. teammates Jose Torres and Mix Diskerud.
The U.S. men's national team proved it could take a punch in its Gold Cup match against Cuba. The Americans showed they could deliver a few of their own as well, overcoming a first-half deficit to prevail 4-1 and qualify for the quarterfinals.

- U.S. comes from behind to beat Cuba

Jose Ciprian gave Cuba a shock lead, only for Landon Donovan to level from the penalty spot just before halftime. The U.S. attack engaged its warp drive in the second half, with Joe Corona netting the eventual game winner and substitute Chris Wondolowski scoring twice to put the game away.

It was a scoreline that hinted at a comfortable victory, but lethargy and frustration were the operative words in the first half. The U.S. enjoyed the vast majority of possession, but poor touches and wayward passes were the norm in the final third, meaning Cuba goalkeeper Odelin Molina was rarely troubled. The Americans' ball movement was also much too slow to stretch Cuba's defense. Brek Shea in particular suffered through a miserable first half, as plenty of U.S. attacks died as a result of his poor play.

Still, the U.S. looked to be in firm control, but an absolute sucker punch in the 36th minute saw Cuba take the lead. An ill-advised backheel by Corona launched a Cuban counterattack with Aliannis Urgelles at the controls. His pass to Ariel Martinez saw the Cuban midfielder leave Edgar Castillo for dead, and his centering feed was volleyed home by Ciprian.

Donovan thought he had equalized in the 44th minute when he steered home Herculez Gomez's knockdown, only to be judged offside. But three minutes later, he had the ball in the back of the net. Castillo worked a one-two with Donovan, and the left back was judged to have been taken down by Jenier Marquez in the box. Donovan sent Molina the wrong way to tie the score 1-1.

The second half started with Jose Torres coming on for Shea, and his impact was near immediate. His free kick found Michael Orozco Fiscal at the far post, but the defender's thumping header was brilliantly saved by Molina.

The U.S. raised the tempo of the game, looking stronger in attack, but it was from a broken play that the Americans took the lead in the 57th minute. The ball was tackled away from Stuart Holden at the top of the box but fell right to Corona, who bent his shot beautifully around Molina.

Wondolowski and Mix Diskerud entered the game shortly thereafter for Gomez and Holden, respectively, and the U.S. went about cementing the victory. Wondolowski volleyed home a deft pass from Kyle Beckerman to put the U.S. up 3-1 in the 66th minute. After missing a few clear chances, Wondolowski added his second from close range in the 85th minute after good work from Castillo and Torres.

With a spot in the quarterfinals assured, manager Jurgen Klinsmann has the luxury of resting a few players, although the group finale against Costa Rica remains important, as finishing above the Ticos in the group standings will make for an easier quarterfinal matchup.

That said, it will also serve as another opportunity for some players to cement their spot in Klinsmann's preferred Gold Cup starting lineup. Without question, the likes of Wondolowski, Beckerman, Corona and -- not surprisingly -- Donovan helped themselves with their play in this game. But let's also keep this result -- and the accompanying performances -- in perspective. Cuba is a team that the U.S. has traditionally dominated, and this match proved no different. Now the games will get tougher and will provide a much more realistic test in terms of which players can help the full team going forward, so any talk of who has cemented their spot on the World Cup roster is premature.

There are concerns as well. Conceding against both Belize and Cuba is not exactly an indication of an airtight defense, and the U.S. will need to see considerable improvement from this point forward. But overall, this is a U.S. team that has scored 16 goals in its last three games. That will make for a confident side as it heads into the Gold Cup's tougher stages.

Player ratings: (0-10)

G Nick Rimando, 6.5 -- Was left completely exposed on Ciprian's goal, but was safe in his handling and commanded his box well. Did well to save one chance at the feet of substitute Livan Perez in the second half.

D Edgar Castillo, 4.5 -- He was eaten alive by Martinez's speed and was among the primary culprits on Cuba's goal. Made up for it by winning the U.S. penalty and was a consistent threat going forward, but overall his poor defense won't see him move up the U.S. depth chart, at least at left back.

D Oguchi Onyewu, 5.5 -- Dominant in the air, but didn't do enough to get a body on Ciprian on his goal. Did well to dispossess Martinez early in the second half, and the rest of his game picked up accordingly.

D Michael Orozco Fiscal, 6 -- Nearly scored on a second-half header, and while he wasn't flashy, he was consistent with his defending.

D Tony Beltran, 5.5 -- Saw plenty of the ball but rarely did much with it, as he seemed out of sync with Corona. Like many of his teammates, he picked up his game in the second half.

M Brek Shea, 2 -- Hard to imagine how Shea could have played much worse. His crosses were miles off target, and he was unable to beat his opponent one-on-one. Perked up a bit late in the half, but he was not at all impressive. Deservedly pulled at halftime.

M Kyle Beckerman, 7 -- Was caught a tad too far upfield on Cuba's goal, but otherwise occupied the middle well and got stronger as the game went on. Needed to ratchet up the tempo passing-wise in the first half but delivered a sharp assist on Wondolowski's goal and could have had more.

M Stuart Holden, 4.5 -- Showed little of the sharpness and urgency he had in his two previous games, and even some simple passes went astray. It was certainly not the kind of performance that screams out for more playing time.

M Joe Corona, 6.5 -- Caused tons of problems for Cuba with his crosses all game long but struggled mightily with his first touch. No complaints about his finishing though, as he curled his shot around Molina with aplomb. The increase in confidence was evident thereafter.

F Landon Donovan, 6.5 -- Was involved in the buildup to the penalty and took his spot kick well, but a lack of patience saw him drift offside on a disallowed goal. No questioning his work rate, as he sprinted back in the second half to break up a Cuban attack. Looked more incisive in the second half.

F Herculez Gomez, 5 -- One of those days when he got little help from his teammates or the referee. Might have had an assist if not for Donovan's mistimed run.

Subs:

M Jose Torres, 6 -- His set piece deliveries alone made him a considerable upgrade over Shea, and his passing from the run of play aided the U.S. attack. His ball into the box on Wondolowski's second goal was pure class.

M Mix Diskerud, 6 -- Wasn't spectacular but helped up the pace of the U.S. attack with some well-placed passes. Is it his turn to start alongside Beckerman?

F Chris Wondolowski, 8 -- Sure, he missed a few great chances, but his first goal was perfectly timed, as it gave the U.S. some valuable breathing room. A deft touch on his second helped him ice the match. Now let's see how he does against the tournament's better teams.