Wondolowski's time to shine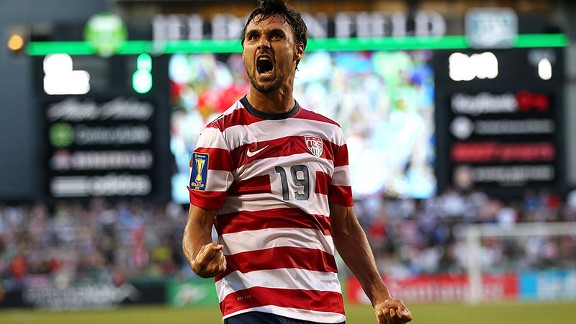 GettyImagesChris Wondolowski's first-half hat trick helped the U.S. ease to a win over Belize in their Gold Cup opener.
The U.S. went into its Gold Cup opener against Belize with little to gain other than three points in the standings. After all, reputations are rarely enhanced when a team is forced into the role of Goliath. Yet Chris Wondolowski ensured that this wasn't a night for underdogs and improved his own standing in the process by netting a first-half hat trick to lead the Americans to a 6-1 victory.

Ian Gaynair tallied for the Jaguars, while Stuart Holden, Michael Orozco-Fiscal and Landon Donovan scored in the second half for the Americans on Tuesday night. Donovan added two assists, giving him a total of 52 in his international career, and becoming the first American player to record more than 50 goals and 50 assists.

But the story of the night was clearly Wondolowski. Prior to Friday's friendly against Guatemala, the San Jose Earthquakes striker had failed to score in 11 previous appearances with the U.S. side. Now he has four goals in two games, and while Belize's team is manned mostly by amateur players, Wondolowski deserves credit for taking his chances.

The start of the match was in many ways similar to the win over Guatemala. Belize was intent on getting as many men behind the ball as possible and early on looked tough to break down. The U.S. made a point of attacking the flanks, and it was from such a foray that the Americans broke in front in the 12th minute. Donovan released Jose Torres down the left wing, and his cross was nodded toward the goal by Joe Corona. The shot was cleared by Belize defender Trevor Lennen straight to Wondolowski, who duly accepted the gift and rifled the ball home from 4 yards.

Belize hung tough for the next 25 minutes, and the Americans' attempts to play quick combinations were just a hair off. But some quick thinking by Kyle Beckerman saw the U.S. double its advantage in the 37th minute. His first-time cross was put perfectly into Wondolowski's path, allowing him to score with a diving header.

However, just when it looked as though the U.S. would run away with the match, Belize shocked those in attendance with a goal from a set piece in the 40th minute. A free kick from the right flank found Gaynair wide open at the far post, and he didn't even have to leave his feet to nod home from 6 yards.

Order was restored a minute later. Michael Parkhurst, who was among the guilty parties for Belize's goal, delivered a sharp cross, and Wondolowski bravely headed home to give the U.S. a two-goal lead heading into halftime.

The U.S. then put the game away in the second half. Holden came on at halftime and scored the Americans' fourth goal in the 58th minute, when he turned home Donovan's knockdown from Corona's cross.

Orozco-Fiscal then padded the U.S. lead within a minute when he headed home Donovan's free kick. Donovan completed the scoring in the 75th minute when he converted a penalty after Ashley Torres was whistled, somewhat harshly, for a handball.

So what did manager Jurgen Klinsmann learn from this match? Not much, despite the lopsided scoreline. Belize was a brave but overmatched opponent, and it's likely the U.S. will face more resistance from Cuba, even though the Americans have dominated that matchup in the past. However, at a minimum, it will be a night to remember for Wondolowski. Two years ago in this same tournament, he squandered a clear chance late in a 2-1 loss to Panama. It was a miss that defined his international career in the years that followed. But now that moment will be superseded by much happier memories. And thanks to this performance, there might be more to come.

Player ratings: (0-10)

GK Nick Rimando, 7 -- Came up with an awkward save on Deon McCauley's shot in the first half and commanded his box well. Could do little about Gaynair's header but delivered a sharp fingertip save late on Evral Trapp's blast.

D DaMarcus Beasley, 6 -- Would have liked to see him get the ball more often, as he usually did good things with it. His speed came in handy defensively a few times.

D Clarence Goodson, 6.5 -- Put out a few fires at the back and initiated plenty of attacks by carrying the ball forward.

D Michael Orozco-Fiscal, 5.5 -- An ill-timed slip created an opening for McCauley in the first half, and he came off second-best in a few physical battles. He turned the tables in that regard during the second half, outmuscling his opponent for his goal.

D Michael Parkhurst, 4 -- Lost Gaynair on Belize's goal but made up for it a minute later by serving up the cross for Wondolowski's third. That said, his touch too often let him down when in the attacking third.

M Jose Torres, 5.5 -- Helped set up the first U.S. goal with an aggressive run and sharp cross, but his finishing touch eluded him despite getting some clear looks at goal.

M Kyle Beckerman, 6.5 -- His inch-perfect cross set up the second U.S. goal, and he set the table for Torres with another excellent cross. Did have one giveaway in a bad spot but was otherwise tidy in possession.

M Mix Diskerud, 6 -- Seemed a bit more incisive with his passes than many of his teammates, whether it was switching the point of attack or initiating quick combinations.

M Joe Corona, 6 -- His header caused havoc in the Belize penalty area for Wondolowski's first goal, and he was involved in the buildup to Holden's goal.

F Landon Donovan, 6.5 -- The ideas were there in terms of trying to play quick combinations, but the execution was lacking at times in the first half. He looked sharper in the second half, and his knockdown gave Holden the easiest of chances.

F Chris Wondolowski, 9 -- Yes, it was Belize, but give the San Jose forward credit for taking his chances, two with diving headers. He likely didn't move up the depth chart all that much, but he at least made the most of his opportunity.

Subs:

M Stuart Holden, 7 -- Another sharp performance for the Bolton midfielder in terms of his passing, and he was perfectly positioned to steer home Donovan's knockdown for the fourth U.S. goal. Narrowly missed on a 78th-minute header.

M Brek Shea, 6 -- Looked bright after he came on, taking an aggressive mindset by running at opponents and crashing the box whenever possible.

M Alejandro Bedoya, 6 -- Nearly scored with his first touch and was lively thereafter.