Donovan's U.S. return takes positive, not definitive, step
Leave it to Landon Donovan to add a necessary dose of perspective on his own performance in the United States' 6-0 demolition of Guatemala last Friday. Donovan scored twice in his 73-minute stint against Los Chapines and in assessing his own play after the match, it was clear that he wasn't getting carried away.

"I was proud of [the performance]," he said in the postgame mixed zone. And then in the same breath he stated, "I want to build on it."

The implication is that Donovan feels he has more to give and can achieve a greater level of sharpness. That kind of assessment is needed because the impulse is to look at his two goals and declare his return to the national-team fold complete, and that he can resume his place in the starting lineup when the full team gets together in September for World Cup qualifiers against Costa Rica and Mexico. Such is the way of things when Donovan steps on the field -- unbridled euphoria when he excels, predictions of his demise when he doesn't.

The reality is, obviously, far different. A crushing win over Guatemala is a poor gauge of what the Gold Cup -- and the World Cup qualifying matches thereafter -- portend and an unsatisfactory predictor of Donovan's ability to contribute in those matches.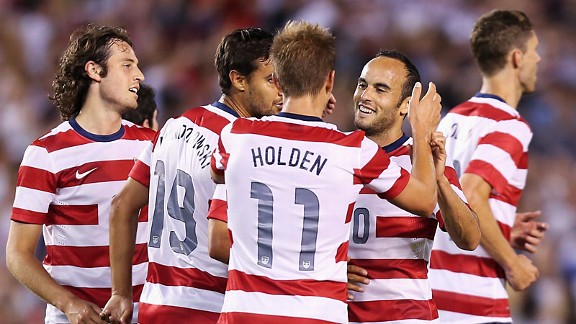 Jeff Gross/Getty ImagesAs Landon Donovan slowly works back into the national team fold, he's under no illusions as to the work required to regain his place.

Guatemala is in the process of being completely revamped under new manager Victor Hugo Monzon and its players are in the middle of their offseason. Their lack of fitness, especially after Herculez Gomez's opener just before halftime, was evident. "[Guatemala] did us a big favor to play this game," admitted U.S. manager Jurgen Klinsmann.

Of course, Donovan doesn't have the luxury of picking his opponents. He can only play the game he's in and while he certainly did well on Friday, his performance stopped short of being the best on show (that honor goes to midfielder Stuart Holden). But it's worth remembering that the match was merely the first in a series of steps at international level that Donovan hopes will end with him back in the squad near his peak.

Tuesday's Gold Cup opener against Belize will be a slightly better metric in terms of judging Donovan's progress, but not much more, for better or worse. In fact it probably won't be until the knockout stages at the earliest that a clearer picture will emerge of just how much Donovan will help the U.S. team. Even then, the competition won't be at the level of intensity of a World Cup qualifier.

All that aside, the fact that Klinsmann has opted for a gradual process in terms of reintegrating Donovan into the side remains an approach steeped in logic and of considerable benefit to his team. It also points to an inescapable truth about Donovan's attempts to get back in the U.S. side after his four-month sabbatical. Donovan's history with the national team meant he deserved the opportunity to win his spot back, but it didn't mean it should be handed to him, and a two-goal game against Guatemala doesn't change that.

"[Klinsmann] is making a good point and a solid point that it doesn't matter who you are, you have to prove that you're deserving at this point in time of being on the national team," said former U.S. international Cobi Jones prior to Friday's match. "That's how national teams get better, that's how any team gets better. You don't rest on the laurels of the past; you continue to build off of the here and now."

There are other pluses to this incremental plan. After three wins from its past three World Cup qualifiers, it's clear that the U.S. no longer has to have Donovan in the lineup in order to win. In no uncertain terms, that's an important psychological hurdle to overcome given that in the past he was practically the team's security blanket. It has also reinforced the impression that Klinsmann is overseeing a meritocracy, which is critical to team chemistry.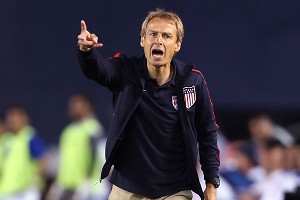 Jeff Gross/Getty ImagesKlinsmann has drawn praise for the gradual reintroduction of Landon Donovan, an approach that proves his meritocratic approach.

"The fans might not want to hear it, but that goes over very well [with the players]," said Jones, in reference to Klinsmann's handling of Donovan. "The group is understanding of Landon's situation. But when you take off that much time, when the players are coming back and Jurgen has made Landon earn his position back, the players like that because it's not a situation where, 'Oh, it's [Landon] and he comes back in and he starts.' He's come back, he's earned his position. The coach gains respect on that and the player gains respect because he goes through the process of fighting and earning his position back."

Which Donovan emerges from that process is still a question yet to be answered. This isn't 2010, when Donovan was at his most imperious. It's 2013 and based on his performances with the L.A. Galaxy, his passing looks as sharp as ever but a bit more killer instinct in front of goal is needed.

In a video interview with ESPN prior to the Guatemala match, Donovan acknowledged that he's not the player he once was. The passage of time does that to every player. But he also feels that he's made considerable progress in recent weeks.

"I'm a lot closer to where I'd like to be," he said. "Part of getting older is that you just don't have as much explosiveness, you're not as dynamic as you were. That's all part of it, and part of evolving in general. But as far as the soccer part goes, I'm pretty close. I'm excited about this opportunity to take it up a level and see how I do and see how I can perform at this level against competition that's going to be difficult."

That self-professed hunger hints that Klinsmann has handled Donovan deftly. The player may have needed his rest, but he also needed a dash of motivation. Donovan added: "I'm ready for it, I'm excited for it, and I think it's going to be a great month."

It's also one that Donovan watchers will be observing closely.

Additional reporting by Doug McIntyre