U.S. grades: Wondolowski builds on defensive strength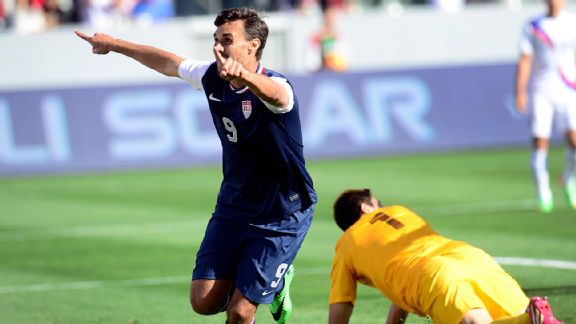 Frederic J. Brown/AFP/Getty ImagesWondolowski took his international goals tally to eight.
CARSON, Calif. -- In a battle of two understrength sides, the U.S. men's national team prevailed over South Korea 2-0 in an international friendly.

Chris Wondolowski scored once in each half, and a resolute defensive effort led by center backs Matt Besler and Omar Gonzalez helped secure the victory.

Of course, with the World Cup just months away, the match for the U.S. wasn't so much about the result as it was the individual performances.

Wondolowski certainly didn't hurt his cause, but both of his goals were the result of broken plays and the other parts of the San Jose striker's game weren't as sharp as they needed to be in order to alter the thinking of manager Jurgen Klinsmann.

Perhaps the player who most helped his cause was defender Michael Parkhurst. Playing in an unfamiliar left back role, the Columbus Crew defender didn't look at all out of place, and the kind of versatility he provides will be difficult for Klinsmann to overlook.

The U.S. starting lineup was notable for absences of Eddie Johnson and Mike Magee. A U.S. Soccer spokesman indicated that Johnson was battling an abdominal injury, while Magee was felled by food poisoning, meaning his first senior-team appearance would have to wait.

- Report: Wondolowski double earns U.S. victory

The U.S. wasted little time getting on the scoreboard, with Wondolowski tallying with the game less than four minutes old. Landon Donovan did well to prod a ball out wide to Graham Zusi, whose inch-perfect cross found Brad Davis at the far post. South Korea goalkeeper Sung-Ryong Jung was able to parry Davis' shot, but only as far as the lurking Wondolowski, who headed the ball home from close range.

South Korea, which was playing its third game in eight days, nearly hit straight back from a set piece when Ju-Young Kim redirected Jong-Woo Park's corner kick on goal, but U.S. goalkeeper Nick Rimando was positioned well to make the save almost on top of the goal line.

The U.S. continued to try and exploit the flanks, with Brad Evans getting forward to good effect on the right wing. Another of his crosses found Mix Diskerud in the 12th minute, but the U.S. midfielder got the ball caught in his spokes and was unable to get a shot off.

The Americans had the edge until the 30-minute mark, when South Korea began to find some space down the left wing. Min-Woo Kim began to get the better of Evans and had one threatening cross that was cut out by Besler.

Six-foot-six striker Shin-Wook Kim began to make his presence felt, and his layoff to Ho Lee provided a look at goal in the 34th minute, but the ensuing shot was hit straight at Rimando.

The U.S. nearly doubled its advantage in the first half when Wondolowski broke free down the right wing, but his centering feed for Donovan was just off the mark.

South Korea continued to press for an equalizer after halftime, and Shin-Wook Kim really should have done better with a 58th-minute header that was directed straight at Rimando.

The let-off enabled Wondolowski to double the Americans' advantage two minutes later. A throw-in from Evans found Zusi down the right wing. His cross was deflected by a Korean defender right into the path of Wondolowski, who finished with authority.

A flurry of substitutes followed, with DeAndre Yedlin and Luis Gil earning their first caps. Clarence Goodson, Johnson and Benny Feilhaber also entered the match shortly after the hour mark.

South Korea did threaten in the 83rd minute, courtesy of a Shin-Wook Kim shot that went narrowly over the bar, but, otherwise, the U.S. was able to see out a deserved victory.

Player ratings (0-10; 10 equals best)

G Nick Rimando, 6.5 -- Delivered a sharp save to deny Kee-Hee Kim in the first half but looked less than convincing in dealing with crosses. Did well to corral a low centering feed late in the game.

D Michael Parkhurst, 7 -- Solid in his defending and was tidy on the ball. He even managed to work some neat combinations with Donovan and played with composure throughout.

D Matt Besler, 6 -- Delivered a critical clearance of one cross to snuff out one Korean threat and helped stretch Korea's defense with some accurate long-range passes. Some uncharacteristic giveaways, however.

D Omar Gonzalez, 7 -- His distribution has improved considerably, and he was composed in his defending. An outstanding headed clearance late in the match helped the U.S. maintain its advantage.

D Brad Evans, 5.5 -- Got forward to great effect, but the quality of his crosses was uneven. Defensively struggled a bit to contain Min-Woo Kim. Looked sharper in the second half on both sides of the ball.

M Kyle Beckerman, 7 -- Wasn't spectacular but did what was asked by clogging up the middle and connecting passes. An understated but high-level performance.

M Mix Diskerud, 6.5 -- His passing brought some peace to the game when needed, especially his deliveries from long range. He even supplied some timely tackles.

M Brad Davis, 5.5 -- Started out buzzing, and his shot helped spark Wondolowski's goal. Faded a bit thereafter and didn't offer up that much defensively.

M Landon Donovan, 7 -- Posed a constant threat in the final third, and his ability to link up with the likes of Evans created plenty of danger.

M Graham Zusi, 6.5 -- His cross helped create the danger that led to Wondolowski's opener, but he wasn't all that impactful for the rest of the first half. His game perked up after halftime, and he helped create the havoc that led to Wondolowski's second.

F Chris Wondolowski, 7 -- Was perfectly placed on both of his goals and was active throughout. The biggest complaint was he needed to connect better on his passes inside the box, but it's tough to quibble with a two-goal performance.

Subs

F Eddie Johnson, 6 -- Looked to be at less than full speed, which, given the abdominal injury he's been battling, was understandable. Still helped the U.S. attack with some solid hold-up play.

M Benny Feilhaber, 5.5 -- Connected a few passes, but he otherwise wasn't that impactful. At this point, it's very difficult to see him making the final World Cup roster.

D Clarence Goodson, 6 -- The center of the U.S. defense suffered little drop-off after Goodson entered the match for Besler.

D DeAndre Yedlin, 5.5 -- Was a bit all over the place. Had some risky passes out of the back but was also on hand to make a few clearances.

M Luis Gil, 6 -- Had a few sequences during which he did well to keep the ball under some considerable pressure. He had little impact otherwise but still a day to remember.

M Eric Alexander, 5 -- Had some giveaways late that put the U.S. under some pressure.