Magee hopes to take his U.S. opportunity
CARSON, Calif. -- Mike Magee remembers the exact moment when it dawned on him that he may never realize his dream of playing for the U.S. men's national team.

This was way back in June of 2006, when Magee -- just 21 at the time and in his fourth MLS season with the New York Red Bulls –– injured his knee colliding with an opponent in an otherwise-forgettable regular season match.

"Before that moment, I think I took for granted that I'd end up getting called in," Magee, who turned pro after graduating from U.S. Soccer's residency program and went on to rep the U.S. at the 2003 under-20 World Cup, told ESPNFC.com in a phone interview earlier this week.

"Then I got hurt, and basically it was two years of not playing, and I began to wonder if my career was over. When finally I started playing again, I just wasn't the same. At that point I'd completely given up on the national team."

Worse, the Red Bulls gave up on Magee, trading him and his surgically reconstructed MCL to the LA Galaxy for a second-round draft pick before the 2009 season. Training alongside David Beckham and Landon Donovan under former U.S. coach Bruce Arena, things slowly began to turn around.

"But it wasn't until some point in 2010 when I started getting fitter, started really trusting my knee, that I thought I could make one last go of [making the U.S. squad]," Magee said. "That's when I began to hope again."

Almost four years later -- and only after a 21-goal 2013 season in which he took home the MLS MVP award following a midseason trade to his hometown Chicago Fire– Magee's chance with the national team has finally arrived.

Now 29, Magee is one of 21 players still participating in the Yanks' annual year-opening training camp. And on Saturday, he's a safe bet to earn his first senior team cap when the U.S. takes on South Korea (5:30 p.m. ET, ESPN2/WatchESPN) here in an international friendly.

"He kind of fit right in, in the training scrimmages that we had and in the group," U.S. coach Jurgen Klinsmann said on Friday. "We're happy that we finally had a closer look at him, and hopefully he gets a chance tomorrow to show this also on the bigger stage."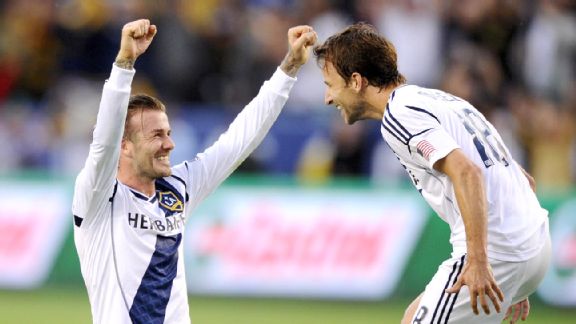 AP PhotoMagee's success in Los Angeles, winning two titles with stars like David Beckham, Landon Donovan and Robbie Keane, helped turn his career around.
Simply getting on the field isn't the ultimate goal, of course, not with the 2014 World Cup in Brazil now less than five months away. About a dozen members of the current group could end up making coach Jurgen Klinsmann's final 23-man roster, and while Magee is clearly still a long shot, he's also fully aware that four years ago, three strikers who, like him, didn't appear for the Americans in World Cup qualifying matches (Edson Buddle, Robbie Findley and Herculez Gomez) ended up playing in South Africa.

"It's not about who the best 23 players were in 2012 or '13," Magee said. "It's about who is the best right now. I think I've shown in this camp that I belong here, and when I go back to the Fire I have to elevate my game even more."

Realistically, Magee is firmly behind Jozy Altidore, Aron Johannsson and Eddie Johnson on Klinsmann's forward depth chart, a list that also includes U.S. regulars Gomez, Terrence Boyd and Chris Wondolowski.

But with only fellow MLSers Johnson and Wonolowski available for this camp, Magee could use the month's worth of face time with Klinsmann to move himself up the pecking order.

While some have questioned whether the physically limited Magee's main strength -- he's a clever fox-in-the-box-type box striker, primarily -- can be replicated at the sport's highest level. But the one thing that could really help his cause is his familiarity with Donovan.

The former club teammates have been paired up top at times throughout camp (due to this roster's composition, Klinsmann has frequently used a straight 4-4-2 formation during intra-squad scrimmages, according to Magee), with familiar results.

"We've definitely made some good plays together," Magee said. "Obviously we're really comfortable together. Anytime I have the ball, I know where he's going to move to and vice versa. It helps knowing that if you make a good run, he's going to find you."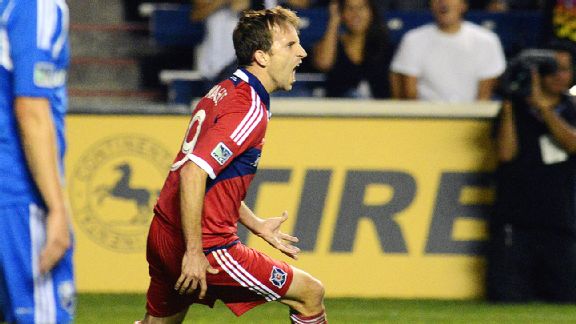 Matt Marton/USA TODAY SportsMagee capped his impressive 21-goal season by winning the MLS MVP award, will he have an impact in Saturday's friendly vs. South Korea.
Whether or not that chemistry can help Magee stick though the summer remains to be seen. But it's worth noting that when Brian Ching and Taylor Twellman were batting for the final forward spot in 2006, Ching's history with Donovan (the two had been running mates in San Jose) was probably one of the factors that led to him getting the nod.

Magee laughs at the idea that his relationship with Donovan could somehow come into play when Klinsmann makes the final cull in May, but he points out that the four years he spent with the Galaxy, where he won two titles alongside Beckham, Donovan and Robbie Keane, helped him learn to demand the same high standards for himself that Klinsmann expects from all his players.

Still, Magee admits "thinking it was peculiar, for a tenth of a second" that LA didn't dig in its heels more when he asked to be traded to Chicago last summer (Former national team midfielder Robbie Rogers eventually headed west in a one-for-one swap). He got what he wanted, sure, but other teams may not have let a proven performer go without putting up more of a fight.

Then, with the conversation coming to an end and Magee about to rejoin his U.S. teammates, he finishes the thought.

"But I'm pretty happy how things turned out."