Sounders teammates Evans and Yedlin fighting for U.S. right back start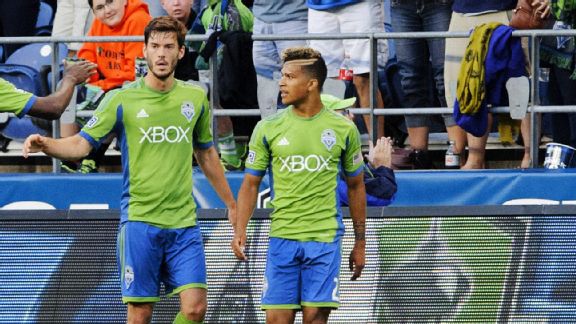 Steven Bisig/USA TODAY SportsSeattle Sounders teammates Brad Evans and DeAndre Yedlin are battling each other for a chance to start in right back for the U.S. on Saturday.
CARSON, Calif. -- An international call-up can do plenty to distort the dynamics between players. Performers who were once fierce opponents at club level not only find themselves on the same team, but also united under the same flag.

The relationship between Brad Evans and DeAndre Yedlin has taken on its own unique twist, however. At club level, Evans and Yedlin are teammates with Seattle Sounders FC. But with both players taking part in the annual January camp for the U.S. men's national team, the two are now in competition with one another to see who will start at right back in Saturday's international friendly against South Korea.

The incongruities don't end there, either. For the latter half of 2013, it was Evans who took hold of the right back position with the U.S., making eight starts and earning considerable praise from manager Jurgen Klinsmann. Evans even managed to deliver one of the more critical goals of the World Cup qualifying campaign, when he bagged a late winner to secure a road victory against Jamaica.

But it was Yedlin who actually spent more time playing the position in 2013, enjoying a fine rookie season with the Sounders that saw him make 33 regular-season and playoff appearances.

So Evans is the incumbent, intent on solidifying his position even as he tries to become more comfortable with an unfamiliar role. The addition of Michael Parkhurst to the roster adds to the level of competition, but Evans is also well aware of the potential of the 20-year-old Yedlin, a player he thinks will be "at the next 15 January camps."

"As much as Yedlin is my teammate, and I want to see him grow as a player, I have my sights set on this summer," said Evans prior to Thursday's training session. "Now it's up to me to perform."

That means taking every opportunity to pick up the nuances of the role. A few cameos at club level have helped, but getting steady playing time at the position over the past three weeks has given Evans an increased level of comfort.

"You realize that it's defense first," Evans said. "In the beginning, I was really focused on holding my position, and making sure we weren't conceding. I think over time, I've tried to get more comfortable with being involved in the attack. At the next level, you see how all the right backs are getting forward; getting assists, getting goals, sneaking in at the far post. I've kept it in the back of mind to be smart and get forward without being a detriment to my defense."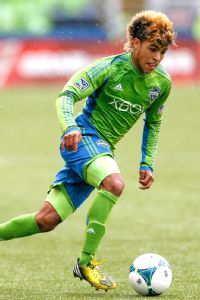 Otto Greule Jr/Getty ImagesAfter DeAndre Yedlin's impressive 2013, the young right back wants to focus on the tactical side of his game heading into this season.
Yedlin makes it clear he knows his place in the current pecking order, and confesses that he still has plenty to learn about the position.

"It's great to be mentored by a guy like Evans," he said. "He's very positive with me and wants the best for me. Brad's a special player because he can play any position and be very consistent at it. It's all just healthy competition."

Yedlin added that he's been trying to improve his positioning and not rely on his speed as much as he did during the 2013 season with the Sounders.

"As I get older, obviously I'm going to lose some of my speed, and I'm going to need to play the old man's game a bit more," he said with a grin. "I'm going to try and learn that young and hopefully carry that on into the future."

Notes:

-- Wednesday night's friendly between Mexico and Korea, a game in which El Tri prevailed 4-0, provided the U.S. with a sneak peak at what it can expect on Saturday. U.S. defender Omar Gonzalez indicated that the team watched the first half before heading out to dinner, but that was still enough time for South Korea to make an impression.

"I thought it was a pretty fast-paced game," he said. "I thought Mexico had most of the ball, but [South] Korea definitely had some good chances, especially on set pieces. Their big No. 9 [Shin-Wook Kim] was getting to everything. They were successful in playing through him and people making runs off of him."

Saturday's game will mark the third game of Korea's current tour, but Gonzalez stated that this fact wouldn't alter the team's preparations.

"I expect them to not really worry about [their schedule] and come out here and look to play a tough match," he said. "I think when you look at South Korea, it's a team that will battle through anything."

-- A U.S. Soccer spokesman indicated that Saturday's game is a sellout to the tune of 27,000 fans. It marks the first time that a match held at the conclusion of the January camp has been sold out.