Catching up with U.S. captain Clint Dempsey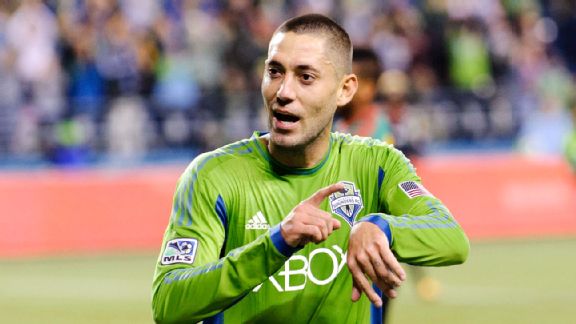 Steven Bisig/USA TODAY SportsClint Dempsey's hasn't exactly been a hit in Seattle yet but things could change around this upcoming season.
ESPN FC caught up with Seattle Sounders star Clint Dempsey ahead of his loan move to English Premier League side Fulham. The U.S. men's national team captain touched on a few topics, including his move back to Major League Soccer and how the league compares to the Premier League.

Where were you when you learned about the opportunity to come back to MLS? How did the deal go down?

"I was going into preseason with Tottenham in July, and before I left, I got a call from my agent asking if I'd be interested in moving to back home.
I was like, 'I don't know about right now -- maybe in a year or two.' I was still under contract in England, and I was enjoying playing in the Premier League. So he said we'd see what the details are, what they're talking about, get all the information before I had any decision to make.

"I remember I was in Hong Kong -- Tottenham was doing a preseason tour there -- while talks were ongoing, and it became clear pretty quickly that MLS was prepared to move mountains to get me back.

"I'd been in Europe for six and a half years at the time, and as much as I enjoyed playing there, I was starting to miss the States a little bit. You don't get Thanksgiving or even Christmas off there because you're always playing games around that time of year. My kids are getting older. I want to raise them in the U.S. -- the plan was to come back to MLS eventually and finish my career, but I didn't know when that was going to be.

"Basically, they made me an offer I couldn't refuse. This league is where it all started for me, where I got the chance to become a pro. To come back in my prime, to be closer to my family in Texas -- a bunch of things came together and just seemed like the right thing."

A few years ago, you suggested that you would stay in Europe until you retired. What changed?

When I went over to England in 2007, I didn't think I'd come back to MLS. You never say never about anything in life, but I wanted to play at the highest level for as long as I could. So I didn't think too much about leaving until that offer came along. But I enjoyed my time in Europe and I'm proud of what I accomplished: Reaching the Europa League final with Fulham; helping Tottenham to their best-ever season; finishing fourth in Premier League scoring. I had some great memories over there. It was awesome."

A few teams in MLS wanted you. How did you end up in Seattle?

"There were three options: Toronto, Los Angeles and Seattle. If I was going to come back to MLS, I wanted to be in the U.S., not Canada. So really it was between Seattle and L.A. And at the end of the day, you want to go where you're wanted the most. The Sounders were desperate to get me, and who wouldn't want to play in front of 45,000 fans every game? A few months earlier I got to experience playing a World Cup qualifier in Seattle, got to see the way the city supports the game. It was an easy choice."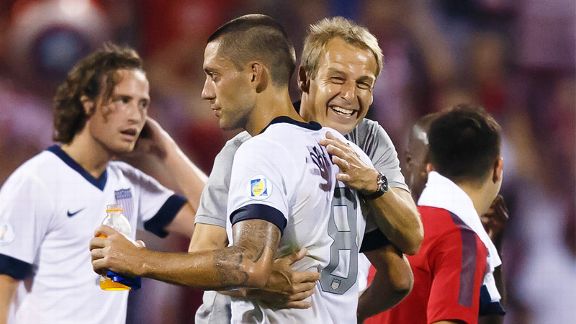 Rick Osentoski/USA TODAY SportsU.S. boss Jurgen Klinsmann depends on Clint Dempsey to be a leader for the Stars and Stripes.
What's the biggest difference between the Premier League and MLS?

"The style of play is different. MLS has gotten a lot better since the first time I played here early in my career , but it's not there yet. So it was a drop in level. In Europe, players' first touch is better. The speed of play is quicker. People see the gaps and play passes immediately, which makes it easier to create chances. When you're playing on a team that has more depth, there's more competition for spots, but it's also easier to play with better players.

"To be successful in any sport, you need time and space. So the quicker the people around you make decisions, the more open looks you're going to get. That played a role in my adjustment, but there are differences off the field, too. The travel is tough in MLS, especially when you start getting older. If you're sitting in a plane not moving for five hours, you can start tightening up. In England, the longest flight you'll take is 50 minutes.

"But I'm glad MLS doesn't have relegation. Can you imagine having one bad season that can doom your club forever if you don't get it together? That's what's so cutthroat about playing in Europe. You have to always be on point. Every game matters a lot. That's why you see managers being changed all the time."

Things didn't go too well your first few months in Seattle, for you or the team. What went wrong?

"Coming back, there was a lot to adjust to.

"Bringing my family over and making sure they were comfortable, first of all. It took a while for all of us to get settled. ... The only thing that didn't go ideally was on the field.

"I had some injuries and that was frustrating. Getting used to playing on turf, which I'd never really done in my career, was another thing. But those aren't excuses. No matter what the level, soccer is a team game, and you need team chemistry to play well and create chances to score. You have to create for yourself, too, but if you're not getting the ball in good spots, that's difficult. On the other hand, if your team is keeping possession, moving the ball quickly, forcing turnovers, then everyone's going to get chances to score. It also makes it more difficult for the defense to focus on one player."

After your success in England, there was pressure on you to be the face of the league, to score goals immediately. How much did that come into it?

"When you're being compensated really well financially, there's going to be pressure on you to perform, to show you're worth the investment made. But it's no different than being the national team captain: You always want to be doing what you can to push the sport forward in the U.S. I don't feel too much pressure, though, because -- and I think my teammates would tell you this -- I always put in the work. And I know I'll be rewarded for it."