Besler enjoying U.S. learning experience in Brazil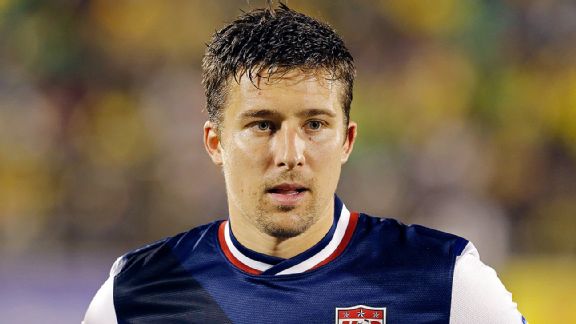 AP Photo/Andres LeightonIn the last January camp, Matt Besler took advantage of the opportunity and cemented a role as a full-time starter for the U.S.
This time last year, an uncapped Matt Besler was taking part in his very first national team camp, hoping to do enough to eke his way onto Jurgen Klinsmann's first-team squad. By the end of 2013, not only had the Sporting Kansas City defender had established himself as a regular, he had developed into a projected starter at this summer's World Cup in Brazil.

Now, with the start of soccer's showpiece tournament less than five months away, Besler -- one of 26 players participating in this year's annual January camp, the Brazilian leg of which continues through Saturday -- is hoping that getting a taste of the host nation in advance of the main event will pay dividends when the lights come for real this June.

"The World Cup seems a lot closer now that we're down here," Besler said Wednesday in a phone interview from Sao Paulo, where the U.S. team, after spending the first week of camp in Los Angeles, has been training since Jan. 13. The Americans will return to California this weekend, ahead of a Feb. 1 friendly against South Korea (5 p.m. ET, ESPN2, WatchESPN).

"Before we know it, it's going to be June, and we're going to be doing it for real," he added.

It's a dry run, yes, but that isn't to say this version of the Yanks is simply going through the motions. About a dozen current campers could end up on Klinsmann's final 23-man squad, and the rest of the group, which has been filled out mostly by young MLS stars getting their first opportunity with the senior team, have been pushing their more established teammates -- not unlike the role Besler filled last year.

"I think every one of the new guys believes they have a shot [at making the final roster]," he said. "That pushes everyone along. Every training session is competitive -- guys are fighting for balls and trying to win the small-sided scrimmages. Once or twice we've actually had to tone it down a bit because we're only a few weeks into our preseason."

With double sessions every day, the U.S. players haven't had much time to take in much of the country's largest city, save for a few team dinners. But they have taken a break from kicking each other at least twice during their stay in Brazil. Last week, the Americans dropped the first of two closed-door scrimmages against Sao Paulo FC. In Monday's rematch, the visitors won by the same 2-1 score line. Both games were played at the legendary club's training facility, where the U.S. team is based this month and will be again during the World Cup.

The matches may have been little more than glorified practices, but for the out-of-season MLSers, they served an important purpose. Repetitions, for one -- all 26 players saw action in at least one of the 90-minute games -- but also a chance to test themselves against top quality players in weather conditions that will be similar to what will await them later this year.

Several of the players Sao Paulo fielded have worn the Brazilian national team's famous yellow shirt, including striker Luis Fabiano, who scored three times for the Selecao at South Africa 2010. Besler was matched up against Fabiano in both tuneups.

"From a technical, physical and tactical standpoint, these guys were world-class players," Besler said of the hosts. "They gave us a big challenge."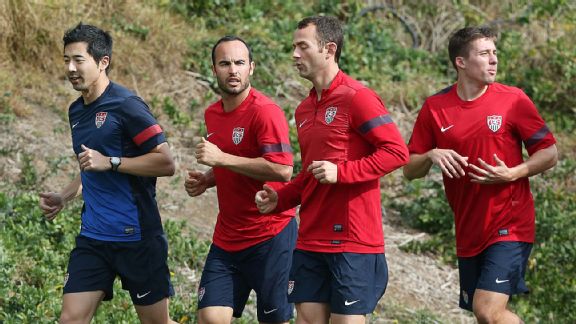 Victor Decolongon/Getty ImagesMatt Besler training with U.S. teammates Landon Donovan and Brad Davis.
The climate provided another. It's been an unusually hot summer in Sao Paulo, with temperatures reaching 90 degrees most afternoons since the Americans arrived last week. That has forced the U.S. to hold most of its on-field sessions in the morning, but there is an upside: the heat and humidity the Yanks are being exposed to will mimic conditions in the Natal, Manaus and Recife, the three northern cities that will host the Americans' first-round games.

"The fields are different, too," Besler said. "The one we've been training on has been a little bit slower than we're used to, and so when we played the first game against Sao Paulo, it took us 15-20 minutes to get used to the way the ball rolls. I think all of those kind of adjustments and experiences are going to help everybody, especially the guys that make the final roster."

Besler is certainly among that group, as are fellow center backs Omar Gonzalez and Clarence Goodson. The chemistry Besler and Gonzalez developed during last year's January camp set a foundation the U.S. leaned on throughout qualifying, but Besler says the four center backs in this camp (Colorado's Shane O'Neill is the other) have done more mixing and matching this time around.

Still, Klinsmann's message has remained the same.

"We aren't introducing new concepts -- I think everyone has the understanding of how we want to play and what's expected," Besler said. "But we're not just going out there to get reps. We're trying to reach another level. Jurgen's been telling us this entire camp that to compete at the World Cup, you have to find an entirely different level."

As they work to improve, knowing what to expect next summer won't hurt.

"The two weeks that we're spending here will be very valuable, just because we get to experience it already," Besler said. "It won't be new next time."