USMNT Hot List: Altidore, Castillo heating up; Brooks cooling down
As the national team's annual January camp continues -- U.S. Soccer announced Sunday night that coach Jurgen Klinsmann will take all 26 participating players to Brazil for almost two weeks of training in the host country for the 2014 World Cup -- the roster hopefuls who remained with their club teams continued to show why they merit consideration (or don't) for the trip that counts this summer.

After a rough holiday period, it was a promising week for the Yanks' starting striker, for one, as well as for a number of bubble players, two of whom are on the move in search of the playing time that may determine their fate.

While Klinsmann mines his MLS-heavy camp for reinforcements, here are the foreign-based players whose stock climbed and fell the most over the past seven days.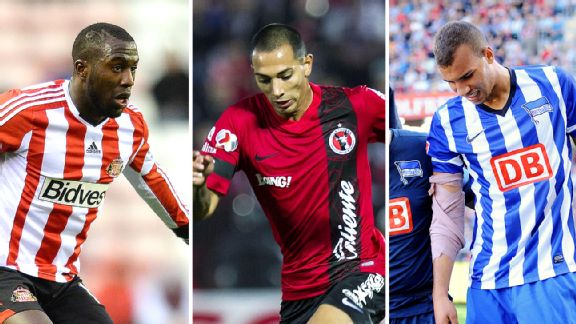 Getty ImagesJozy Altidore, left, and Edgar Castillo, center, have been in form recently while John Brooks needs to get over his ailments soon or he could miss the World Cup.
Warming up

Jozy Altidore, F, Sunderland (England)

Why he's here: In two appearances off the bench last week, Altidore helped the Black Cats hold on for an unlikely 2-1 Carling Cup win against Manchester United and was directly involved in Sunderland's final two goals in Saturday's 4-1 Premier League victory at Clint Dempsey's Fulham.

What this means: After several poor performances over the past month, Altidore appears to be back on track. The goals still haven't come, but his recent play -- combined with fellow striker Steven Fletcher's struggles -- could see the 24-year-old back in coach Gus Poyet's starting lineup for Saturday's match versus Southampton.

Edgar Castillo, LB, Club Tijuana (Mexico)

Why he's here: After sitting out the Xolos' season opener, Castillo got the start against Club America on Friday and was perhaps his team's best player. The little lefty missed a golden scoring chance when his shot was saved in the second half, but he made up for it by setting up Tijuana's late winner.

What this means: With few left-footed options in the national team's talent pool, playing time -- and playing well -- might keep Castillo ahead of the group of young fullbacks (led by Colorado's Chris Klute) who impressed during the first week of the ongoing U.S. training camp.

Michael Parkhurst, RB/LB, Columbus Crew (U.S.)

Why he's here: German Bundesliga club Augsburg, for whom Parkhurst made just two appearances after arriving last January, announced Monday that the former MLS and Danish league standout had been released from his contract. Parkhurst signed a deal with the Columbus Crew that should allow him to play a lot more.

What this means: The guaranteed playing time immediately boosts Parkhurst's chances of making Klinsmann's final 23.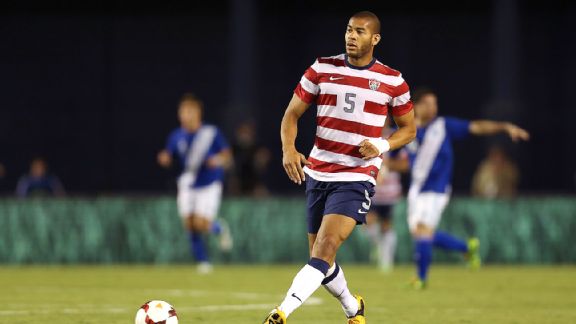 Jeff Gross/Getty ImagesWith one center back spot still up for grabs, Oguchi Onyewu's move to Sheffield Wednesday could bode well for him.
Oguchi Onyewu, D, Sheffield Wednesday (England)

Why he's here: After not playing a minute in three months with Queens Park Rangers, Onyewu signed on with fellow Championship side Sheffield Wednesday until the end of the season.

What this means: Believe it or not, Gooch still has a remote chance of making the World Cup roster. With one center back spot for the U.S. apparently up for grabs, the veteran could challenge for it if he plays regularly for the Owls -- a distinct possibility after starter Roger Johnson moved to the EPL earlier this month.

Cooling down

John Brooks, D, Hertha Berlin (Germany)

Why he's here: The 20-year-old is still recovering from the knee problem that kept him out of Hertha's winter training camp.

What this means: The injury isn't serious, but Brooks had already lost his starting spot. Missing this month's trip to Turkey won't help him get it back. If the rangy central defender can't carve out minutes when he returns, he risks being overlooked for the to-be-announced March friendly, not to mention the World Cup squad.

Eric Lichaj, D, Nottingham Forest (England)

Why he's here: A week after limping out of his team's 5-0 FA Cup win over West Ham with an unspecified leg injury, Lichaj was not in Forest's 18 for Saturday's 1-1 tie with Bolton.

What this means: Forest originally described the ailment as minor, but with the March friendly representing Lichaj's last chance for another call-up before Klinsmann convenes his pre-Cup camp, the 25-year-old can't afford to miss too much more time.