Memories of a record-breaking year for the United States
If we may borrow one of Michael Bradley's favorite idioms, 2013 was -- in all ways -- a banner year for the United States.

The Americans posted 16 victories, breaking their record by three. Their .761 winning percentage was the best in the program's 100-year history, as was their plus-28 goal differential and 2.22 goals-per-game average.

Along the way, they finished atop the CONCACAF region -- 11 points ahead of archrival Mexico -- for the third consecutive World Cup qualifying cycle, won the Gold Cup for the first time since 2007 and defeated FIFA top-15 ranked foes Germany and Bosnia-Herzegovina in friendly matches.

Of course, none of that will matter when the World Cup kicks off a little more than five months from now, but it has been an exceptional 12 months nevertheless, and one well worth reflecting on for a moment or two.

With U.S. Soccer's centennial coming to a close, here are the five biggest moments in what was a truly memorable year for coach Jurgen Klinsmann's squad.

5. Klinsi's extension

Many were surprised by the timing of U.S. Soccer's Dec. 12 announcement that Klinsmann's contract had been extended through 2018, but maybe they shouldn't have been. Since taking over from Bob Bradley in July 2011, Klinsmann, despite plenty of early growing pains, has led the national team to its most successful two-year spell.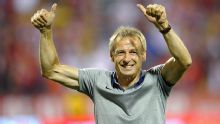 David Richard/USA TODAY SportsKlinsmann had plenty to smile about in 2013.
The new pact -- which also made him the USSF's technical director -- won't stop the federation from jettisoning the German if the U.S. slumps in Brazil, but it will prevent European clubs (with which he's frequently linked) from trying to poach Klinsmann if the national team is successful next summer.

More than that, though, the move showed that the U.S., for better or worse, is fully committed to and invested in Klinsmann's forward-thinking vision for the next four years.

4. Draw of death

As good as 2013 was for the U.S., the Dec. 6 World Cup draw provided an ominous end to the year. Not only will the Americans face a murderer's row of first-round foes -- title contender Germany, Cristiano Ronaldo-led Portugal and historical tormenter Ghana -- in the group stage, but they'll also have to deal with brutal travel and weather conditions during a 9,000-mile zigzag journey across Brazil.

But while Group G may be the deepest in the field -- no other foursome saw each of its members advance to the knockout phase in South Africa in 2010 -- it is not insurmountable if Klinsmann's men can beat the Black Stars, who eliminated the U.S. from the past two World Cups, on June 16 in Natal.

However they fare, there will be no shortage of storylines, particularly if the U.S. heads into the group finale against the Germans needing a result to move on to the last 16.

3. Comeback win in Bosnia-Herzegovina

The U.S. took a record 11-game winning streak into its Aug. 14 friendly in Sarajevo against an opponent ranked 13th in the world, but the run appeared in serious jeopardy when the visitors, who were without Clint Dempsey and Landon Donovan, went into the tunnel at halftime trailing 2-0.

But a remarkable second-half turnaround -- capped by eventual player of the year Jozy Altidore's stunning hat trick -- allowed the U.S. to escape with a statement 4-3 win. The victory raised eyebrows across Europe and also impressed U.S. Soccer president Sunil Gulati enough that he cited it four months later, after Klinsmann's extension was announced.

"We're down 2-0, we come back to tie the game 2-2 and then we don't sit back," Gulati said. "That's a new mentality."

2. Dos a Cero, Part 4

The script was familiar and altogether perfect. For the fourth consecutive qualifying cycle, the U.S. dispatched noisy neighbors Mexico by a 2-0 scoreline at Crew Stadium in Columbus, Ohio, this time on goals by Donovan and Eddie Johnson. (Dempsey even did his part to preserve the traditional result by missing a penalty in stoppage time.)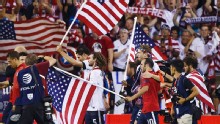 Rick Osentoski/USA TODAY SportsU.S. players celebrate after clinching World Cup qualification.
Not only did the win -- with a little help from Honduras -- end up clinching qualification for their seventh consecutive World Cup that evening, but it also helped the U.S. finish atop the region yet again, confirming its status as CONCACAF's top dog and piling the misery on reeling El Tri which, led by a golden generation of players, had looked capable of running riot over the Americans for a decade just two years earlier, following its resounding win in the 2011 Gold Cup final.

1. Snow contest

With several starters injured, the U.S. was already under pressure heading into its first home game of the final qualifying round in March, especially after dropping the Hexagonal opener in Honduras the previous month.

Then, just days before what had become a must-win match against Costa Rica, several anonymous players were quoted ripping Klinsmann's coaching methods. The incident -- which Bradley later described as "shameful" -- could have easily ripped the fragile squad apart.

Instead, the air was cleared in a closed-door meeting, and the U.S. rallied to secure a 1-0 result in a blizzard in Commerce City, Colo., thanks to Dempsey's first-half goal. The farcical conditions made for a memorable spectacle, but the three points allowed the Americans to breathe easy heading into Mexico City, where they duly held the hosts to a rare draw at Azteca Stadium in their next match.

Looking back, what has become known simply as "The Snow Game" probably shouldn't have been played. But there's no doubt that it set the tone for the rest of the year.