U.S. MNT in 2014: Key storylines to follow
Hope is the predominant currency of the new year. Whatever might have happened in the previous 12 months, those memories are packed away and put into storage. At least that's the idea. Now is the time to look forward and allow for some optimism as the calendar heads into January.

The U.S. men's national team is no different. The current World Cup cycle is nearing its end, and with it a significant judgment on Jurgen Klinsmann's tenure will be rendered this summer in Brazil. Granted, there are innumerable moving parts to such a performance, so, with that in mind, here are the storylines to follow for 2014.

Opportunity beckons at the World Cup

Without question, the Americans' World Cup draw was downright shudder-inducing. With the U.S. set to face Ghana, Portugal and Germany, the odds of advancing are long indeed. However, looked at another way, Group G presents an immense opportunity for Klinsmann's side to announce to the world that it belongs with the big boys. In fact, if the Americans manage to reach the knockout stages, it will have to rank as one of the best group stage performances -- if not the best -- in its history.

Certainly there are some chits to cash in against Ghana, given that the Black Stars have contributed to the Americans' downfall at the two previous World Cups. And despite Klinsmann's disappointment at having to go to Manaus for the second match against Portugal, such a venue might be an advantage, given the Americans' familiarity with travel and extreme weather. The fact that the U.S. will face a Germany side that just might have progressed to the knockout rounds already has to qualify as a bonus, too.

Having said all that, the sheer quality of the opponents makes the task daunting. Klinsmann has talked up his side's progress as well as its depth in the past year. Now is the time to prove it on the biggest stage.

- McIntyre: 2013 in review

Will Clint Dempsey get back to his best?

In the aftermath of the World Cup draw, it was Dempsey who opined that, "If we play our best ball, then we can get out of the group." For that to happen, it likely means Dempsey himself will need to be at his peak, something the viewing public has seen little sign of in the past five months.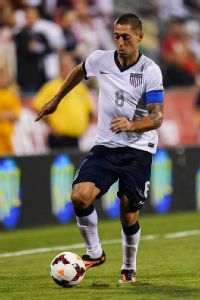 AllsportDempsey is preparing for his third World Cup.
Granted, much of this isn't Dempsey's fault. The Seattle Sounders attacker never did find his rhythm after his much-ballyhooed return to MLS from Tottenham in August, contributing just one goal and a solitary assist in all competitions. On-field chemistry with his teammates was in short supply, and injuries did plenty to stunt his progress.

Now, with an offseason loan to former club Fulham secured, the hope is that a fully-healed Dempsey can recapture the impressive form for club and country that he has shown over the years. The U.S. displayed a varied attack in qualifying, but, for it to escape Group G, its best players will need to excel.

The composition of the back line

The good news for the U.S. is that several defenders stepped up in 2013 to help secure World Cup qualification. They included some veterans thought to be on the outs with the national team, such as DaMarcus Beasley, and some elements of the next generation, such as Matt Besler and Omar Gonzalez.

The bad news is that Klinsmann still doesn't appear to have a settled back four. Clarence Goodson showed enough to put some pressure on presumptive starters Besler and Gonzalez. Then there is the form of the team's resident Mr. Fix-it, Geoff Cameron, who has been impressing at right back for Stoke while recently playing some center back.

After suffering an injury-hit 2013, Steve Cherundolo has returned to the starting lineup with club side Hannover and might yet have a part to play for the U.S. side. Then there is the question of whether Fabian Johnson is a better bet at left back than Beasley.

All told, Klinsmann has plenty of thinking to do in the months that remain before Brazil.

The form of Jozy Altidore and the rest of the overseas contingent

ESPN television analyst Alexi Lalas is fond of saying that "form is fallacy." It's a mantra that might be best to follow in the upcoming five months as it relates to the performances of U.S. players operating overseas. Otherwise, the anxiety might be overwhelming.

Altidore has notched just one league goal for Sunderland, and, although his work rate and holdup play have drawn some praise, he had a performance to forget in a recent outing against Cardiff City.

- Darke: Assessing Altidore

Altidore isn't the only one U.S. observers will be keeping an eye on. Michael Bradley has proved himself a valuable part of Rudi Garcia's Roma side, although not a mainstay just yet, which explains the persistent rumors of a move to the Premier League.

Then there's the play of Jermaine Jones, who still appears unable to translate his performances with Schalke to the U.S. side. Add in the likes of Aron Johannsson, plus Cameron and Johnson, and Klinsmann and his staff will have a lot of games to watch.

Landon Donovan's health

The L.A. Galaxy attacker made a triumphant return to the national team in 2013 after taking a four-month sabbatical. First, he inspired the U.S. to victory in the Gold Cup, then later helped the Americans clinch World Cup qualification with an insurance goal in the 2-0 win over bitter rival Mexico.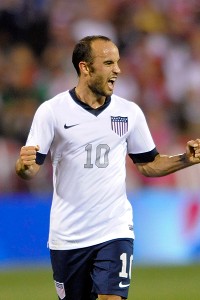 David Richard/USA TODAY SportsDespite playing just ten games in 2013, Donovan contributed ten goals and ten assists.
For that reason, Donovan appears set to be penciled in for one of the flank positions when group play begins against Ghana on June 16. No less an authority than teammate Bradley stated in September: "If we want to play more than three games at a World Cup, we need Landon."

Yet there remains one a significant concern about Donovan, and that is related to his health. Among his outstanding traits -- and there are several -- is his durability. The injuries that he seemed to shake off in his youth now are giving him more trouble.

The U.S. team's leading career scorer will use the entirety of the MLS offseason to heal up from an ankle injury that hobbled him toward the end of the campaign and caused him to be pulled at halftime of the home qualifier against Jamaica in October.

For that reason, a sliver of doubt remains as to his role in the squad, especially if he gets dinged up in the opening months of the MLS season. And Klinsmann has shown that he has no qualms about looking elsewhere if Donovan isn't right.

- McIntyre: U.S. MNT Hot List

Will a wild card emerge?

There always seems to be a player or two who come out of nowhere to land a spot on the World Cup roster. In 2002, Beasley and Pablo Mastroeni made the squad despite having little -- or, in Mastroeni's case, nothing at all -- to do with qualifying.

In 2010, the goal-scoring exploits of Herculez Gomez at club level allowed him to work his way onto the final squad without making a single appearance in qualifying.

So will MLS MVP Mike Magee catch Klinsmann's eye? Could versatile defender Eric Lichaj somehow earn a spot? What about Hertha Berlin center back John Brooks? Or is it time to give Luis Gil a look in some friendlies after his impressive showing in last year's U-20 World Cup?

No doubt, the roster machinations as the World Cup deadline looms will bear watching closely.