U.S. MNT Hot List: Cameron the middle man and Altidore needs a goal
With most of planet futbol's major leagues dark over the holiday period, it's an abbreviated, all-English U.S. national team hot list this week, one that is highlighted by some intriguing positional moves.

For the final time this year, here are a selection of American players whose club performances have them trending (up or down), heading into what promises to be a memorable 2014 for coach Jurgen Klinsmann's national team.

Warming up

Geoff Cameron, D, Stoke City (England)

Why he's here: After making 17 consecutive starts at right back, Cameron lined up as a central defender in Stoke's 3-0 loss to Tottenham on Sunday.

What this means: With regular Potters CB Robert Huth (knee) still on the mend, Cameron could keep the assignment despite his turnover leading to Spurs' third goal. If he settles in the middle -- Cameron and Klinsmann agree it's his best position -- and earns a few more reps there before season's end, the 28-year-old could push MLS-based center backs Matt Besler, Omar Gonzalez and Clarence Goodson for a starting job in Brazil.

Eric Lichaj, D, Nottingham Forest (England)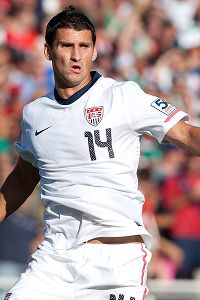 Icon SMILichaj returned to the national team fold for last month's friendlies.
Why he's here: Not only has the 26-year-old reclaimed his place in the starting XI for Forest -- which is in position for the Premier League promotion playoffs following two straight wins -- the usual right back spent some time on the left in the Dec. 26 victory against QPR.

What this means: Lichaj still projects outside Klinsmann's 23-man World Cup roster, but it's worth noting how crucial versatility is in tournament play. If he continues to help push his club toward the EPL, that ability to play both fullback spots could keep the Illinois native in contention until May.

Duane Holmes, Huddersfield Town (England)

Why he's here: The Atlanta-born, U.K.-raised 19-year-old has come off the bench in each of Huddersfield's last five games and set up the second-tier side's late equalizer against Derby on Dec. 26.

What this means: Realistically, the speedy Holmes, a dual national who was in the stands for last month's Scotland-United States friendly, is on track to play in Brazil in 2016 (at the Rio Olympics), not now. However, if he keeps earning minutes and contributing for his club over the next two months, an invite to train with the national team ahead of the Yanks' to-be-announced March 5 match in Europe isn't out of the question.

Cooling down

Jozy Altidore, F, Sunderland (England)

Why he's here: Altidore, back in manager Gus Poyet's starting lineup Saturday after a one-game benching, squandered the opportunity with perhaps his worst performance since joining the Black Cats last summer.

What this means: Not much, at least not yet: It was only one game, and Altidore remains firmly entrenched as a U.S. starter. But if the 24-year-old -- who has mostly played well for Sunderland despite scoring just one league goal -- does not respond, he could eventually lose Poyet's confidence. Any extended spell on the sidelines would be worrying for the U.S. Therefore, making the most of his next chance will be key.