Scouting America: Is Mikkel Diskerud ready for the next level?
With his long flowing hair and penchant for making the right play in crucial moments, it's no wonder that Mikkel "Mix" Diskerud has become a cult hero for United States national team fans.

Still in the early phases of his U.S. national team career, Diskerud has shown that his style of play is very unique from his teammates and has already delivered two game-deciding assists (vs. South Africa and Mexico) and a clutch game-tying goal against Russia. However, despite those emphatic moments, Diskerud hasn't cemented his place among the likely 23 players who will represent the Yanks in next year's World Cup in Brazil.

The midfielder's place isn't in question due to his ability -- it's clear that he can be useful for the team -- but consistency. One only needs to look at Benny Feilhaber's career, which started as brightly as Diskerud's, to see the parallels. On the club level, Diskerud is thriving with Norwegian side Rosenborg but at 23 years of age, does he need to challenge himself in a bigger league to reach his full potential?

ESPN FC spoke with a Champions League scout to gauge the playmaker's potential. The scout was willing to give a full evaluation of Diskerud as long as his identity wasn't revealed due to potential club tampering issues. And he agrees, Diskerud needs a move to improve his consistency on the international level.

"You can see when he joins up with the national team that he isn't accustomed to the speed of play at the international level at times," the scout told ESPN FC. "Even if the opposition isn't as technically gifted as what he is used to in Norway and with his club team, CONCACAF provides physical, fast, strong opposition that forces any player to play quickly.

"When he has time and space on the ball, he makes excellent decisions; when he's rushed, things can get a bit more difficult for him."

In a recent interview with Diskerud, the midfielder appeared to be settled with his current team.

Diskerud told ESPN FC: "I am sure Rosenborg and my agents are doing that [considering offers from abroad]. I have one focus, and one focus only: World Cup in Brazil. People tell me that Rosenborg is totally relevant for getting me fit and in shape for that contest. And until I hear otherwise, Rosenborg is a fantastic club for me."

If Diskerud has a change of heart and decides to look into jumping into a tougher league, the scout is convinced that he'll be a top talent for the U.S.

"He's definitely one of the most creative and intelligent midfielders in this crop of U.S. national team players," he said. His work rate is excellent, and that combined with his technical game and ability to unlock defenses with pinpoint passes will always make him an interesting transfer target."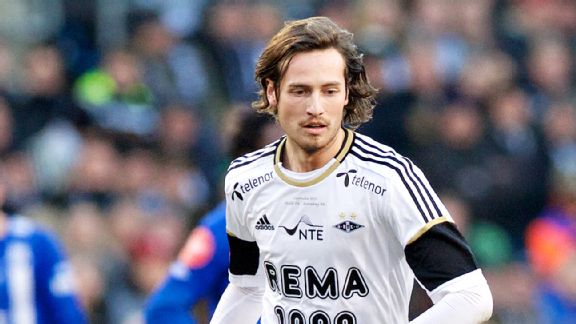 Ragnar Singsaas/Getty ImagesMikkel Diskerud has thrived in Norway but will need to test himself in another league to become a full-time player for the U.S.
See also:
- Labidou: Diskerud rewarded by U.S. for patience
- Scouting America: Timothy Chandler
- Scouting America: Aron Johannsson
- Scouting America: Brek Shea

Here is the scout's full evaluation of Diskerud:


Strengths:

He's a two-way midfielder who is just as comfortable going forward as he is tracking back and putting in a tough tackle. Physically, he's got good size and a good engine that allows him to cover quite a bit of ground throughout matches.

On the ball, he's creative and technically efficient as well. His range of passing is good, a vital tool for a central midfielder, which makes him equally comfortable hitting 40-yard diagonals and 5-yard passes in central areas. His creativity and awareness help him quickly unlock defenses.

That same awareness and technical efficiency allows him to switch the point of attack easily when things get too tight or congested on one side of the pitch.

Off the ball he's eager and full of energy. He's not afraid to make long forward runs into the opposition's box, but he can often be seen breaking up the play after his side loses the ball. Defensively, he's a good tackler and his size often allows him to get a foot on the ball even when it looks as if the opposition is about to break.

Weaknesses:

While he does have good size, he lacks a bit of power and pace. Top, top players are often able to combine all the technical and intelligent bits with power and strength, and Diskerud lacks a little in this department.

His ability to play quickly when the level rises also needs to improve and this will come from challenging himself even further as he continues his career. He seems quite comfortable at this stage of his career in Norway and needs to make a move to a bigger league, which will force him to play quicker and even more intelligent. At 23, he has shown that he is capable of playing in Norway's top flight. Can he handle the game when it gets much quicker?

Though his slight lack of strength isn't terribly concerning, he could improve this aspect of his game and really become a menace on both sides of the ball in the midfield.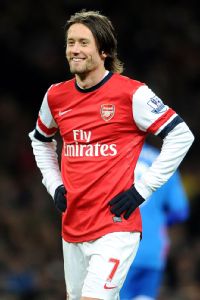 David Price/Getty ImagesThe scout believes Mikkel Diskerud's game is very similar to that of Arsenal's Tomas Rosicky.
Similar playing style: Tomas Rosicky

Tomas Rosicky didn't make many friends in the States when he hammered his effort past Kasey Keller in the World Cup in 2006, but it was his overall performance on the day that left the U.S. chasing shadows. Constantly on the move and getting into good spots, playing short quick passes when needed but alleviating pressure and switching the ball when it was on.

Though Rosicky is on another level, the Czech star and Diskerud share similar qualities. Their work ethic, work rate, and up-and-down-the-pitch mentality is always appreciated. Neither of them are the most powerful players on the pitch, but they aren't afraid to throw their bodies around for their respective teams.

On the ball, they can create goals with simple or complex passes, and can shoot and score when they need to do it themselves. Rosicky is a more natural dribbler than Diskerud, but overall they do share many similar traits.

Rate this out of 5 for each:

Dribbling: 3
Finishing: 3
First touch: 3
Passing and vision: 4
Speed: 3
Aerial ability: 3
Strength: 3
Injury: 4 (1 meaning he's injured a lot and 5 meaning he's always fit)
Maturity: 4
Defense (Marking, tackling): 4
Score: 34 out of 50

Potential score: 36

Ratings meter:
0-10: Not even NASL level
10-15: Average NASL player
15-20: MLS role player
20-25: MLS starter
25-30: MLS All-Star
30-35: Starter on mid-, low-table EPL side or role player on top team
35-40: A solid starter on a top EPL club
40-45: A legit star player
45-50: Messi, Ronaldo

Current transfer fee: $2,5000,000
Future transfer fee: $3.5-6M