The United States won't be intimidated by the daunting Group G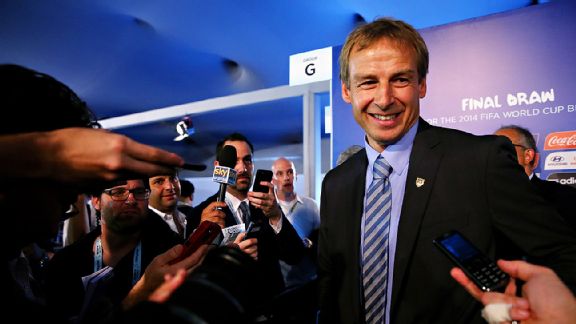 Alexander Hassenstein/Getty ImagesJurgen Klinsmann's smile after the World Cup draw shows the former tournament winner's confidence despite a tough task.
One week ago, the World Cup draw felt akin to being beaten up in a pool hall from the perspective of United States men's national team fans.

Pitched into Group G, Jurgen Klinsmann's team had been chucked against formidable opposition, Brazil's brutal climate, an unforgiving travel schedule, and perhaps worst of all, the crushing weight of narrative. A fearsome foursome that makes the Hunger Games look like a picnic in the park.

A week on, the nausea has had time to wear off and the challenge is clear: The U.S. must muster enough points from games against Ghana, America's World Cup kryptonite; Portugal, featuring Cristiano Ronaldo, the man who out-starred Zlatan in the playoffs like Michael Jordan besting Larry Bird in a McDonalds commercial; and a fearsome German team led by Jogi Low, Jurgen Klinsmann's onetime assistant turned successor and usurper.

We have two choices: To send the squad off to Brazil with a pat on the back while muttering "To those about to die we salute you" under our breath, or to believe they can arrive and compete with a moderate optimism (i.e., one not grounded in any of the admittedly desperate ideas I brainstormed frantically in the aftermath of the draw, which included encouraging Jurgen to consider becoming player-manager or commanding Jozy Altidore to "stop scoring right now" so we can save his precious goals for Brazil.)

See Also:
Carlisle: Klinsmann's rushed extension
McIntyre: Important U.S. January camp
Labidou: Chandler speaks on U.S. absence

My sense of confidence is based on this: The Black Stars may have dumped the U.S. out of the last two World Cups, but one of Klinsmann's great strengths is that of master motivator. The U.S. coach has just received a vote of confidence of a four-year contract extension and an expansion in job title. He will relish the challenge of gaining a signature victory to differentiate his team from that of his immediate predecessors by defusing a Ghanaian team that features a few ageing stars (Asamoah Gyan is now 28, Sulley Muntari 29, Michael Essien, 31).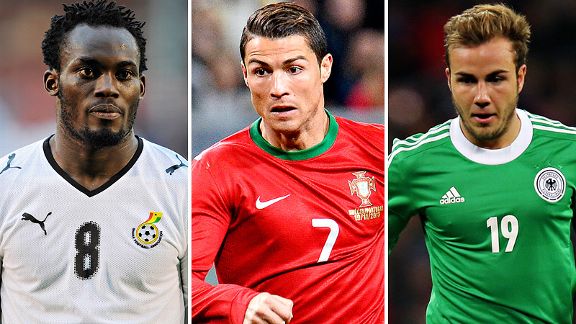 Getty ImagesMichael Essien's Ghana, left, Cristiano Ronaldo's Portugal, middle, Mario Gotze's Germany in Group G represent a tough but not insurmountable challenge.
The Portugal game will be fought out in the jungle clime of Manaus. The Amazonian city appears crazier, more humid and less football-friendly with every news story written about it. The more I read, the more I favor the United States. Few regions better prepare you to toil through eclectic weather conditions than CONCACAF with its smog, blistering heat and arctic blizzards. Advantage: America.

The third game will admittedly be a savage test. I don't buy into the line that the Germans will already have qualified and so will field a "B team." Winning the whole tournament will only provide the German nation with a smidgeon more joy than watching their squad humiliate Jurgen Klinsmann's adopted team in Recife. Irrespective of the result, the U.S. will have at least four points and the God of Goal Difference will decide whether they progress or depart.

With these teams and that travel schedule, Group G will ultimately be a test of fearlessness, collective belief and courage. Traits I believe the U.S. squad have in surplus quantities.

A truth reflected by Klinsmann in the wake of the draw. I asked the coach to sum up the draw for U.S. fans in six words. His reply: "We are going to go for it!"

It is actually seven words, but that's Jurgen. A man who knows well Group G will be the equivalent of a medieval fight with broad swords, and as the great fencer Syrio Forel said in Game of Thrones: "There is only one god and his name is Death. And there is only one thing we say to Death: 'Not today.'"