What's the rush? A look at the reasons behind Klinsmann's extension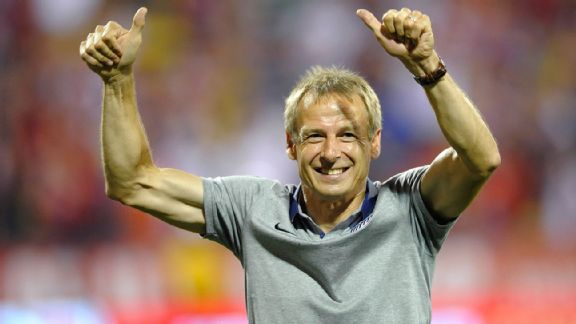 David Richard/USA TODAY SportsJurgen Klinsmann has been given an extension by the USSF but does he necessarily deserve it?
Even before Jurgen Klinsmann was hired as head coach of the U.S. men's national team in 2011, the German had cast something of a spell over the U.S. soccer landscape.

It had as much to do with the hope of what U.S. soccer could be as it did Klinsmann's considerable pedigree, most of which was achieved as a player.

Now that Klinsmann has signed a four-year contract extension to not only lead the national team, but serve as the technical director on the men's side, it's clear that the United States Soccer Federation remains as enchanted as ever.

This is not to say that Klinsmann hasn't done some good work during his time in charge. Clearly he has.

The U.S. qualified for the World Cup with two games to spare, and fashioned a 12-game winning streak during 2013. And yes, there have been some impressive friendly results during his tenure, especially against the likes of Italy and Bosnia and Herzegovina. But the fact remains that much of Klinsmann's work has been accomplished against CONCACAF opposition, and this is where some doubt begins to creep in as it relates to the decision to retain the one-time Germany manager.

History has shown that qualifying results have little bearing on World Cup performance.

Eight years ago, the U.S. amassed just as many points in qualifying as they did this time around, yet were bounced from the group stage after a brutal draw that included Ghana, the Czech Republic and eventual champion Italy. Four years ago, the U.S. amassed two points less in qualifying, yet qualified for the second round.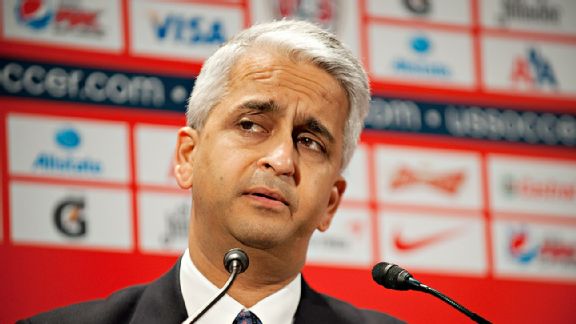 Don Emmert/AFP/Getty ImagesSunil Gulati shown more faith in Jurgen Klinsmann than in his predecessors, Bob Bradley and Bruce Arena, despite the fact that his results in qualifying are pretty similar to both.
In Klinsmann's case, the World Cup is still yet to be played, so it's a bit of an unknown in terms of just how much progress the U.S. team has actually made. Yet that didn't stop USSF President Sunil Gulati from giving Klinsmann the benefit of the doubt in a massive way. Certainly this level of confidence was never directed toward Bruce Arena and Bob Bradley -- Klinsmann's most recent predecessors -- both of whom dominated CONCACAF opposition to a similar degree and had success at the World Cup as well. In fact, I can't remember any U.S. national team manager -- on the men's or women's side -- being given such leeway.

Granted, Klinsmann wasn't brought in just to revamp the senior side. His pitch included having an impact on youth development as well, and that appears to have factored into Gulati's thinking.

"One of the reasons we hired Jurgen as our head coach was to advance the program forward and we've seen the initial stages of that happening on the field and also off the field in various areas," he said via a press release. "In the past two years he has built a strong foundation from the senior team down to the youth teams and we want to continue to build upon that success."

Really? The U.S. U-17 team failed to qualify for the last World Cup. The U.S. U-20 team under Tab Ramos did qualify, and at times played some impressive soccer, but also looked a bit overmatched physically. Are such results, for good or ill, really down to Klinsmann?

It begs the question of what Gulati's hurry was.

Was he spooked by the media reports stating that Klinsmann was first in line to replace Tottenham Hotspur manager Andre Villas-Boas, should Spurs decide to part ways with him?

If you're Klinsmann, it certainly didn't hurt your standing. And if you're Gulati, if you're happy with the work Klinsmann has done, then it behooves you to lock up the coach ahead of time rather than leaving yourself vulnerable to a big club swooping in and poaching your manager.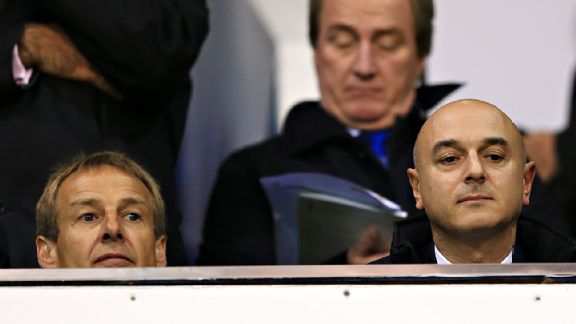 Richard Heathcote/Getty ImagesA legend at Tottenham, Jurgen Klinsmann was rumored to be in line for the Spurs job if Andre Villas-Boas had been fired, and he has a good relationship with the club's chairman, Daniel Levy.
But even if the Spurs rumor was true, Klinsmann and his family have appeared very content living in California over the past two decades. Why leave, especially when the German admitted in the past that he was better suited for national team management? Factor that in with the rumblings that Gulati hasn't always been happy with Klinsmann and the financial demands -- both in terms of his salary and that of his support staff -- it's hard to understand why extension at this moment was necessary.

But in the end, Gulati decided such requirements were worth the cost.

What will be interesting is whether Gulati is feeling the same way in July if the U.S. ends up getting eliminated in the group stage. Such a showing cost Arena his job after the 2006 World Cup. Now there is virtually no chance that Klinsmann will suffer a similar fate, even if the spell doesn't look as bright if the U.S. disappoints.