This January camp won't be 'cupcake' for Jurgen Klinsmann and the U.S.
Shortly after the Americans learned the identity of their murderers' row of World Cup group stage opponents on Friday, Tim Howard spoke about the inevitable lull that follows the event.

"Everything gets hyped up for the draw, and there's this letdown," the U.S. keeper said. "It gets kind of quiet. The game in March will be exciting to get back together."

It's true that the to-be-announced March 5 friendly in Europe that Howard was referring to (we hear Sweden and Greece are among the potential foes) falls on the lone FIFA fixture date before Brazil 2014 -- making it the only chance for the entire U.S. squad to convene before the tournament. But another important benchmark in the final countdown toward Brazil looms for Jurgen Klinsmann's team well before then: next month's January camp.

The annual year-opening get-together for MLS and Scandinavian players has long been a vital part of the national team program, even if critics dismiss it due to the absence of in-season European-based mainstays such as Howard.

And in 2014, that derisory "Camp Cupcake" label will fit less than ever before.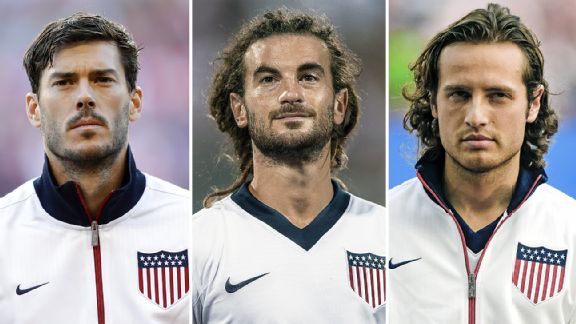 AP Photo, Getty ImagesFor guys on the bubble for a World Cup like Brad Evans, left, Kyle Beckerman, center, and Mix Diskerud, the upcoming January camp will be crucial to locking down a spot.
As many as seven projected starters next summer could participate this time around including, for the first time since 2006, both Clint Dempsey and Landon Donovan. Of the 23 players named in our latest Brazil Board, almost half figure to be available for selection next month.

That's a far cry from 2010, when just four players on Bob Bradley's 30-man January roster went on to make the final squad of 23 for that year's World Cup in South Africa.

So even if one or two players go on loan this time around (Dempsey's contract with the Seattle Sounders expressly permits such a deal, making him the most likely candidate for a short-term sojourn overseas), Klinsmann will have enough regulars at his disposal to make this camp hugely significant, even as first XI locks like Jozy Altidore, Michael Bradley and Jermaine Jones remain with their clubs.

For starters, the Yanks' coach will have substantially more time with his team than his counterparts with Germany, Ghana or Portugal, the Americans' three first-round foes. The sheer length should aid preparations.

The schedule hasn't been made public yet, but January camp typically begins on the fourth day of the new year.

The U.S. plays South Korea in Carson, Calif., on Feb. 1, meaning Klinsmann will have close to a month to work with some of his top players, assess hopefuls and start implementing plans for that crucial June 16 World Cup opener against Ghana in Natal. And because the camp will split time between Southern California and Sao Paulo -- site of the Americans' base camp next summer -- many of the players who will be on the World Cup roster "will get a first taste of Brazil in January," Klinsmann said when the plan was revealed in October.

Besides the regulars, there will be room for some new faces, as well as some old ones. Standout performances in the just-concluded MLS playoffs could earn 2010 vets like Ricardo Clark, Benny Feilhaber and Robbie Findley -- who've combined for just five caps since Klinsmann took over in July 2011 -- a recall. Sure, all three remain long shots for the main event, but with first XI locks like Jozy Altidore and Michael Bradley missing, being able to summon players with World Cup experience is an asset for Klinsmann.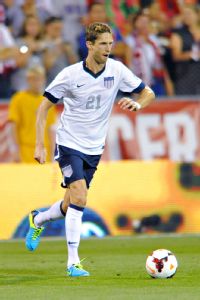 David Richard/USA TODAY SportsUp against several younger talented center backs, Clarence Goodson will have to prove himself in January's training camp.
The former Germany coach could also take a first look at uncapped youngsters like Real Salt Lake defender Chris Schuler and Sporting Kansas City left back Seth Sinovic. MLS Rookie of the Year Dillon Powers (Colorado Rapids) and league MVP Mike Magee (Chicago Fire) are candidates, too.

The 2006 and 2010 January camps each featured 30 players, but Klinsmann is expected to opt for a smaller group this time around -- probably between 20 and 23. Injures and loan deals could impact selections, however, so we'll list 26 players who could be in line for an invite next month. Expect to see many of them again in March.

Goalkeepers (3): Nick Rimando (Real Salt Lake), Sean Johnson (Chicago Fire), Bill Hamid (D.C. United)

Defenders (8): Corey Ashe (Houston Dynamo), Brad Evans (Seattle Sounders), Omar Gonzalez (LA Galaxy), Clarence Goodson (San Jose Earthquakes), Chris Schuler (RSL), Matt Besler, Chance Myers, Seth Sinovic (all Sporting KC)

Midfielders (10): Kyle Beckerman (RSL), Ricardo Clark, Brad Davis (both Houston), Clint Dempsey (Seattle), Mix Diskerud (Rosenborg, Norway), Landon Donovan (LA), Benny Feilhaber (SKC), Luis Gil (RSL), Dillon Powers (Colorado Rapids), Graham Zusi (SKC)

Forwards (5): Robbie Findley (RSL), Eddie Johnson (Seattle), C.J. Sapong (SKC), Mike Magee (Chicago), Chris Wondolowski (San Jose)